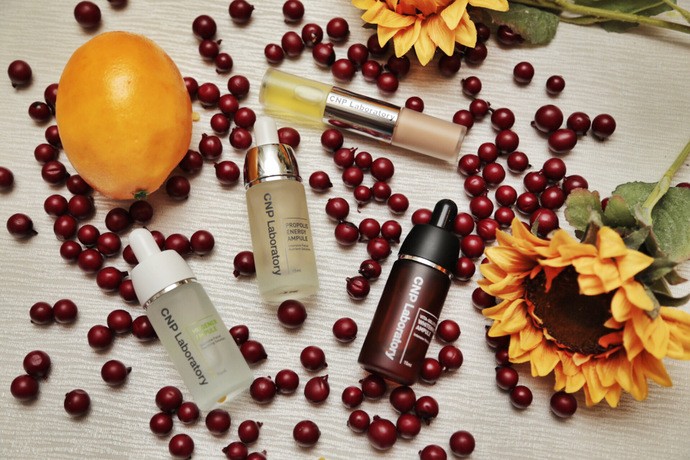 The 2015 trend is all about the au natural look. That natural dewy and glowing skin, perhaps, complimented with a deep red lip. For a look like this, it sure is easy to execute, but takes more than just make-up. You need a good base – a well-maintained and radiant complexion right from the moment you wake up. Honestly, how many people in the world can actually pull that off? Maybe Jennifer Lawrence, but for someone like me, I need a little help.
Boasting a devoted team of 50 dermatologists and 25 branches, Korea's leading cosmeceutical (a play of cosmetic + pharmaceutical) skincare brand CNP Laboratory has decided to make Singapore its next destination. Since 1996, they have been maintaining the naturally radiant and glowing complexion of their all-star clientele and winning recognition for their skincare products.
I got the chance to put to test their claims to fame, starting from their Basic Skin Care set (in order of use).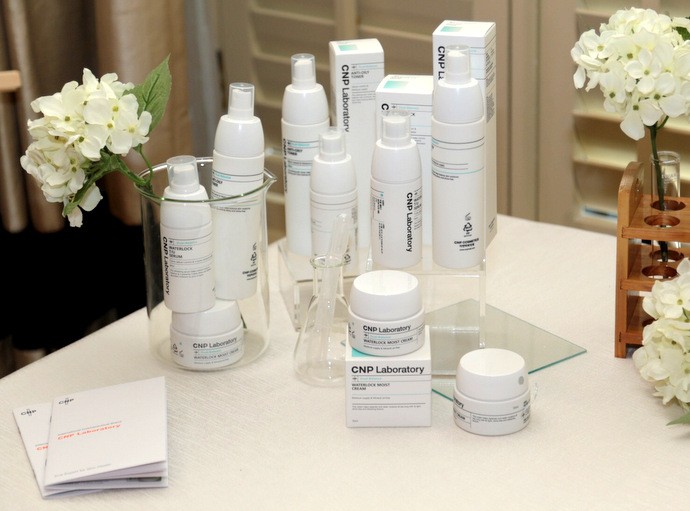 Cleansing Perfecta (for All Skin Types, 150mL at S$34)
Ask anyone what's the most important item in their skincare, and it better be their make-up remover. As beautiful as make-up makes us, it can cause clogged pores, pimples and even breakouts. Many times, I have had promising cleansers (from oil-based to wipes) failing to deliver, leaving swipes of BB cream on my towel. CNP's own Cleansing Perfecta promises to remove these unnoticed residual makeup, all while maintaining the skins' moisture and natural pH level.

This creamy gel-like type cleanser turned "invisible" upon gentle rubbing in a circular motion, and before long, I noticed it carrying away my BB make up. Rinsing it off was incredibly easy, and it left no oily residue nor a taut, squeaky clean effect (tell-tale sign of a harsh cleanser) after use. It pretty much behaves like water, and left my skin feeling supple and hydrated. Unfortunately, it has been a hit and miss with some of my eye-make up – some come off with a little more rubbing, while stronger ones needed a separate cleanser.
Daily Peeling Form (for All Skin Types, 100mL at S$48.90)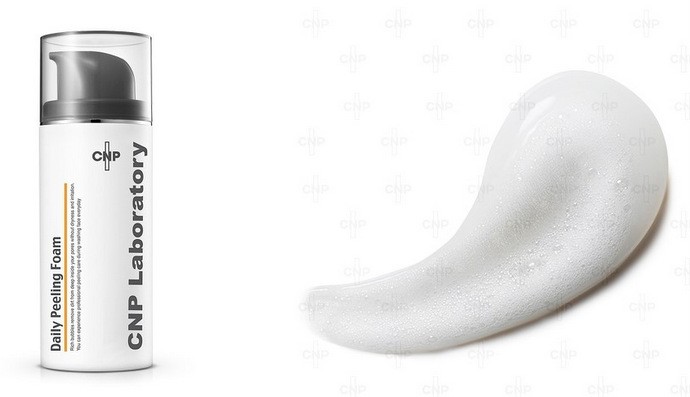 A great follow-up product to the cleansing perfecta, this Daily Peeling Form offers a 2-in-1 package for lazy bums like me – Exfoliating and Cleansing at the same time. Appearing as a less-than-impressive clear gel, it actually forms a layer of foam after 10-20 seconds of application. The foam is actually made of slightly acidic oxygen bubbles, which upon rubbing, can help to cleanse while exfoliating.
Honestly, peeling is something I rarely do, due to its harsh effects on our skin – therefore, I was sceptical. To my surprise, all I felt was a slight buzzing sensation as the bubbles formed. The result was evidently softer and cleaner skin. Perhaps, it was due to the Anti-Irritant Complex and Skin-friendly amino cleansing ingredients, but I have yet to notice any stinging, redness or skin peeling despite my daily use. It has made its way into my daily routine, and I feel that it's a pretty good deal. I pretty much saved on buying another exfoliator or spending hundreds on sonic skin care brush.
Anti-Oily Toner (for Normal Skin, 150mL at S$48.90)
Toners are the understated, and most forgotten component of skincare, but believe me, it's just as important. It acts as the final step in removing residual impurities and dead skin cells from the surface, along with contracting pores to prevent the atmosphere from stealing away the skin surface's moisture – leaving it clean, hydrated and ready for everything else.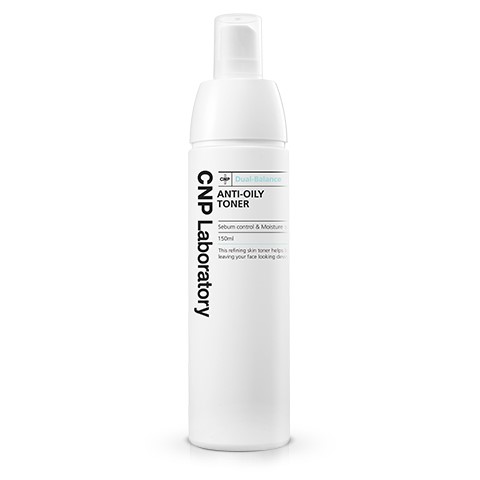 CNP's Anti-Oily Toner, as the name suggests, promises to remove the dreaded shimmer of grease from the T-zone area. It is mild, alcohol-free and also maintains moisture in my dry U-zone. The high concentration of the ever-popular hyaluronic acid helps to supply hydration deep into the skin for hours, without irritating my skin. Overall, it helped create the base for my remaining skin care products to be absorbed faster.
What's more, it is easily applicable thanks to the spray nozzle – you save on product wastage on a cotton pad. It also makes it easy for me to bring it out for a quick spray whenever I start feeling dry or greasy – especially in Singapore.
Propolis Energy Ampule (for All Skin Types, 15mL at S$40.90)
The draw of using a serum is that it is a high concentration of active ingredients. With the elimination of the fluid (or cream), the small molecules making up the serum can penetrate deeply into the skin – effective!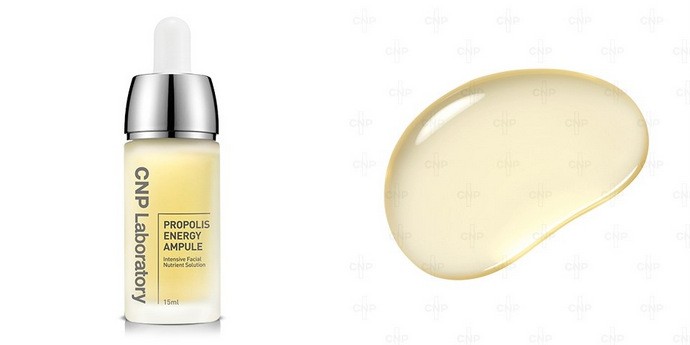 Propolis is not just some catchy name the company has come up with, it is actually the resinous mixture honey bees collect, and use as a sealant for reinforcing their hives. If you're wondering how this ended up in a skin care product, then the extensive research on its anti-microbial, allergy treatment, immune-related, and even anti-oxidant properties should give you a clear answer. CNP is bringing us all its goodness, by incorporating 10% of the propolis extract into this concentrated ampule.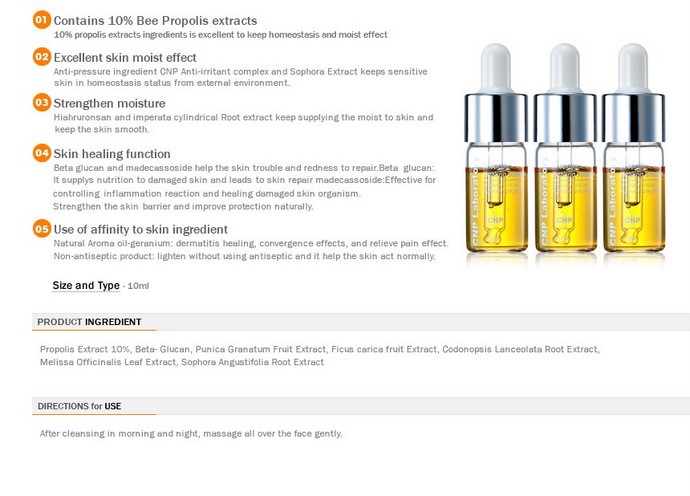 Looking and feeling quite like honey, I would need about 3-4 drops for my entire face. I tend to massage the drops into my face, to amplify the goodness of the extract – you know, one of those Korean V-line face massages. Likewise to other CNP products, it's a mild, slow-acting product that showed its effects about 2 weeks of religious use. Whatever magic was in the propolis extract, definitely made my skin feeling and looking healthier.
Its dropper system also makes it easy to bring out, and apply to dry areas of the face for a refresh. Honestly, I found this product a godsend on airplane flights, and will never get onto one without a bottle again. (Yes, it works even with make-up on!)
Dual Balance Waterlock Moist Cream (for Normal Skin, 50mL at S$68.40)
Regardless of your skin condition, dry or oily, using a moisturizer regularly can improve the way your skin look and feel – and also, the key to preventing signs of aging like wrinkles.
One thing I always look for in a moisturizer, is one that feels light. In Singapore, where it's constantly humid and ridiculously warm, I do not want to feel like I have piled on too much product – and it's steadily melting off my face.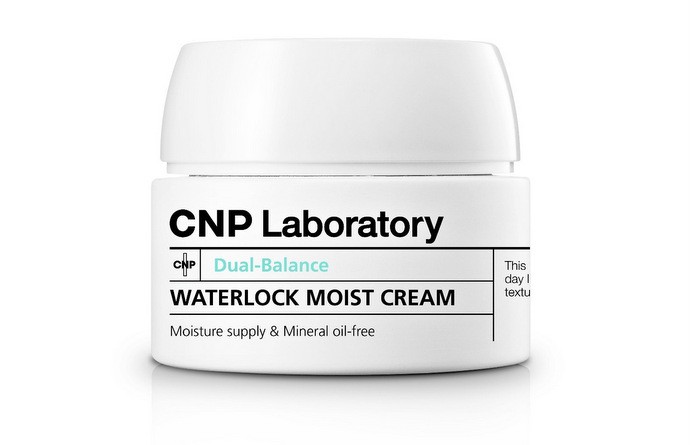 CNP's waterlock moist cream may look like a cream, but it quickly turns into a watery veil that absorbs readily into the skin, leaving a slight, dewy glow. It seemed to help control my horrid T-zone, while making sure my dry U-zone remains hydrated and supple. Depending on the weather, and how long I've been in an air-conditioned room, it might be a little too much for the product to handle – but, the serum and toner add-on throughout the day can help prolong its effects.
Verdict
A firm believer of "Healthy skin begins with Heathy cosmetics", CNP laboratory products are the brainchild of 16 years' worth of clinical experience and current medical knowledge. That is one statement I believe. The basic skincare set was unlike other Korea brand names. Some gave fast results, but they tend to be harsh on the skin – something my friends with sensitive skin lament about.
CNP's products definitely helped improved my skin condition, albeit taking about one to two weeks before I could notice it. It was mild, but definitely effective – friends with sensitive skin might want to give these products a try. One month in, I started getting compliments on my bare face; it was cleaner, clearer and brighter – reminiscent of those salad-diet days. The best part? It's real easy. Especially with products like the Daily Peeling Form where you get both exfoliation and cleansing in one go, it's a shortcut to natural beauty. Think of it as a shortcut to the famed 10-step beauty routine the Korean beauties have sworn by!
CNP Laboratory products are available at Guardian Health & Beauty stores located throughout Singapore, as well as, on their online store. 
Please look forward to the next article on their Special Care products, including their masks, eye lifting patch and more.
About the Writer
Jessica is a young lady of many obsessions. She gets herself into everything ranging from the latest in the monochrome fashion world (she only wears black, and sometimes, white) to convincing the masses that Community is the best TV series ever made.
Currently, she enjoys looking like Sailor Mercury had a baby with Wednesday Addams.