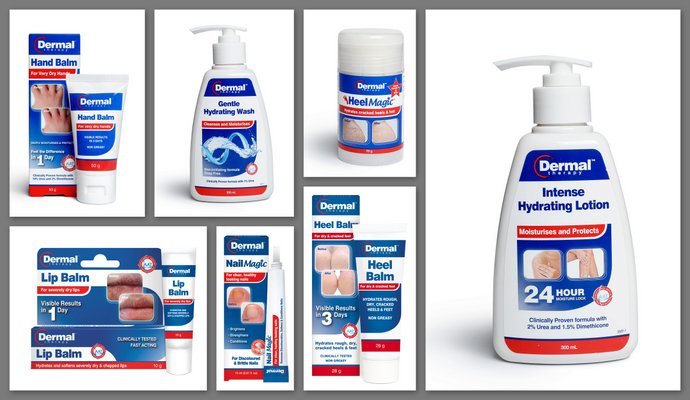 Dermal Therapy offers innovative, comprehensive and effective real solutions to skin care concerns.  Making its debut in Singapore last month, Dermal Therapy offers a comprehensive range of products from feet to face that is scientifically formulated using ingredients to ensure efficacious, gentle and safe skin care.
The  company behind the Dermal Range, Lacorium Health International Pty Ltd in Australia uses skin nourishing ingredients of shea butter, urea, aloe vera and tea tree oil amongst others to help lock in the moisture and protect the skin from the harsh conditions of our environment.
Dermal Therapy Heel Balm – Smoothens thickened skin on feet and use on rough, dry cracked heels. Best applied twice a day, in the morning and night until desired results have been achieved.  Can be applied daily as a preventative moisturise to help keep you feet soft, smooth and supple.  It is also diabetic friendly. A 28 g tube retails at S$6.90.
Dermal Therapy Heel Magic – Similar to the heel balm, heel magic is a roll on and non-greasy.  A 70g bottle retails at S$15.50.
Nail Magic – This triple action formula removes discolouration and whitens nails, softens and reduces nail thickness, strengthens dry and brittle nails. Nail magic's key ingredients include urea, hyrdogen peroxide, hydrolysed keratin, vitamin E and aloe vera.   A 15 ml tube retails at S$15.50.
Gentle Hydrating Wash – Provides relief from dry, sensitive, rough, itchy or flaking skin conditions.  It is suitable for people with skin prone to Eczema, PSoriasis and Dermatitis or other dermatological conditions.  Key ingredients include Urea and Cocamidopropyl Betaine, Decyl Glucoside and Lauryl Glucoside.   A 300ml bottle retails at S$14.90.
Intense Hydrating Lotion – This moisturiser protects skin against dryness, chafing and everyday irritants providing superior and optimum hydration for dry skin on arms, legs, elbows and back. A 300ml bottle retails at S$17.90
Hand Balm – The hand balm is used on dry, scaly and itchy hands especially for hands affected in cold weather and harsh detergents.  Rich in Vitamin E, the hand balm conditions the skin from free radical damage and is also suitable to use in conjunction with sunscreen with any SPF.  A 50g tube retails at S$7.90.
Lip Balm – Dermal Therapy Lip Balm's concentrated formula contains synergistic blend of ingredients to hydrate and soften severely dry lips.  The menthol in the lip balm acts as a pain killer to analgesic to alleviate the soreness and discomfort associate with dry lips and you would enjoy the tingling sensation as well.  A 10g tube retails at S$5.90.
Related articles