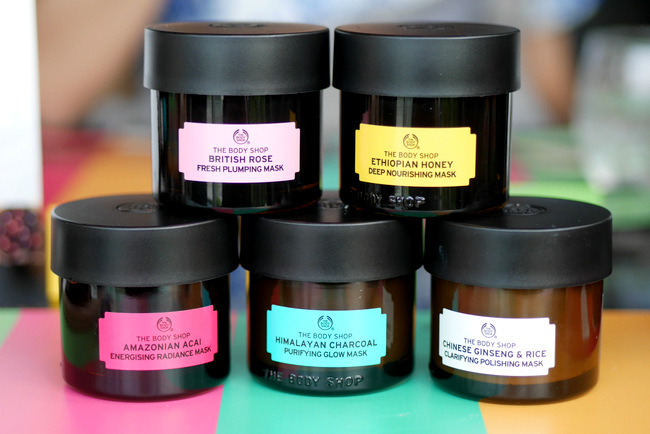 Acai bowls, kale chips and good, old chocolate. The world has fallen in love with superfoods, and we are putting them in everything from our juices, yoghurts to our faces (no, you read that right). Packed full of anti-oxidants and all sorts of nutrients, it's no wonder people have started looking towards them to treat dull skin plagued by constant exposure to UV, pollution and and pore-clogging make-up.
The Body Shop got the memo (or, perhaps numerous Pinterest tabs) and have launched not one, but five 100% vegetarian Superfood Masks packed and drizzled with natural ingredients – each expertly formulated for different skin needs. Whether you're looking to add a little glow to tired skin or hydrating after a long-haul flight, these masks can all work together at once to turn your skin into Singapore's very own Jennifer Lawrence (her skin is flawless, absolutely flawless).
Detoxify with Himalayan Charcoal Purifying Glow Mask
Charcoal may be new to the superfood scene, but its purifying properties are nothing new. It's natural affinity to toxins makes it the perfect base in this dextoxifying mask. Their famous organic tea tree oil is also present to cool and soothe those pesky zits.
A surprise ingredient will be the Japanese green tea leaves. Rich in anti-oxidants such as catechins (research has shown that it helps with collagen production), it helps to exfoliate all while enhancing the detoxifying effects of the Himalayan charcoal.
It is strong mask, which is why Vanda Serrador, expert facialist for The Body Shop, recommends using it once or twice a week at room temperature for that "just woke up like this" glow.
Hydrate with British Rose Fresh Plumping Mask
Those looking for that dewy, smooth base all Korean celebrities seem to have will love this. Inspired by European bathing rituals, this refreshing mask is as good as it smells.
Packed with real rose petals and essence of hand-picked British roses, it works together with organic aloe vera from Mexico to quench and retain moisture. The final ingredient is rosehip oil from Chile, rich in skin-essential omega-3 and -6 fatty acids to tone. All in all, it promises to have your skin feeling silky smooth in minutes (or, leave it on for longer, because why not).
Nourish with Ethiopian Honey Deep Nourishing Mask
It would be blasphemy to not have a superfood mask post without the mention of the world's best – honey. Known for being anti-oxidant rich and naturally anti-bacterial, it is also a humectant a.k.a. attracting the all-important water molecules to our skin cells.
Here, The Body Shop uses aromatic honey from Ethiopia, marula oil from Namibia and olive oil from Italy, to revive and improve skin moisture and elasticity. According to Vanda, even those plagued with dry skin can have supple, boing-boing cheeks after just one use.
Brighten with Chinese Ginseng & Rice Clarifying Polishing Mask
Here's something a little closer to home. The energizing ginseng and ubiquitous rice. The former is well known for its immune-boosting properties, but rice is more famous as a food staple. Surprisingly, it has appeared in some of the word's oldest beauty routines, with research confirming its moisturizing and calming effects on irritated skin.
Combined with organic sesame seed oil from Nicaragua, which is rich in oleic and linoleic acid to soften skin, this creamy mask promises to revitalize and even skin.
Energize with Amazonian Acai Energizing Radiance Mask
Looking just like jam, this acai-based mask looks good enough to eat. Don't be fooled, because the acai berry extract from Brazil works way better slathered on our skin. Mixed with guarana seed extract, all the vitamin C and concentrated caffeine works together to fight against dull, fatigued complexion.
It works almost like a d-day remedy as it promises to give your skin an instant boost! This might just be the solution we vain-yet-busy night owls have been looking for.
Multi-tasking, Multi-masking
Defining skin types can be tricky. Just because your T-zone is oily, it does not mean that your cheeks are. That's where multi-masking comes in, made even easier with The Body Shop's newest. If intimidated, check out some of their recommended combinations first. Once you get the hang of it, work out your own and tailor it exactly to your unique skin needs.
The Superfood Mask series will be available at all The Body Shop stores from 1 September 2016 at S$32.90 each.