Raffles City The Bund Officially Opened 10 July 2021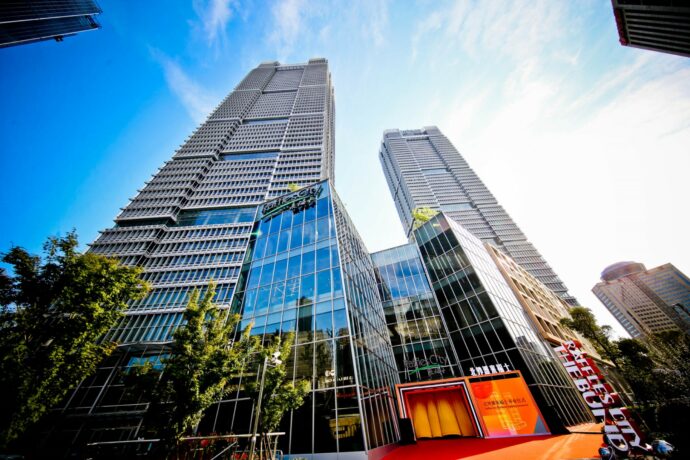 Raffles City The Bund opened to great fanfare on 10 July 2021 with the opening of the shopping mall, the final component in the over 300,000 sqm megastructure. The opening ceremony was jointly officiated by Singapore Ambassador to China, Mr Lui Tuck Yew, and Party Secretary of Shanghai Hongkou District, Ms Guo Fang.
Strong shopper traffic of over 300,000 was registered on its opening day, marking an encouraging start to Raffles City The Bund's retail operations.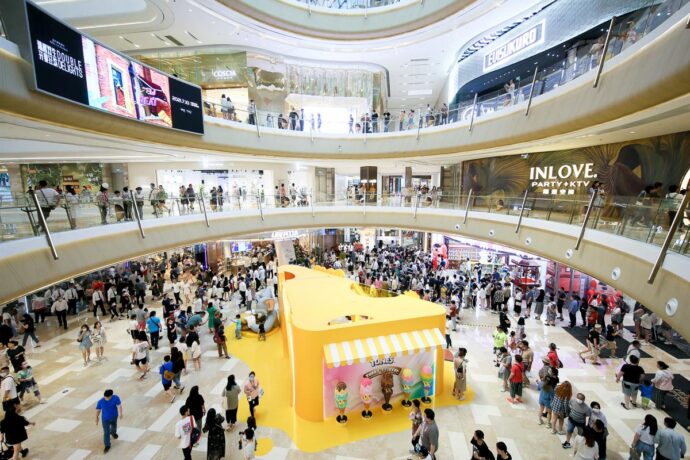 The 120,000 sqm shopping mall has a healthy committed occupancy of 92% of which over half of the mall's over 200 brands are either new to China, East China, Shanghai, or CapitaLand's portfolio.
Bridge+ Spark, the retail-centric extension of CaptiaLand's flex workspace brand Bridge+ makes its debut here. The retail innovation space is for budding entrepreneurs to showcase and testbed their products through direct interaction with shoppers. It plans to breaks down the boundaries between work and play, playing host to curated events for retail tenants and their partners and customers to network, collaborate and exchange ideas. The initial line-up at Bridge+ Spark includes fashion label GARMENTS' first physical store, athleisure brand Sumday Athletics, natural makeup brand YUNJAC, cosmetic line VIDVICI, modern teahouse TEATIAN, and lifestyle brand House of C.
C3Museum North Bund Arts Gallery is a collaboration between the mall and traditional art gallery Yu Cheng Tang. Traditional art pieces are brought to life through immersive storytelling using physical landscaping and multimedia projectors.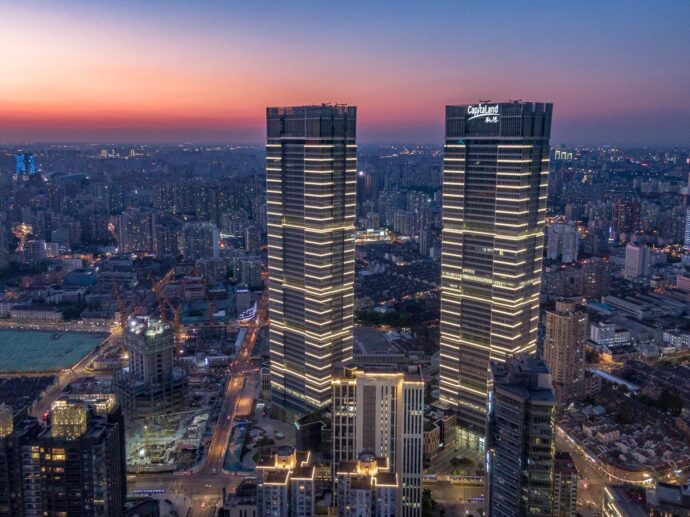 The integrated development is located along the Huangpu River in Shanghai's North Bund, a commercial and cultural hub with direct access to Metro Line 12. The architecture, designed by Pelli Clarke Pelli Architects with Benoy, comprises two 50-storey premium Grade A office towers linked at the base by a six-storey mall including two basement levels. The twin towers are Shangai's tallest with a height of 263 metres. The twin towers have been progressively ramping up occupancy. About 100,000 sqm of office GFA has been committed. Tenants at the twin towers are mostly from the financial technology sector with notable names including China Renaissance, Huawei, Integrity Funds, JD Digits, Ping An, Shanghai Pufa Development Bank, and Toyota Finance.
Raffles City first made its debut in Singapore in 1986. Today there are nine Raffles City developments in China including Shanghai, Beijing, Ningbo, Chengdu, Changning (Shanghai), Hangzhou, Shenzhen, Chongqing and The Bund (Shanghai).
Raffles Hospital Shanghai Opened on 26 July 2021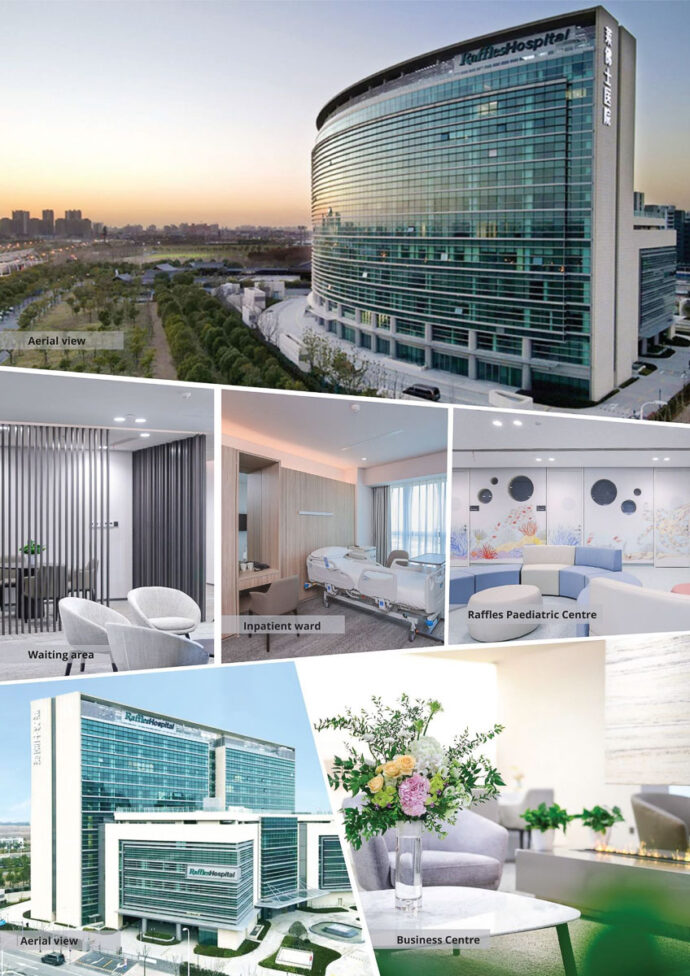 Raffles Medical Group has opened the 400-bed Raffles Hospital Shanghai on 26 July 2021. Spanning 70,000sqm, the tertiary hospital is located in the Shanghai international business district of Pudong Qiantan. Raffles Hospital Shanghai is the group's second international tertiary hospital in China after Raffles Beijing Clinic was refurbished and upgraded to Raffles Hospital Beijing last year. Raffles Medical Group opened its first medical centre in Shanghai in 2010. It also has medical centres in Shenzhen and Hong Kong. Raffles Hospital Chongqing opened in January 2019.
The hospital adopts the group practice model to provide patients with a comprehensive range of medical care that is backed by a clinical practice framework that expresses the group's medical philosophy where medical teams of different specialists work together to provide patients with high-quality evidence-based care.
The building incorporates a 'green building' concept with gardens and an environmentally conscious layout that integrates sustainability into every detail of the hospital.