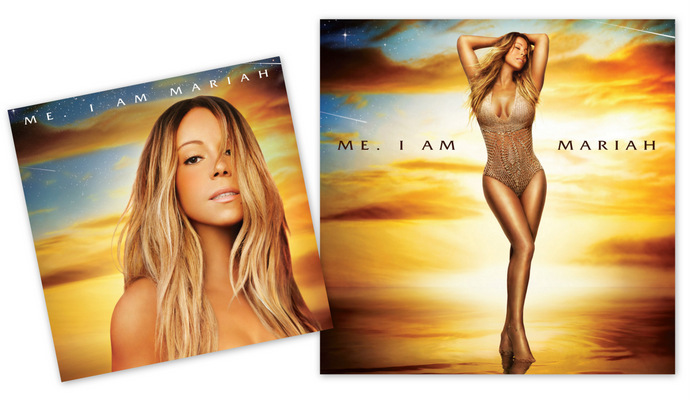 Mariah Carey's 14th studio album "Me. I Am Mariah… The Elusive Chanteuse" would appeal mostly to Mariah's fans but probably not impress new listeners. The album grows on you, but only if you have followed her through her music career and have grown to love her band of music. Having said that, there are still a few winners in this 17-track album. Here's my personal track-by-track review.
1. Cry
Mariah opens with a sultry ballad in typical Mariah style, starting with low notes and moving up the scale to prove she is still queen of the high notes. Very listenable but very forgettable. Cry.
2. Faded
A medium tempo, R&B-ish number. Interest "Faded" mid way through.
3. Dedicated (Featuring Nas)
The tempo and melody picks up. Throw in some rapping and it pushes this track slightly pass mediocrity.
4. Beautiful (Featuring Miguel)
Here comes the big saver of the album. "Beautiful" is truly beautiful. A breezy relaxed happy love song. Picture yourself in a chic convertible driving along a highway flanked with tall palm trees, with hair in the wind and lover in your arms.
5. Thirsty
"Thirsty" will truly make you thirsty cause its funky butt-slapping tune really makes you feel like hopping, and moving your feet and body. Great for your morning workout.
6. Make It Look Good
If you like "Beautiful" then you should like this track too, as it follows the same style, but smoother. Less catchy though.
7. You're Mine (Eternal)
When I first heard the single for this song, I totally disliked it cause it lacked originality and sounded like a mash of many Mariah songs put together. But after the 3rd or 4th listen, it got me hooked like some cheap drug. I am a fan so this may not apply to all. If you happen to catch the video, you will learn the art of strategically folding your arms to cover your vital parts.
8. You Don't Know What To Do (featuring Wale)
If a lip-syncing cabaret drag queen needs a new track for her show, this would be it. It starts slow and suddenly plunges into a catchy upbeat tune. Bit dramatic.
9. Supernatural
This song features kids' voices and laughter throughout the track, probably dedicated to her kids and a reminder that Mariah is a mommy. Perfect for a baby shower. Not for me though.
10. Meteorite
Pop. Dance. Disco. Look forward to the dance remix…
11. Camouflage
Another soothing ballad, Mariah style. Very listenable but very forgettable. Cry again.
12. Money ($*/…) (featuring Fabolous)
No money for this track.
13. One More Try
I don't know if George Michael should feel honored that Mariah is covering one of his hits. If I were him, I would just stab myself a few times. Mariah has done really great covers in her previous albums like Foreigner's "I Want To Know What Love Is" or Phil's "Against All Odds", but this cover is awful. I had to quickly switch to George's version to remind me how great a song it was/is.
14. Heavenly (No Ways Tired / Can't Give Up Now)
Another mediocre tune with rather distracting background noises supposedly part of the music production. Hmmm…
15. It's A Wrap (featuring Mary J. Blige)
Mary's appearance here seems wasted. Mediocre again.
16. Betcha Gon' Know (featuring R. Kelly)
This ballad is in Mariah's album "Memoirs Of An Imperfect Angel". But this version is with R. Kelly which made it richer, deeper and more interesting.
17. The Art Of Letting Go
When you get to this final track, which is another mediocre ballad, you would have decided to let go, and accept that Mariah's latest album is probably a 3/10 but just because you are a fan, you will have to listen to it another few times and convince yourself it is probably a 7/10. I'm at 6.5 now.
I have probably overused the word "mediocre". But that's the best description for this album. As a fan, I am disappointed. Yet as a fan, I continue to love the music of Mariah, new or old, because at this point, it is usually not about the music, but about the experience and memories her music and wonderful voice brings. She remains my Hero.