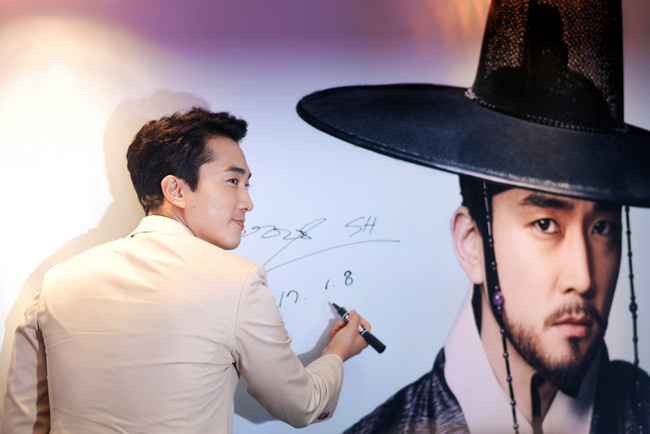 Singtel TV welcomes the new year with an exciting line-up for Chinese New Year. Oh!k (Singtel TV Ch 525/611) and Singtel Cast (Hallyu Pack) is set to premiere the historical romance drama, Saimdang on 26 January 2017. Double episodes, and same time telecast as Korea, it will star veteran actress Lee Yong Ae as Korea's famous artist and poet, Shin Saimdang, and heartthrob Song Seung Hoon as her love interest, Lee Gyeom.
To promote the epic drama (following up from Legend of the Blue Sea), Song Seung Hoon was in town for a quick Q&A and a meet-and-greet with his adoring fans.
Saimdang talks about the intertwined journey of Seo Jiyun, a university lecturer of Korean art in the present, and Shin Saimdang (both played by Lee Yong Ae) in the past. It starts off with Jiyun stumbling upon a diary of Saimdang, a famous Joseon-era artist and calligrapher who lived in the early 16th century. Jiyun becomes intrigued by a mysterious portrait within it, and begins a journey to uncover its history and the location of the original. Through this, Saimdang's love and life story awakens.
Fans of the genre have a lot to look forward to in Saimdang. The series not only marks the return of Lee Yong Ae, 15 years after her award-winning performance on Jewel In The Palace (Dae Jang Geum), but viewers will also see a new side to Soon Seung Hoon's acting.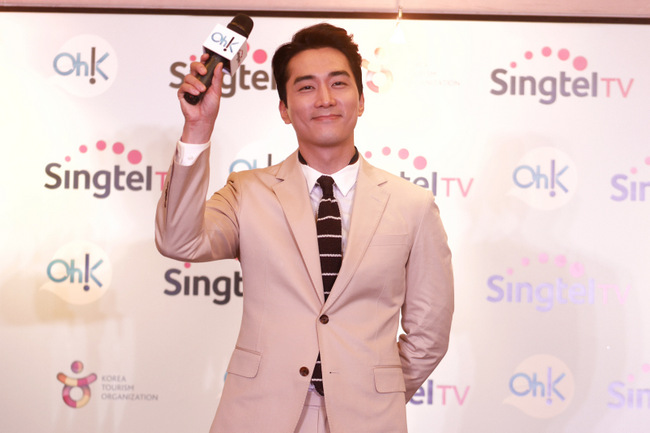 As the series was pre-filmed, the actor was able to work closely with the scriptwriters and director on portraying his role. He wishes to break the mould on how historical men are presented in such films and hope to bring a new dimension to the love story between his character and Lee Yong Ae's Saimdang.
He also enthuses that viewers can look forward to a dramatic love story between the co-stars, and witness how beautiful Korea was doing the Joseon-era.
When asked if he was nervous acting alongside an acclaimed veteran, he answered a resounding yes. He was no stranger to messing up his lines as he was on tenterhooks. Though, he was quickly put at ease when witnessing his co-star do the same, fussing that she was just as nervous, with Saimdang being her first return after so long. And, if the trailer is any indication, they have gotten over those jitterbugs and have a fantastic drama awaiting us.
Saimdang will premiere on 26 January 2017. New episodes will air every Wednesday and Thursday at 9:00PM (same time telecast as Korea). English, simplified Chinese, Bahasa Malay subtitles and Mandarin and Bahasa Malay audio options are available. Visit their website for the full schedule.