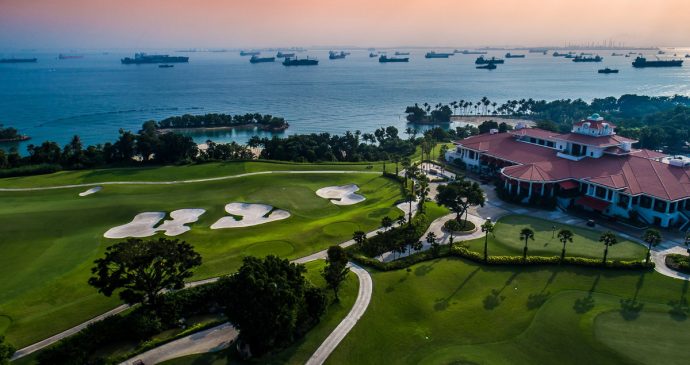 Sentosa Golf Club (SGC) in Singapore announced its commitment to become the world's first carbon neutral golf club by 2022. SGC is also the venue of the HSBC Women's World Championship where 69 of the world's best players are set to battle it out on the Tanjong course.
Over the next 12 months, contributions from the golf rounds will be set aside to support the purchase of certified carbon offsets through regional Forestry or Blue Carbon projects that will sequester atmospheric carbon while defending agains deforestation and fostering conservation of forests, mangroves and reefs. The club will step up efforts to make club operations and ground maintenance more carbon efficient. This includes golf equipment and maintenance fleet electrification initiatives and renewable energy sources.
SGC aims to join the United Nations' Race to Zero (carbon emissions) campaign following its pledge to neutralise the Club's carbon footprint by 2022. It has achieved Singapore's Green Mark (Platinum) certification through enhancing the energy efficiency of its clubhouse. It is the first in the region to introduce lithium battery golf carts. SGC has also deployed some 1,200 water saving sprinklers across the golf courses.
The Club has undertaken the important first step of establishing its carbon footprint against the Green House Gas Protocol, in conjunction with Sentosa Development Corporation's (SDC) island-wide carbon profiling efforts and GEO Foundation. GE Foundation is an international non-profit dedicated entirely to inspiring, supporting and recognising sustainable golf. SDC announced in March this year that Sentosa Island would be transformed into a carbon neutral destination by 2030 as a key goal in its sustainability plan. Some 200 business with Sentosa would work towards the collective aspiration of the island carbon neutrality.
This announcement is the latest in a long list of sustainable initiatives and commitments made by Sentosa Golf Club since the launch of its newest environmental campaign, GAME ON, at the 2020 SMBC Singapore Open. The campaign is designed to help educate and illustrate to the wider golfing community how important modern sustainable practices are for the betterment of the environment, acting as inspiration for golf clubs around the world to make changes to reduce their own carbon footprint.