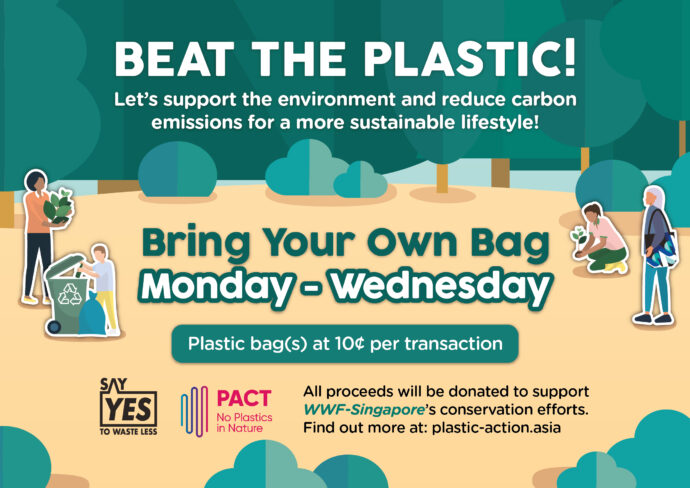 Watsons has extended its successful "Bring Your Own Bag" initiative from a one day in a week every Tuesday to three days a week. From Mondays to Wednesdays, plastic bags are given out only when customers request. There will be a charge of S$0.10 for every transaction and proceeds will be donated to support World Wide Fund for Nature's conservation efforts.
Did you know close to 13 million plastic bags were issued by Watsons to customers in 2019. On 1 December 2020, Watsons launched the Bring Your Own Bag initiative. In the last 10 months, the consumption of plastic bags at the retail stores was reduced by over 75% on BYOB day.
Watsons has introduced HDPE plastic bags with 50% recycled plastic content. This is up from its previous 10 to 15%. Plans are underway to launch a plastic recycling programme at stores by Q1 2022.
Sustainable Branding Survey Results
Watsons conducted a Sustainable Branding survey from June to August this year. It surveyed 3,500 Watsons members aged 15+ who have purchased any personal care, skincare, or cosmetic products int he past three months. The survey was conducted in Singapore, Indonesia, Malaysia, Philippines, Taiwan, Thailand and Turkey. 72% felt that it is important for a retailer to promote a sustainable lifestyle and 70% agreed that Watsons is preforming well in the core attributes for being a sustainable retailer.
Shoppers choosing sustainable Beauty and Personal Care products at Watsons are attributed to trustworthiness and value. 87% of respondents are willing to switch to sustainable choices if the products are cheaper or of the same price as the regular ones. Also 78% of respondents bring along their own shopping bag as a key sustainable practice in their everyday life.
94% expressed strong interest in refit stations of bath & body and household products at Watsons stores. They see refill stations as a way to build consumers' trust and help enhance the image of the retailer on sustainability efforts.
Watsons Sustainable Choices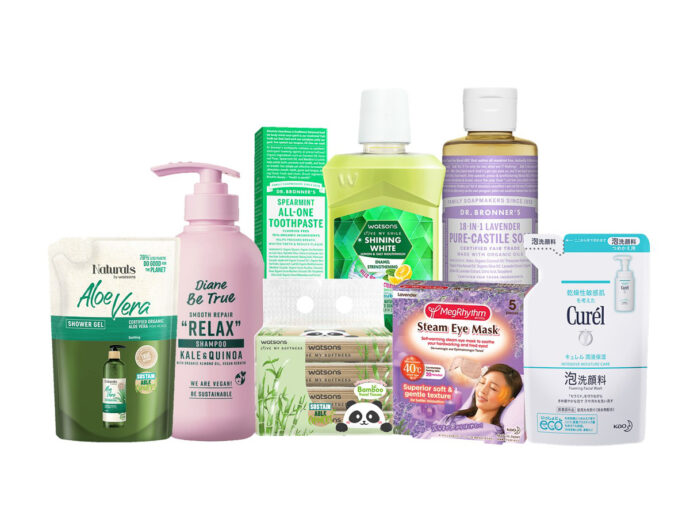 In October last year, Watsons introduced the Sustainable Choices category to curate and offer over 160 products that fall within four pillars. Today this has increased to close to 900 products from personal care, makeup to household items.
| | |
| --- | --- |
| Clean Beauty | Brands that are recognised by Watsons for using ingredients consumers trust will protect them, with additional environmental benefits and which support the local community. |
| Refill | Products that come with refill packs or instore refilling stations to enable customers to keep using the original containers or bottles. |
| Better Ingredients | Products use quality ingredients from sustainable sources, sourced responsibly or have reduced plastic content in non-formulated products. |
| Better Packaging | Products that have chosen "better plastic", such as recycled plastics or sustainably sourced paper in its packaging. |
Sustainable Choices in 2021
Earlier this year, sales of some of the products increased by over 300%. They include CUREL Intensive Moisture Care Foaming Facial Wash Refill, DR BRONNER'S All-One Toothpaste Spearmint, Watsons 3ply Box Tissue and others.
Watsons JEM and The Shoppes At Marina Bay Sands stores introduced a dedicated Clean Beauty zone. Look out for Sustainable Choices wobblers in all other Watsons stores.
A.S. Watsons Signed Up for New Plastic Economy Global Commitment
Watson's parent company A.S. Watsons has joined over 450 brands worldwide as one of the signatories of the New Plastic Economy Global Commitment that unifies the global value chain behind a common vision for upstream solutions, supported by action-oriented targets for sustainability.