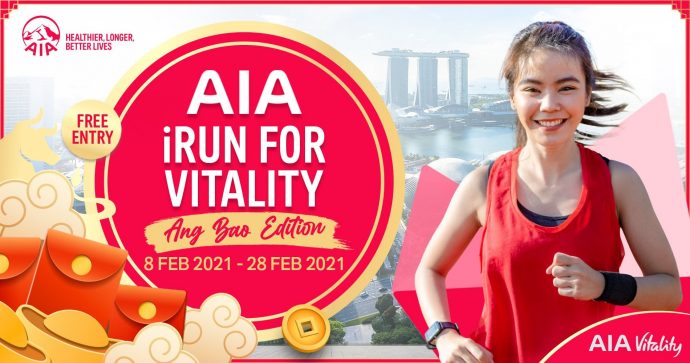 The second edition of the AIA iRun for Vitality happens from 8 to 28 February 2021. The ang bao edition is free and open to every one. Register online from 14 January to 7 February 2021 for individual, team or corporate challenges. Runners stand to win prizes by unlocking significant milestones along the way.
Live leaderboards for participants across Individual and Corporate Challenges are recorded based on total distances clocked. Final rankings and winners will be announced on the 42Race Facebook Page on 10 March 2021.
Individual Challenge
Sign up to receive your first treasure box containing 888 ang baos and collect more along the way. As you rack up the miles, participants will be able to unlock treasure boxes containing more ang baos. There are four treasure boxes to unlock and Lunar New Year themed eBadges to collect at the following milestones: Bronze: 18KM, Silver: 38KM, Gold: 88KM, and Platinum: 168KM.

There will be a total of 888 winners. The top 88 individuals who collect the most ang baos will be awarded with a Garmin vívosmart 4 worth S$199. Subsequent 800 individuals will receive an exclusive partner reward according to their ranking: 89th-188th (Prosperity Prize), 189th-388th (Abundance Prize), 389th-888th (Happiness Prize).

Limited edition finisher tee (Ang Bao Edition) is also available for purchase at only S$8.88.

Special perks also await AIA Vitality members! At every milestone, members will be rewarded with AIA Vitality points: 18KM (268 Vitality points), 38KM (488 Vitality points), 88KM (888 Vitality points), 168KM (1,688 Vitality points).

To participate in the Individual Challenge, register online here.
Team Challenge
Form a team of 4 and work together to clock the longest distance during the race period. All team members must unlock at least the 18KM milestone to be eligible to win the prizes.

Participants will need to join the Individual Challenge before creating and/or joining a team to participate in the Team Challenge.

Team members from the top 88 teams that clocked the longest distance will be awarded with the finisher tee (Ang Bao edition), and AIA Vitality Members will also earn 200 Vitality coins,

Team Challenge winners will be announced on the 42Race Facebook page on 10 March 2021. Following this announcement, an email will be sent to winners to notify them on prize redemption details.
Corporate Challenge
AIA will be sharing an exclusive invitation to selected companies to join the Corporate Challenge. Employees of selected companies looking to participate will need to consult with their respective HR departments to access the Team URL and unique sign up codes.

Other companies keen to participate may contact the AIA Corporate Vitality team at [email protected].

Form a team of up to 28 employees to clock the longest distance during the race period and go head to head against teams from other participating organisations.

Team members in the top 8 corporate teams that clocked the longest distance will each be awarded with 1 exclusive AIA Vitality Premium Yoga Mat and 1 finisher tee (Ang Bao edition). Employees who are AIA Vitality Members will also get to earn 200 Vitality coins.

Organisations will be notified of the winners for the Corporate Challenge after the race. Corporate Challenge winners will also be announced on the 42Race Facebook page on 10 March 2021.

Keen runners can also join and participate in Individual and Team Challenges alongside the Corporate Challenge. Participants in the Corporate Challenge are not required to register for the Individual Challenge first.
Take part in the social media contest during the race period from 8 February 12 am to 28 February 2021 11.59 pm. Post on Instagram sharing Chinese New Year – themed videos or photos of yourself running or walking to clock up the miles. Include eBadges earned by unlocking any of the 4 distance milestones. Tag @aiasingapore and include hashtags #AIAiRunforVitality #AIAVitalitySG #AIASG and #HealthierLongerBetterLives. The 8 most creative submissions will each win a Garmin vivosmart 4.