CapitaLand Shoppertainment Live Show from 31 July to 2 August 2020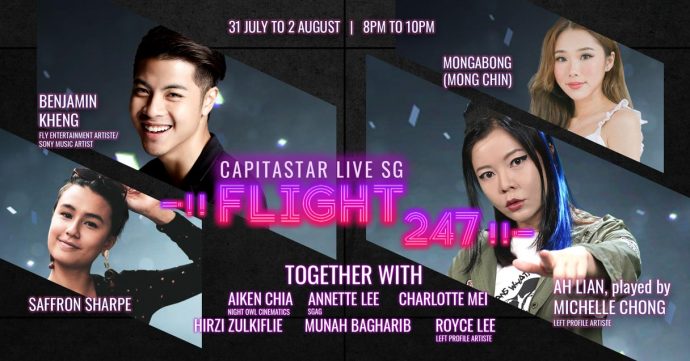 CapitaStar Live SG: Flight 24/7 is CapitaLand's first shoppertainment live show in Singapore. Happening from 31 July to 2 August 2020, 8pm to 10pm daily, the show brings together media personalities in a variety show format, showcasing exclusive not-to-be-missed deals from more than 50 participating brands in CapitaLand malls.
| Date | Presenters |
| --- | --- |
| 31 July | Anette Lee, Aiken Chia & their guests Benjamin Kheng and Mongchin Yeoh share their favourite travel memories of Japan and a beach villa getaway. |
| 1 August | Charlotee Mei and Munah Bagharib are joined by Saffron Sharpe and Hirzi Zulkiflie to create the most insta-worthy home party scene. |
| 2 August | Michelle Chong and Royce Lee share tips and tricks on lifestyle topics such as fashion and beauty in the new normal. |
Look out for attractive live deals, reward codes and giveaways worth over S$70,000 from Ascott, Audio Technica, Dyson, Harry's, Huawei, as well as eCapitaVouchers and more.
Viewers can tune in to "CapitaStar Live SG: Flight 24/7" via the CapitaStar App and CapitaLand Malls Facebook and Instagram pages while shopping on eCapitaMall and Capita3Eats.
AIA Live – A Virtual Day of Wellness and Fun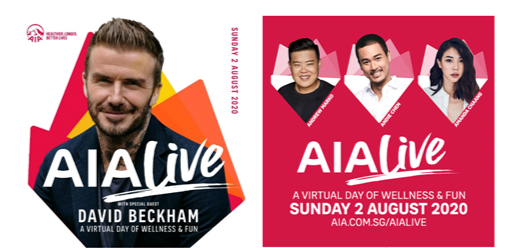 On 2 August, have a day of fun, wellness and learning with AIA's family of health and wellness celebrity ambassadors from around the world. AIA Live will feature AIA Global Ambassador David Beckham on how he has been keeping active and healthy with his loved ones during these challenging times and over 20 international and local influencers from all over the globe.
Celebrity Chef Jeremy Pang will cook tasty and healthy recipes with ingredients from across Asia. Tottenham Hotspur Global Development Coaches will challenge you to some easy and fun football skills. Catch local influencers Andie Chen, Amanda Chaang and Andrew Mark. Learn how to feel body positive with model and advocate Jess Quinn in New Zealand and find out more on the importance of proper breathing to manage stress with Dr Jaime Lee from Australia. Learn how to keep fit like a professional athlete with former All Blacks rugby player Ian Jones, Malaysia's squash queen Nicol David and more.
Sign up at aia.com.sg/aialive. Register for the event by 29 July 2020 and stand a chance to win prizes, including a trip to London to watch a Spurs home game at the Tottenham Hotspur Stadium! AIA Live starts at 10 AM SGT this 2 August 2020 on AIA's Healthy Living YouTube channel: https://www.youtube.com/AIAHealthyLiving
Virtual National Day Istana Open House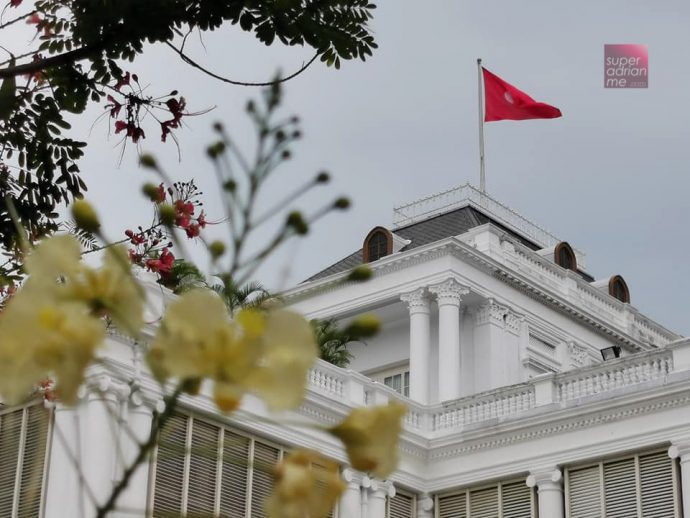 President Halimah Yacob will host a virtual Istana Open House at 10 am on 2 August 2020 to celebrate National Day. Close to 150 beneficiaries of the President's Challenge and The Straits Times School Pocket Money Fund will also be joining in.
Experience the Istana grounds through a multimedia interactive tour featuring some of the lesser known areas. Did you there is a well and bunker that are usually not accessible to the public within the Istana?
Interact with an artefact from the National Museum of Singapore in "Zoom into History" or enjoy sneak previews of the Asian Civilisations Museum's virtual galleries and National Day Programme.
Learn more about the NDP2020's "Our Heart for Singapore" project which shares Singaporeans' reflections, thanks, hopes and aspirations for the nation.
| TIME | PROGRAMME |
| --- | --- |
| 10.00 am | Welcome Remarks by President Halimah |
| 10.05 am | Virtual tour of the Istana by The Straits Times |
| 10.15 am | Presentation by the Asian Civilisations Museum |
| 10.30 am | "Zoom into History" tour by the National Museum of Singapore |
| 10.40 am | "Our Heart for Singapore" project showcase by the NDP2020 Organising Committee |
| 10.50 am | Closing Remarks by President Halimah |
| 11.00 am | End of Programme |
The event will be live-streamed on President Halimah's Facebook and Instagram.
Submit Your Wishes For Singapore through Sentosa's Flag of Unity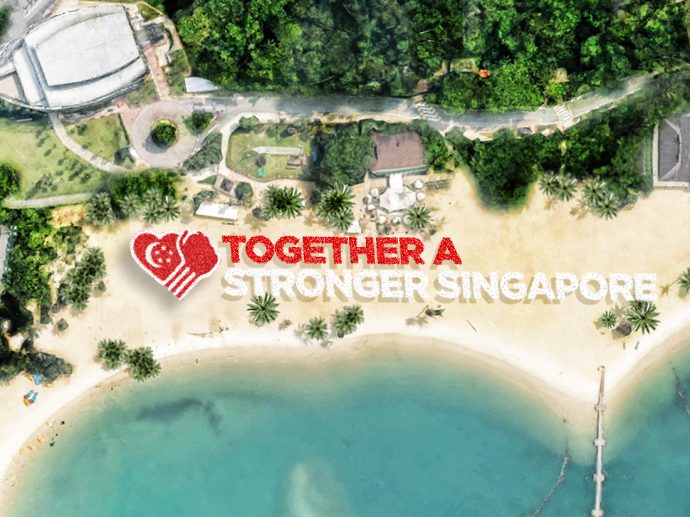 You have until 8 August 2020 to submit your wishes for Singapore or read the celebratory messages from others at www.sentosa.com.sg/ndp2020. As part of the National Day celebrations, every 20th submission will receive a pair of wireless earbuds worth S$20. This is part of Sentosa Development Corporation's Flag of Unity display that will span across 4,500 sqm of Siloso Beach. 10,000 recyclable red and white flags, each carrying one of the submitted messages.
At the end of the campaign, the flags materials will be upcycled into usable items such as bags.
Join In The 14th National Day Sing-Along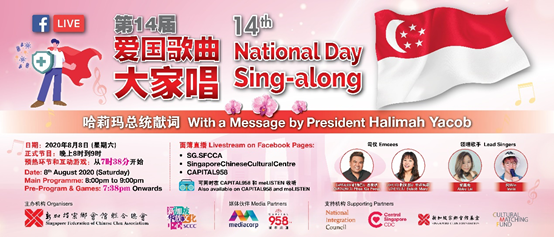 The Singapore Federation of Chinese Clan Associations and Singapore Chinese Cultural Centre have brought the annual National Day Sing-along online in conjunction with Singapore's 55th birthday. The event will be live-streamed on 8 August 2020 from 7.38 pm to 9 pm on the SCCC Facebook Page, SFCCA Facebook page and Capital 958FM Facebook page.
The 14th edition of this annual event will be graced by President Halimah Yacob as the Special Guest who will be delivering a message.
Join homegrown singers Abby Lai and 阿Win sing familiar local tunes such as Home, The Stream That Flows Forever and Voices from the Heart. Chinese association such as Guang Wu Club and Nam Hwa Opera have also pre-recorded songs that will be screened during the Sing-along. Also join local deejays Phua Kia Peow and Bukoh Mary in an engaging series of interactive games.
106 Singaporean Films & Series on Netflix to Watch in August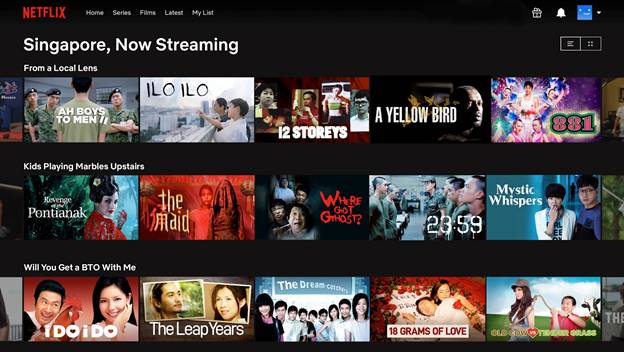 106 Singaporean films and series will be launched progressively on Netflix from 1 August 2020. Enjoy classics such as Ilo Ilo, I Not Stupid, 881, Homerun, and Ah Boys to Men II, along with well-loved series such as Phua Chu Kang Pte Ltd, Growing Up, Under One Roof, The Noose, The Unbeatables and Bunga Tanjong. This is in addition to existing Singapore titles on Netflix such as Shirkers, A Yellow Bird, A Land Imagined, Ah Boys to Men, and Revenge of the Pontianak as well as a selection of Mediacorp dramas.
To make it easy for you to find your beloved Singaporean stories, Netflix will exclusively be housing both its upcoming and existing Singaporean films and series under a special "Singapore, Now Streaming" collection (www.netflix.com/sgnowstreaming) starting August 1. Simply enter "SG Now Streaming" into the search bar to access this list.
Additionally for a limited time and only in Singapore, viewers will see a variety of fun Sing-lish renditions of their favourite Netflix rows:
Set In Singapore — Global shows and films that feature Singapore
Could Have Happened In Yishun — Horror films
Indoor Paktor — Romance
Sayang Hae Yo — K-drama and K-romance
Why You So Action — Action shows
Sedap till Shiok — Food shows
Haji Lane Hipness — Fashion Shows
That Atas Life — Luxury homes, or Fashion shows
No Need To Chope Leave — Travel, or Exploration shows
Asian Civilisation Museum Online Programmes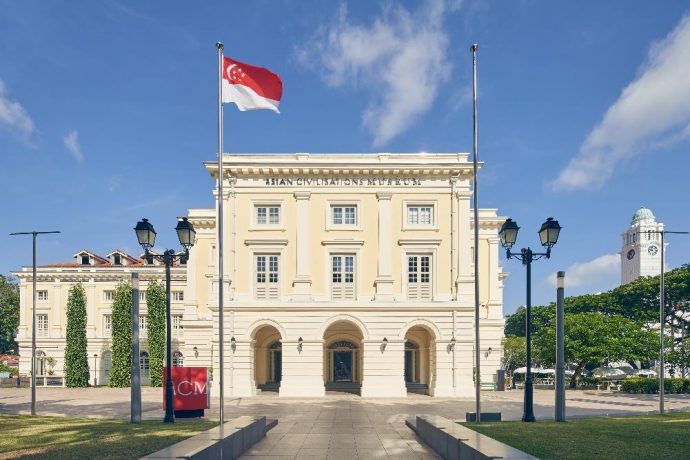 Asian Civilisations Museum celebrates Singapore's 55th birthday with online programmes that help you rediscover Singapore's rich cross-cultural art and heritage through ACM's masterpieces with themes of Trade, Faith and Belief, and Materials and Design with self-guided tours, as well as instructions for DIY crafts at home.
Programme
When
Description
Onward Singapore

ACM Website


8 to 31 August
Lift your spirits and celebrate National Day with a special musical performance. Create your own badge with materials easily found in your home, or go on a virtual self-guided trail of ACM's galleries! Try out easy recipes of well-loved dishes, and don't miss the chance to have your portrait drawn by an illustrator*.

*Registration on Peatix is required. Limited slots available on a first-come, first­ served basis. Activity takes place only on 8 August
Let's learn about…cross-cultural art!

ACM Website


From 2 August
Explore a bird calligram by Chinese Muslim calligrapher Yusuf Chen Jinhui currently on display in ACM's Islamic Art Gallery. This fascinating masterpiece mixes cultures and influences. Then create a calligram with your name, and challenge yourself with our word search.
Audio descriptive tours

ACM Website
From 8 August
Learn more about the bird calligram through audio descriptions on ACM's website. The tours focus on select ACM objects every month.
Suitable for all, including persons with vision impairment.
#VirtualACM

ACM Website
From 2 August
Visit ACM's newest galleries wherever you are – virtually! Explore the level three galleries: Fashion and Textiles, Jewellery, and Ceramics – which display over 400 finely crafted masterpieces that tell stories of Asian identities, history, and cultural interactions.
ACM Treasures in AR

ACM Website
From 8 August
View a selection of treasures from each of ACM's permanent galleries in detailed Augmented Reality (AR). These include a rare gold cup from the Tang Shipwreck Collection, an incense burner made with objects from different cultures, and an exquisite bridal crown from Southeast Asia.
#ACMComics

ACM lnstagram
From 2 August
Follow the journey of a hand-painted bowl from Changsha, Hunan province, China, birthed more than 1,000 years ago. Immerse yourself in this beautiful story about the Tang Shipwreck Collection, illustrated by local artist Andy Yang. This is the first edition of fascinating comic-style stories delivered from ACM's galleries straight to your home, recounting the artistic ebbs and flows between Singapore and the world.
Celebrate the beauty of Asia on ACM Instagram
From 1 August
Up your lnstagram game with two new AR filters inspired by the museum's new Fashion & Textiles and Jewellery galleries. ACM's Fashion & Jewellery filters allow you to – for the first time ever – digitally try on fashion and jewellery pieces from ACM's collection.

Or try out ACM's Multicultural Questions and put your object knowledge to the test – this filter pairs masterpieces from ACM's collection with fun interactive quizzes.

Surprise your friends and followers with ornate GIF stickers on your lnstagram Stories. Whether it's alluring flora and fauna from the region, or a special candelabra with lotus flowers, you'll show you're a trendsetter!
Singapore Science Festival 2020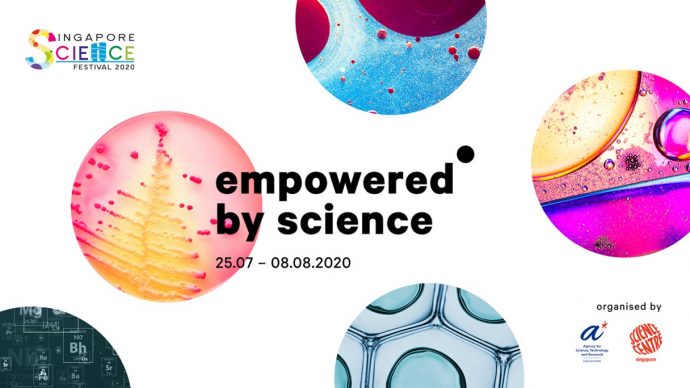 The 20th edition of Singapore Science Festival returns this year as a full digital experience. The jointly organised event by A*STAR and Science Centre Singapore is themed Empowered by Science. It will take you on a virtual journey to experience, engage and explore the power of science. Held from 25 July till 8 August 2020, the virtual festival offers over 30 interactive events and activities.
Watch weekly live performances with Science Busker Extraordinaire, David Price, via livestream direct from the United Kingdom. Fran and Dan, scientists from The Royal Institution of Great Britain will be touring Primary and Secondary schools virtually through livestream sessions for an interactive show that puts food in a new light.
SSF will take up the challenge to set a new record on 8 August 2020 with the Singapore Book of Records by attempting the "Most number of people doing a science experiment together on an online platform". Participants will simultaneously conduct the "Magic Milk" experiment, led by a Science Educator from Science Centre Singapore, via Zoom, to create a visually stunning experiment based on the scientific properties of surface tension using just milk, ink and a dish soap.
For more information about the Singapore Science Festival 2020, additional activities and workshops, visit sciencefest.edu.sg
Band Together, Singapore! Virtual Performance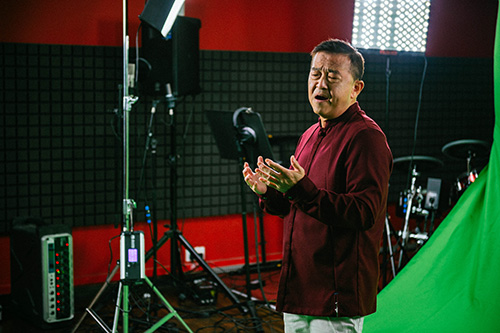 A new music video of 'Count on Me Singapore' featuring 400 Singapore wind band musicians alongside original singer Mr. Clement Chow will be released on 7 August 2020. Clement recorded and performed Count on Me, Singapore in 1986. That was the first national sing-along song.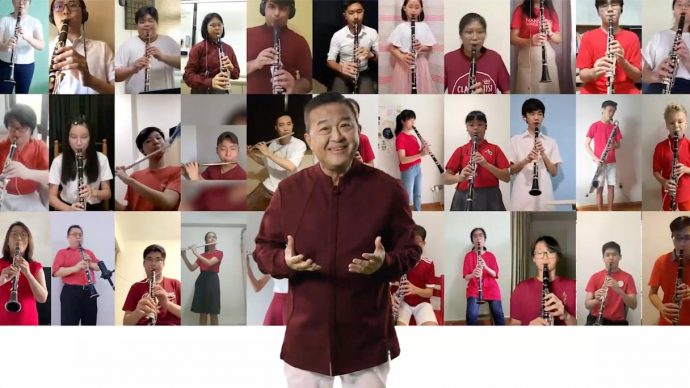 The pre-recorded digital performance will be premiered online (#bandtogethersingapore). Participants of the music video come from all walks of life including students and professional musicians from the Singapore Symphony Orchestra, Singapore Armed Forces Band and the Singapore Police Force Band.
Other video highlights include drummers from the Armed Forces and Police Force Band, the rarely seen women police pipes and drums as well as musicians playing amalgamation instruments such as the DooD and Jsax.
Production firm Createurs Productions, who also produced the viral virtual choir video featuring Dick Lee's 'Home', put together this video.
Gardens by the Bay and MediaCorp To throw a National Day Concert Special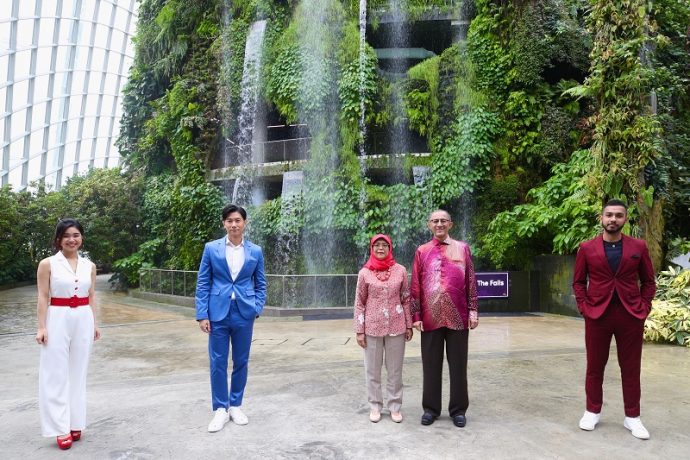 The Gardens by the Bay & Mediacorp National Day Concert 2020 will premiere on 10 August 2020 from 8pm to 9pm. Catch performances by performers Daryl-Ann, Desmond Tan, Fang Rong, Felicia Chin, Gurmit Singh, Inch Chua, James Seah, JJ Neo, Kumar, Liwani Izzati, Nathan Hartono, Richie Koh, Sharon Shobana, Suhaimi Yusof, Taufik Batisah, and Yung Raja.
Graced by Guest-of-Honour President Halimah Yacob and Mr Mohamed Abdullah Alhabshee and anchored by performances filmed across Gardens by the Bay at lush iconic locales such as the Supertrees, Flower Dome and Cloud Forest, the programme will premiere via Mediacorp's multiple platforms on 10 August at 8pm on Channel 5, meWATCH and meWATCH YouTube.
Culinary Moments with 1664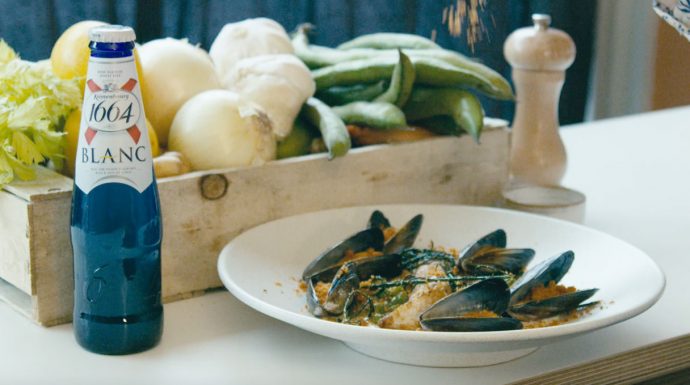 Culinary Moments with 1664 is an online series that takes you on a culinary journey. In the month of August, the sessions will be led by special guests who will share exclusive tips on elevating one's home cooking with 1664, including Chef Christophe Lerouy of one Michelin-starred restaurant Lerouy on 17 August 2020 at 5pm as well as Chef-Restaurateur Beppe De Vito of one Michelin-starred restaurant Braci on 24 August 2020 at 5pm. Visit http://www.facebook.com/MichelinGuideSingapore/ to watch the chefs in action.
Home cooks may also stand to win a specially curated 1664 Blanc Goodie Bag, worth over S$100, which includes 1664 Blanc and exclusive 1664 glassware! Simply share a snapshot of their best culinary creations alongside their 1664 Blanc beer, with the hashtag #CulinaryMomentswith1664 and @1664Singapore tagged, via Instagram and Facebook, to enter the contest.