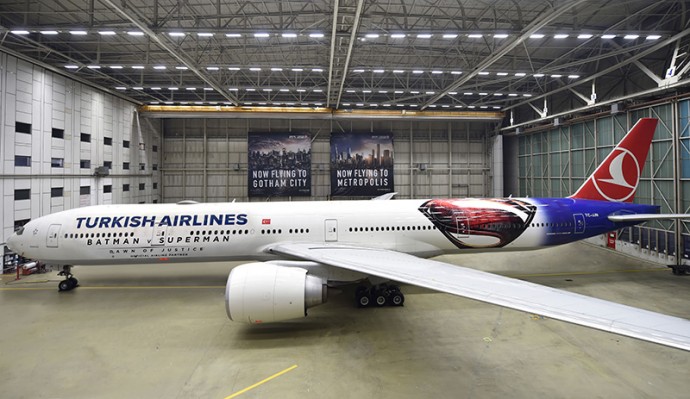 Turkish Airlines is the official sponsor of DC Comics' Batman v Superman: Dawn of Justice. The movie hits theatres around the world on 25 March 2016, and 24 March 2016 (in Singapore).
Last month it announced its partnership with Warner Bros. Pictures as it unveiled a Boeing 777 Turkish Airlines plane in the Batman v Superman: Dawn of Justice livery. It also issued limited edition movie-themed in flight amenity kits for adults which came with eye mask and slippers while the kids version came with headphones, slippers and a watch. Movie-themed in-flight menu items including branded cookies and cupcakes were introduced on board. A Time Out travel guide featuring content focusing on Gotham City and Metropolis will be distributed to moviegoers, passengers and at select venues.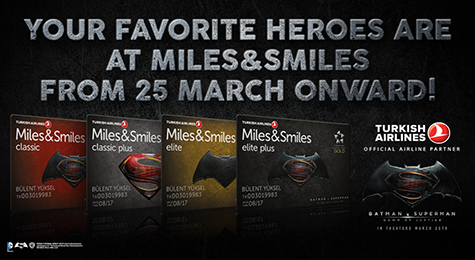 https://www.youtube.com/watch?v=TReIozZ1b10&feature=iv&src_vid=qpk8eSpRBnY&annotation_id=annotation_1094503907
Turkish Airlines will also be issuing special collector's card from 25 March onwards for its four different cards – Miles & Smiles Classic card, Classic Plus, Elite and Elite Plus.
https://www.youtube.com/watch?v=qpk8eSpRBnY
Existing cardmembers can apply for the collector's cards at milesandsmiles.com from 25 March 2016 till the end of the year.
Capitaland Malls in Singapore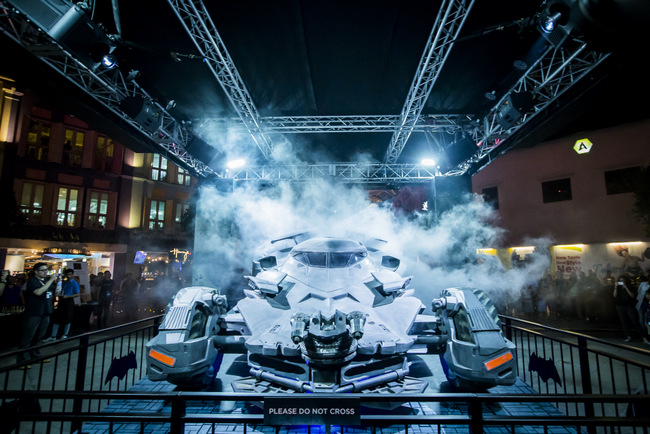 In Singapore, Capitaland malls has been exclusively rolling out an extensive line-up of hero-themed activities. Life size statues of Armoured Batman, Superman and Wonder Woman as well as a replica of the latest Batmobile. There will also be role-play game stations, movie inspired delicacies, exclusive collectibles, fan art workshops and other thematic activities.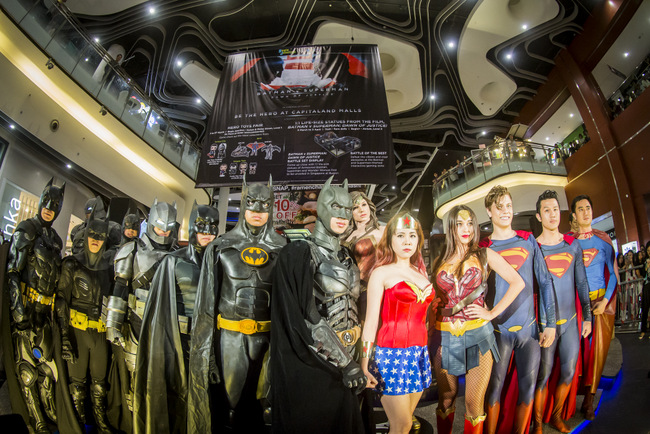 Till 3 April 2016, Bugis+L Level 2 will transform into a battleground, perfect for taking photos and selfies. Batman fans can experience the thrill of hurling the Dark Knight's signature batarang weapon at villains. Superman can use The Man of Steel's heat vision to clear obstacles while flying around Earth.
Game stations will be at Bugis+ till 3 April followed by Funan DigitaLife Mall from 14 to 20 March 2016.
A fully armoured and equipped Batmobile replica is at Clarke Quay till 20 March and at Westgate from 22 March till 7 April. Spend S$60 at Westgate, and take home an instant print of yourself with the Batmobile replica in an exclusive photo sleeve.
Dining establishments at Clarke Quay including The Butchers Club have introduced specially-designed thematic dishes and drinks.
Spend S$180 or more over a maximum of three combined receipts on the same day at any of the 16 CapitaLand malls and redeem an exclusive Batman v Superman: Dawn of Justice Collectible. There are four designs including Batman, Superman, Armoured Batman and Wonder Woman. Redeem the full set of collectibles and participate in a lucky draw where two lucky winners will each receive a pair of air tickets to Hollywood in Los Angeles where they will enjoy an exclusive Warner Bros. VIP Studio tour.