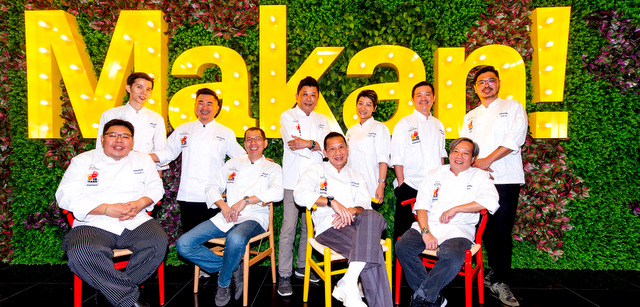 Chefs For A Cause by Project Happy Feet returns 7 July 2019 to support education of underprivileged children. It will be held at HUONE in Clarke Quay, located above Hai Di Lao from 1.30pm to 5.30pm on 7 July 2019.
The fourth edition of Chef for A Cause will feature 14 well-known local chefs. They will team up to whip up their signature dishes for a good cause of empowering lives through culinary arts
The event is entirely sponsored by participating chefs, sponsors and volunteers, 100% of the proceeds for the event will go directly toward supporting education programmes for underprivileged children under the care of South East CDC and This Life Cambodia. 80% of the proceeds will be channeled to a School Life Fund @ South East CDC and the other 20% will be donated to This Life Cambodia towards supporting access to secondary school education in Siem Reap, Cambodia.
Participating chefs will include Chef Jimmy Chok from JC Concepts, Pang Kok Keong (Sugar Daddy Group), Daniel Sia and Benjamin Tan (The White Rabbit), Daniel Tay (Foodgnostic and Old Seng Choong), Ho Chan Fei (One Degree 15), Forest Leong (Sam Leong @ Forest), Louis Tay (Aston Group), Philip Lee (Indoguna), Xu Tianmu (Project Chef), Anderson Ho (Snorre Food), Robert Chan (PARKROYAL on Kitchener Road), Ken Zhang (Warehouse Hotel) and Then Chui Foong (Euraco Finefood).
This year there will be 13 interesting Asian-inspired and classic western dishes. A sample of what to expect include Braised Thai Vermicelli with Prawns and Chicken Bulgogi Taco to Durian Puff and Crème Brulee Souffle Pancakes. There will be a special Chicken Rendang dish with Mantou and Acar prepared by the Guest-of-Honour Dr. Mohamad Maliki bin Osman, who has volunteered to help out with the fundraising effort. His dish will be auctioned off to further contribute to the fund.
Dr Mohamad Maliki Bin Osman is also the Senior Minister of State, Ministry of Defence and Ministry of Foreign Affairs and Mayor of South East District. He will be launching the School Life Fund @ South East at the event.
This year's event coincides with the 10th Anniversary of Project Happy Feet, a local not-for-profit organisation dedicated to bettering the lives of children through education. To date, the Project Happy Feet Slipper Race in Singapore and overseas has raised over S$1 million and channeled 100% of fund to benefit thousands of children and youth in Singapore, Vietnam, Cambodia, Philippines, India and Nepal.
Admission tickets for CFAC 2019 are available for reservations now through the event's official website
Early Bird Coupon, priced at S$50 each, includes admission for one and comes with 5 food portions*
Normal Entry Coupon, which will be available on event day, will admit one and allow for four food portions*
Those who need more food can purchase the Foodie Coupon which includes 5 food portions* or $50 equivalent of food and food products
Children under 12 admit for free
*Each food portion is priced at $10