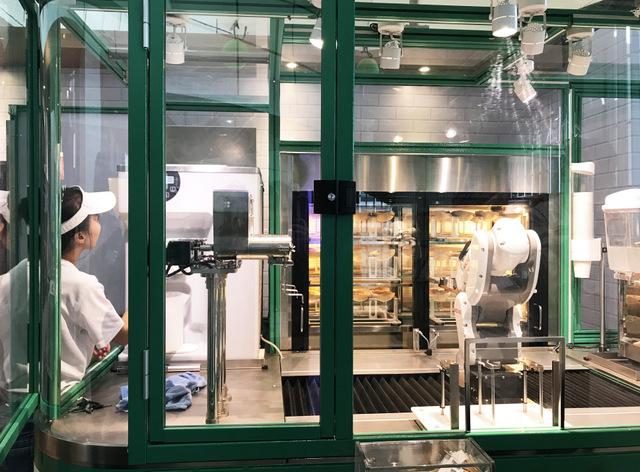 Food&HotelAsia and ProWineAsia 2018 will be held at Singapore Expo and Suntec Singapore from 24 to 27 April 2018 from 9 am to 6 pm. Meet over 3,500 exhibitors and food & hospitality trendsetters from over 70 countries and regions.
Explore ways to improve back and front-of-house processes through innovation, productivity enhancements and job redesign in RESTAURANT 3.0 at Food&Hotel Asia 2018. The showcase is a multi-party collaboration by Enterprise Singapore, Workforce Singapore, Singapore Productivity Centre and Restaurant Association of Singapore.
The food services industry plays a pivotal role in the Singapore economy contributing to 0.8% of Singapore's Gross Domestic Product in 2016. In the same year, over 160,000 workers were employed. Food companies have to create a market niche by innovating processes or products, or making technology work for them. Over a third of food outlets in Singapore are already innovating and adopting technology as of end 2017.
RESTAURANT 3.0 Back of House
Outsourcing Production – READY MEALS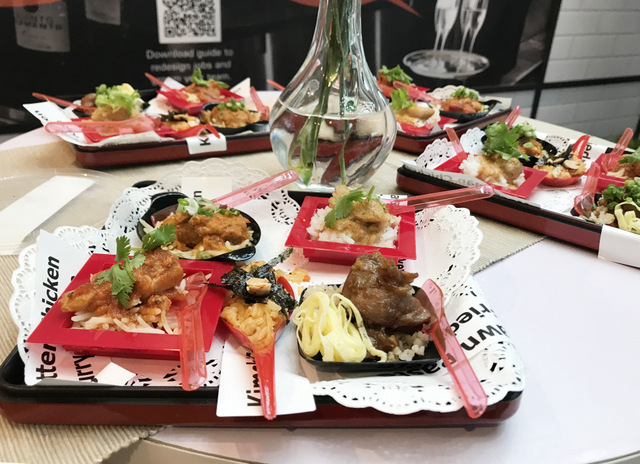 Ready meals which are no longer new to the market allow businesses to expand without increasing overheads or opening new outlets. Outsourcing to ready meals manufacturers reduces setting up additional capabilities for your own kitchen. Quality, taste and nutritional value of the food can also be kept consistent. All you need are kitchen assistants to heat up, plate and serve ready meals when ordered.
Optimising Workflow With Automation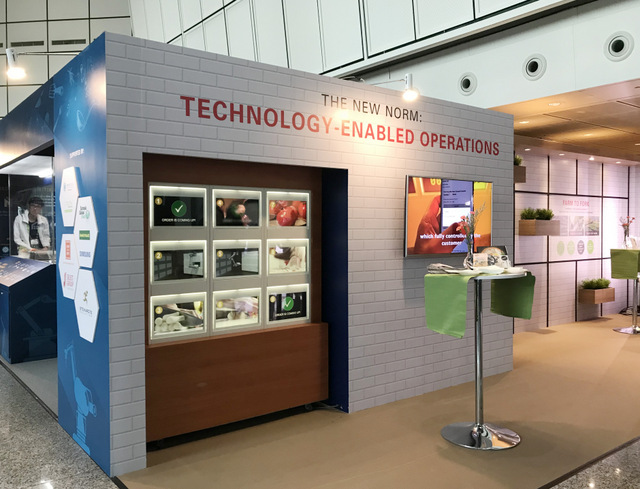 RESTAURANT 3.0 also demonstrates how smaller food companies can adopt bite-sized automation solutions in individual outlet kitchens; or if there's a central kitchen, large-scale automation solutions. Workflow redesign will be required to automate labour-intensive or inefficient processes such as inventory management, food preparation and dishwashing.
Pre-programming Food Preparation Tasks Via Robotics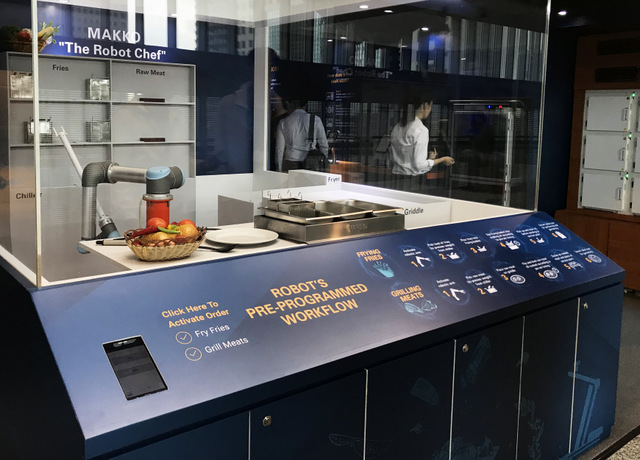 Automating basic operational processes through robotics can complete the manual job of picking up raw meat from the chiller, cook it on the griddle, plate it to be served through robotics. This will allow workers to take the opportunity to reskill and upskill with the streamlined back-of-house processes.
RESTAURANT 3.0 Front-of-House
Food Vaults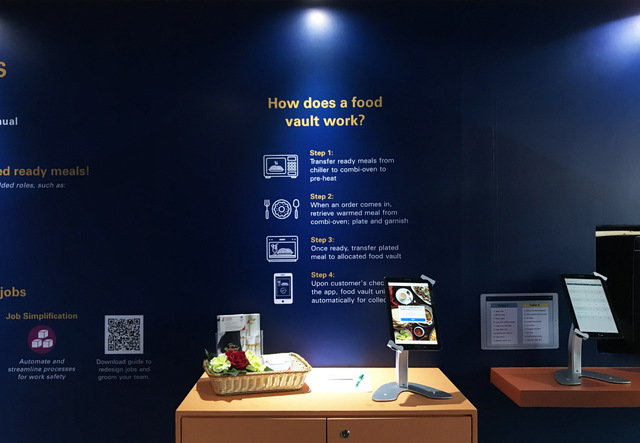 Food vaults are a common way of running your F&B business these days with online ordering platforms via a centralised tablet, mobile phone application or web-based platform. The system automatically allocates a vault and informs the kitchen assistant to prepare the food for customer's self-collection. This helps to reduce waiting time for the customer and the service staff does not need to wait on customers since the food vault unlocks itself when customers check-in.
RFID Vending Machines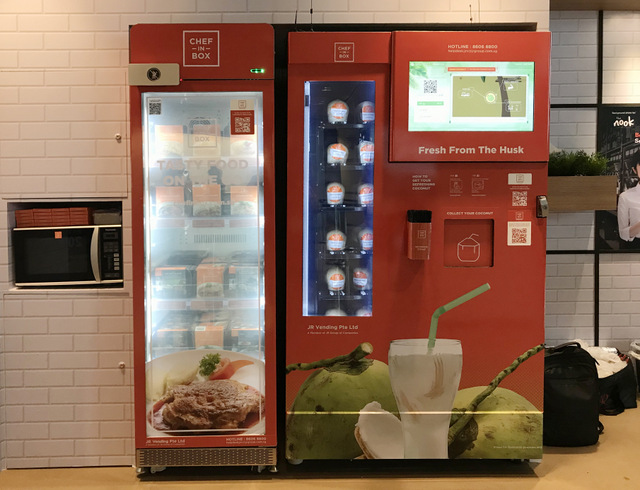 Food vending machines have become rather popular in Singapore. The first Vendcafe launched at Anchorvale Drive in 2016 and has achieved 90% manpower savings when compared to an eatery with similar menu offerings and space. Anyone can pop by to get a meal anytime in less than three minutes from order to delivery. No food service staff required for this task.
Check out at RESTAURANT 3.0 a new machine that uses Radio-frequency Identification (RFID) technology. Multiple items can be purchased at a time. Just scan the QR code to open shelf, select desired product and close shelf to check out and payment will be automatically processed. All done in three simple steps.
Robotics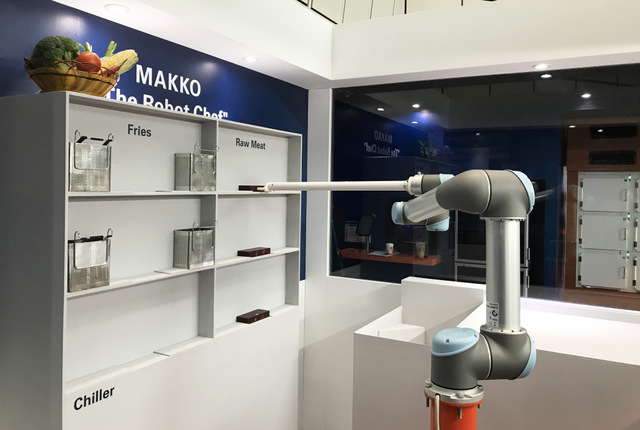 As with back-of-house processes, food companies can automate front-of-house operations including customer reservation, queue management as well as ordering, serving, billing and payment tasks through robotics.
Robotics can take orders through its digital ordering kiosk and fulfil orders automatically through its robotic arm and even serve ice cream inside a coconut husk or make coffee.
Farm-to-fork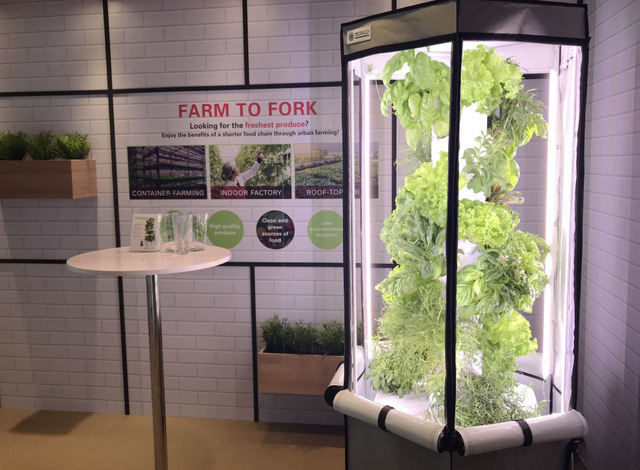 Over 90% of food consumed in Singapore is imported. There is also a growing appetite for healthier food options. Food companies can use technology to grow produce locally to become self-sufficient. RESTAURANT 3.0 features an example of an urban farming solution to maintain a consistent in-house supply for ingredients such as seasonal herbs, and enhance the consumer experience by allowing them to select their preferred herbs as part of the dining experience
This is a sponsored post.