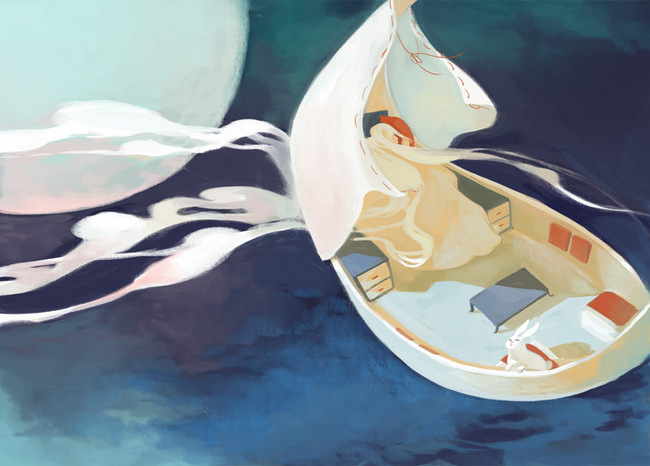 Malaysian artist Hwei Lim has been quietly building an impressive portfolio of soft, elegant art works, wowing international audiences. This included Spanish comic artist, Emma Rios, who co-wrote their latest work, Mirror. She is also known for her own ethereal works including the The Loneliest Whale and a fantasy re-thinking of Tang Dynasty's Princess Pingyang in Our Glorious Deeds.
She will be one to look out for at this year's STGCC, which is happening on 10 – 11 September at Sands Expo (mark your calendars). While we can't wait to meet the artist who is putting Malaysia on the map in the flesh, let's learn a little more about her!
Your style is exquisite! Have you studied art or were you self­-taught? Also, how did you develop your unique style?
I studied whatever I could find on the internet, I was lucky that there were lots of people willing to share what they knew even back then. It was and is amazing that people would spend time and effort learning and figuring out stuff, and then share that information to save other people time and effort.
I think everyone develops styles as a kind of shorthand, to capture what we see or hear or experience in the real world, and it's shaped by what you see or hear or experience as well as how you choose to draw it. So to explain why I draw like I do, I'd have to name a lot of artists, authors, musicians, people I've met, places I've been.. I do only really feel comfortable drawing lineart and colouring in light washes, so that's easier to explain.
I loved your short comic – 25 Lives. While what first captured my attention was your art style, what took my breath away was how you managed to mingle the poem with your frames. You sure have a way with prose. So, which came first – your artistic style and skill or the storytelling?
I've definitely appreciated writing and fiction for much longer than art and drawing. I read so much in school, I think there are some books in the library with only my name on the library card, over and over.
I have been looking at your tumblr for quite a bit, and I must say that I love the fan art you've done! There is a bunch, from anime titles such as JJBA, Love Live to games like Granblue Fantasy and Dark Souls. Do they play a part in inspiring your works?
Haha yes, I love a lot of things, I like how they either change my mind or make me aware that I could really like this genre or subject I'd never really care for before. And that definitely gives me more to think about or look up and read more about, and then I'll have more that I want to write or draw about.
Digital or Traditional? And, what do you carry on you for work on when inspiration hits on-­the-­go?
Digital all the way, I'm so bad at drawing on real paper. I just bring a sketchbook and pen/pencils when I'm traveling and not mind that my studies / drawings from life look terrible ­- I guess that's the point of making studies, to get better.
Asia can be a tough country for aspiring artists. Any words of encouragement for your fans and fellow artists out there?
It's tough everywhere, and everyone has different reasons for drawing and different goals, so I guess the best way to keep drawing is to always remind yourself why you're doing this! And it's fine if it's not the reason why everyone else is doing it, as long as it's still relevant and meaningful to you.
We would like to thank Hwei Lim for taking time out to talk to us, and can't wait to see you at STGCC 2016 proper!