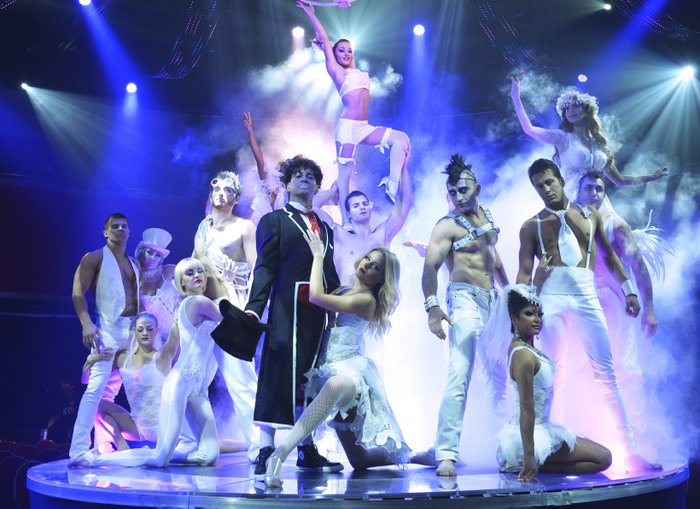 6 March 2013, Singapore –  LE NOIR – The Intimate Side of Cirque is set to stun audiences in Singapore from 12 to 31 March this year at the MasterCard® Theatres at Marina Bay Sands®.
This is one show that is best experienced in great seats to ensure you have the best view of some of the most incredible acrobatic acts on earth. MasterCard cardholders can access A Reserve seating, matched with a pre-show dinner at Au Chocolat and interval champagne via www.pricelesssingapore.com.
Coming directly from a sellout season in Tokyo, LE NOIR has been designed and built specifically for the MasterCard Theatres so that you will enjoy a visual feast of white, red and black which the 20 cirque performers use to describe the diverse range of our personalities.
LE NOIR accentuates the darker side of these colours using not only the acts on stage but of every audience member as well. You can expect a surreal, beautiful and seductive and sometimes hilariously risqué yet fast paced and entertaining production. There will be dancing, roller skating, juggling, aerial strap, hoop and hand balancing on cane contortion as well as Rolla Bollla performances which utilises multiple pivot points and a blend of wicked humour.
The Sands Theatre will be fully transformed such that audiences will sit around a custom-built circular stage of about 2.5 metres in diameter giving a 360-degree perspective of the performance. You will be 'enclosed' within a canopy of curtains designed out of LED lights. This intimate setting can only seat a little over 1,100.
Led by Creative Producer Simon Painter and Executive Producer Tim Lawson, the creative team behind LE NOIR has also launched Le Grand Cirque Adrenaline, the biggest and most ambitious thrill circus to date in the Sydney Opera House which sold over 35,000 tickets in 10 days.
The creators of the production want the audience to experience the show rather than just watch it.  You can read our review here.
MasterCard offers cardholders unique experiences and exciting moments and engaging and interactive theatre is just one of them. Perhaps you will walk away having experienced something truly priceless.
MasterCard launched the new programme Priceless Singapore www.pricelesssingapore.com last year so that cardholders can enjoy privileges such as Meet the Cast and Backstage experiences, access to the best seats in the house including VIP seating, as well as exclusive access to early bird booking period and a 15% discount.
For Le Noir, Priceless Singapore will offer two ticket packages for MasterCard holders – Le Noir 'Duo Trapeze' Interval experience & Le Noir 'Noir et Blanc' Interval experience.
Watch out for the early bird booking period for STOMP where MasterCard cardholders can get a 15% discount on tickets for shows Tuesday to Thursday, via www.pricelesssingapore.com. But do hurry as this is only available until 11 March.
Once you register for Priceless Singapore, you will also have access to Dirty Dancing VIP experiences and others including spa relaxation, dining, travelling and shopping.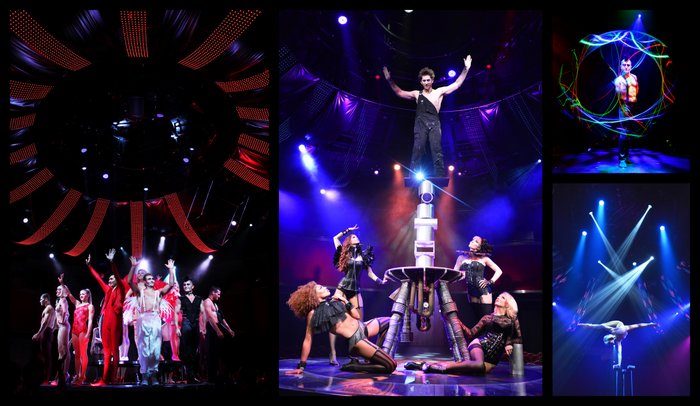 10 Opening Night Double Passes To Be Given Away
MasterCard is giving away Opening Night double passes to 10 lucky readers of SUPERADRIANME.com. These passes are VIP passes for the Le Noir on 12 March 2013.
Email us your Name and contact number to [email protected] as well as which MasterCard product you currently use and you could be one of the lucky 10.
Contest ends 4pm, 8 March 2013.
MasterCard® and the Entertainment Scene in Marina Bay Sands®
MasterCard signed a five-year partnership with BASE Entertainment in November last year bringing the MasterCard Theatres at Marina Bay Sands within the Priceless Cities programme. MasterCard cardholders now get to enjoy a range of offers such as opening nights shows, seat upgrades and discounted ticket prices for the shows and Broadway productions at the Marina Bay Sands.
"MasterCard Theatres at Marina Bay Sands is yet another exciting collaboration for us, building on our already considerable global portfolio of sponsorship assets," said Ms. Debbie Goldingham, Head of Marketing South East Asia, MasterCard Worldwide. "Singapore recently joined the ranks of other, iconic Priceless Cities worldwide such as London, New York, Beijing and Sydney, and through partnering with BASE Entertainment, we are able to provide our cardholders around the world, with even greater access to world – class entertainment acts."