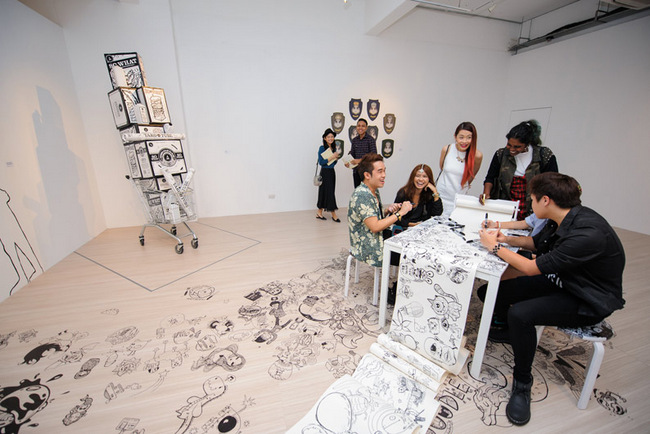 Noise Singapore by the National Arts Council is back for the tenth year running with its annual festival happening across the local art scene. Following the 2015 Festival Exhibition at B4 ION Orchard, this year's The Apprenticeship Programme sees another 34 young artists coming together for a group exhibition "c. 2015 –" spanning across two locations; DECK and Objectifs. 
From now till 11 October 2015, OH! Open House has curated a beautiful, thought-provoking space (despite being a 10 mins walk apart) where each masterpiece explored the relationship between "time versus self". There will be illustrations on unexpected canvases, distorted views on what's traditional and worlds beyond our imagination; the fruits of labour following four months of guidance from creative professionals such as Ben Qwek, Mas (artist behind Wanton Doodle) and photojournalist Bryan van der Beek.
RESUME. by Amanda Lim Yen Mei
Death and birth are intertwined, but the latter is celebrated while the other, mourned or ignored. Amanda embraces the passing of her grandfather on her birthday in Resume. She presents an interactive piece where she invites all to drop a message in her box she plans to "cremate" at the end of the exhibition.
STAY INSIDE! by Jerry Yeo Fu Ren
Jerry tackles his fears in Stay Inside! He combines both his Achilles's heels in one piece – of dolls and of falling. He brings on the feeling of uncanny, the terrifying distorted features of human-like features we once found endearing as woodcarvings on skateboards, reflecting the complexities of childhood and life.
DELTA by Marina A
Who we are as individuals are a collective of what we have been through – a reflection of choices made and relationships of the past and now. She contemplates the inevitable changes in our lives and selves that result from our interactions with the people we meet everyday in a captivating and vibrant piece of surrealism.
Grandpa, Is That You? by Alvin Lee Yong Tan
Alvin grew up with no other memory of his grandfather other than the small wooden altar sitting above his refrigerator. Recently surfaced mementos made him question, just who his grandpa was, what did he do and how did he live his life. He presents this mysterious figure in his life in exotic adventures. There are giant water monsters against tumultuous ocean waves and a desolate war zone where his grandfather stands alone, all done meticulously by papercutting.
Transcience by Phoebe Zoe Ho
A candle is strange. The wax melts, but comes back together as a solid in a whole new shape. Phoebe imagines, "What if the birthday candle we blew out each year was made from the same wax as before?" As the flame burns on, the deformed wax acts as "scars". They can be moulded into anything else, just as their are finite – just like us.
Phoebe presents this thoughts across DECK, where she laid wax models of body parts moulded from her and her sister out in the sun, rain and haze. It contrasts against those left into the safety of shelter, but still completely defenseless against human tempering.
Back Alley Rooms by Grace Baey 
It is very typical of humans to pretend that nothing is wrong. Ignorance is bliss after all. In Grace Baey's Back Alley Rooms, she draws attention to the 80-year-old Mr. Seng who has been running a brothel for the last two decades. Using a soft red tone throughout, she gives an inside look into his life, showing that he is just like everyone else, trying to make a living in this harsh world. Most stunning is the photo above, where she uses the same red tone to draw the distinction between "ours" and "theirs".
L P H  by Clare Chong
Clare Chong takes us into Lim Poh Huat's life. He is a man who many would call aimless. Still living with his mother, he does not aspire to be more than what he already is. Strangely, this man tops his resume of a security guard with calefare roles of a pervert, policeman, a Pontianak and, even, published his own book "Confessions of a Struggling Actor." He contrasts against the hectic lives many of us lead, living a life of simplicity. Clare questions us, "Where does he stand in our perception of society?"
Innocence and Imaginarium by Muhammad Sufyan Bin Azman and Wong Pei Hsin
The band of doodlers are ubiquitous in Singapore, and they have two new recruits to aid them in world domination. Both presents distinct styles with a common thread – childhood innocence. One using strange yet captivating characters to represent the struggles we face, while the other presents our favourite princess in vibrant anime-style. Presented against the monochromatic doodles of their mentor, Mas, it surprisingly weaved their aesthetics together into a single masterpiece.
The "c. 2015 -" exhibition is held at DECK and Objectifs, from 19 September to 11 October 2015. It opens Tuesday to Sunday, from 12PM onwards.