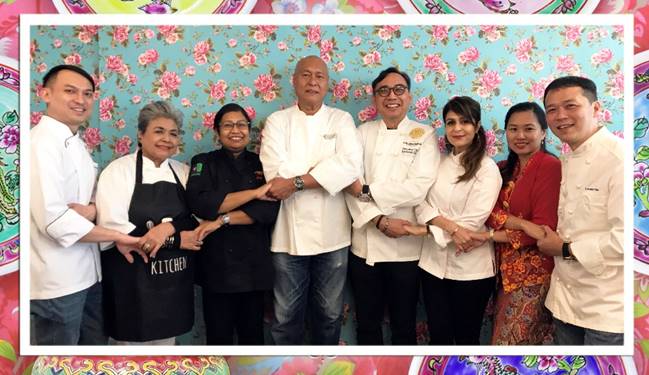 The 3rd edition of the Peranakan Festival returns 7 June to 31 July 2019. This year, the first ever Kamcheng Peranakan Gala Dinner will feature cuisine by renowned local chefs. Tickets to the Kamcheng Peranakan Gala Dinner are priced at S$148 nett, S$168 nett or S$388 nett. Purchase tickets online. DBS Credit Card bookings of S$148 and S$168 will receive a S$30 voucher from The Peranakan restaurant while S$388 tickets will be bundled with an S$80 voucher.
The Kamcheng Peranakan Gala Dinner will be held on 7 June 2019 at 6pm at the Marina Mandarin Ballroom. An expected turnout of 500 guests will get to enjoy an elaborate 13-course Celebratory Dinner prepared by Celebrity Guest Chefs. The list of chefs include:
Aziza Ali – Author, host and Chef
Devagi Sanmugam from The Spice Queen
Damian d'Silva from Folklore
Elizabeth Chan from Kueh Ho Jiak
Lisa Kassim from Asian Food Channel
Lynda Seow and Lionel Chee from Casa Bom Vento
Raymond Khoo and Carol Ee from The Peranakan
Chan Tuck Wai and Daniel Tan from Marina Mandarin Singapore
Local craft brand Brass Lion Distillery will offer a signature Blue Pea Flower Gin cocktail as a welcome drink. Participants of the event's Make Over Nyonya will be showcased on a custom catwalk, decked out in batik Qipao by designer Ada Goh and hairstyle creations by Shunji Matsuo Salon.
Joget and gelek into the night with a lively music and entertainment. Check out authentic Straits Chinese crafts and artisan designs. This year's festival bazaar will feature vendors displaced by the closing of Sungei Road Thieves' Market. A silent auction in aid of Assisi Hospice will also be held during the Gala Dinner.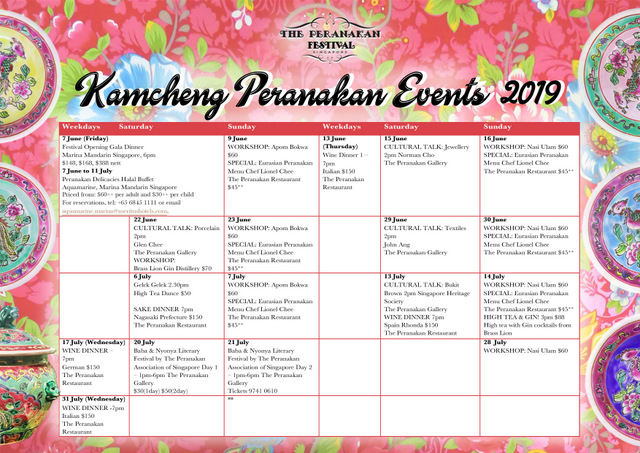 Peranakan Food Festival at Marina Mandarin Singapore's AquaMarine
The Peranakan Restaurant is collaborating for the first time with Marina Mandarin Singapore's AquaMarine. Dishes by Baba Chef Raymond Khoo such as Nasi Ulam, Dry Laksa, Ikan Goreng Chuan Chuan, While Veal Shank Rendang and Apom Bokwa Pisang will be available from 7 June to 11 July 2019 from S$60++ per adult.
Dine at The Peranakan Restaurant
At the Peranakan Restaurant, Baba chef Raymond Khoo collaborates with Eurasian cuisine Chef Lionel Chee every Sunday in June and July to present a Eurasian Peranakan Set Menu priced at S$45++ per person. You get to enjoy Devils Curry and Pan-fried Black Pepper Stingray amongst other dishes.
The Peranakan Restaurant also offers degustation-style wine dinners paired with Italian, German, Spanish vintages or Sake from Nagasaki Prefecture.
Brass Lion Distillery Gin Cocktail Workshop
Singapore's Brass Lion Distillery will showcase a brand-new Butterfly Pea Gin made from Bunga Telang flowers and lavender with hints of citrus. Check out their Gin Cocktail Workshop on 22 June 2019 priced at S$70++ per person. Enjoy High Tea with Gin on 14 July 2019 at S$88++ per person.
DBS Asia Treasures Lounge Showcases Baba Nyonya Flavours
During the festival, guests at DBS Asia Treasures Lounge at Changi Airport's Terminal 2 and 3 will be able to savour a rotation of recipes crafted to showcase The Peranakan's authentic Baba Nyonya flavours and cooking traditions.
The Baba Nyonya Literary Festival
The Peranakan Association of Singapore has organised The Baba Nyonya Literary Festival on 20 and 21 July 2019. This gathering of authors and moderated discussions on the featured publications are priced at S$30 for a one-day pass or S$50 for both days.
There are only 50 seats per day. For ticket purchase, please email [email protected]