It's the year-end and some of your favourite animation characters are back. Check out the We Bare Bears capsule collection at Design Orchard. Or take part in the tokidoki charity run to support the charities of AIA Better Lives. Collect all four Hello Kitty Plushies from Cheers or FairPrice Express. Check out Gudetama at Malls of Frasers Property or [email protected] at Raffles City.
Kids can catch ROCK DOG 2: Rock Around the Park which is showing in Shaw Theatres now. I am looking forward to SING 2 in December. The sequel has a star studded cast including Matthew McConaughey, Reese Witherspoon, Scarlett Johansson, Taron Egerton, Tori Kelly, Nick Kroll, Bobby Cannavale, Halsey, Pharrell Williams, Letitia Wright, Eric Andre, Chelsea Peretti and Bono.
Or book at Pokémon-themed staycation at the Fairmont Singapore.
Gudetama Heads to Malls of Frasers Property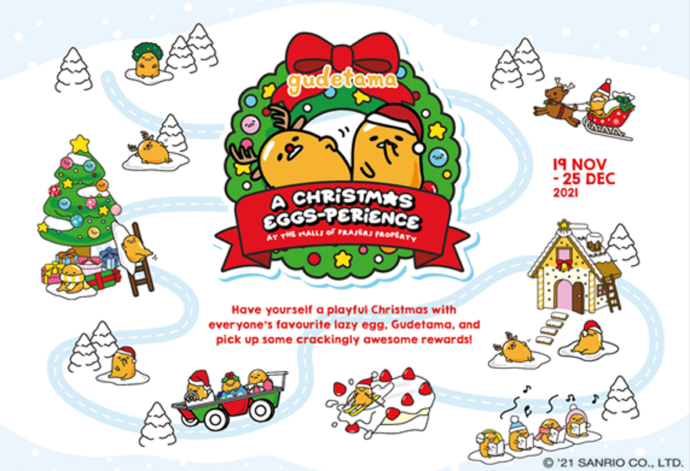 Head over to Malls of Frasers Property and soak in the fun with Gudetama by Sanrio. The malls are offering prizes, games, rewards and exclusive Gudetama merchandise. Celebrate the return of Frasers Property Retail's highly popular digital game, with a Gudetama-themed "Christmas Eggs-perience".
Join in the fun from wherever you are, through the FRx app and on social media to win a share of over $400,000 in Digital Gift Cards, Frasers Points, retail e-vouchers and exclusive Gudetama merchandise! Or spend S$80 in a single transaction at any participating FRx store to receive a unique Gudetama stamp, and an instant prize in the form of Digital Gift Cards, Frasers Points or e-vouchers.
Or shop in the comfort of home. Spend at least S$50 on the Frasers eStore or Makan Master and get a stamp, a S$5 Digital Gift Card or Frasers Points. Pay with GrabPay and earn a bonus S$5 digital gift card.
Unlock all 30 stamps and win a special set of Gudetama products. Look out for the daily question on the participating mall's Facebook and Instagram pages. Submit your response through the FRx app to collect another stamp. The first 10 shoppers to collect all 30 stamps will receive a set of 4 special Gudetama merchandise.
From 19 November to 28 February 2022, spend a minimum of S$30 at participating stores. Scan your FRX member QR code to enter the lucky draw to win a brand new Mazda 6.
Participating malls include Bedok Point, Causeway Point, Century Square, Changi City Point, Hougang Mall, Northpoint City, Robertson Walk, Tampines 1, The Centrepoint, Tiong Bahru Plaza, Waterway Point, White Sands.
ActionCity has collaborated with Raffles City Singapore to present the Love, [email protected] Christmas Campaign until 26 December 2021. Check out the world's tallest [email protected] 8000% Christmas centrepiece at 5.6 metres at Raffles City's External Quartzite across from Stamford Road. The all new Raffles City [email protected] Candy Cane 2000% is designed exclusively by ActionCity in partnership with Medicom Toy.
There are also limited edition [email protected] merchandise, exclusive collectibles and shopping rewards. There are many [email protected] displays in various sizes decked in Christmas colours and post-modern designs at the mall.
The [email protected] Candy Cane 100%, an exclusive toy collectible designed for Raffles City by ActionCity, is redeemable from 30 November onwards with a single spend of S$300 at Raffles City. In addition, shoppers who spend S$100 in a single receipt can redeem a set of [email protected] gift wrappers from 12 November 2021.
There is a special spotlight collection by Los Angeles-based artist Steven Harrington at the Raffles City Garden Court at level one. The collection features a melange of funky art, apparel, merchandise and commemorative ActionCity 21 Anniversary of [email protected] designed by Steven Harrington.
KAWS.HOLIDAY Lands in Singapore till 21 November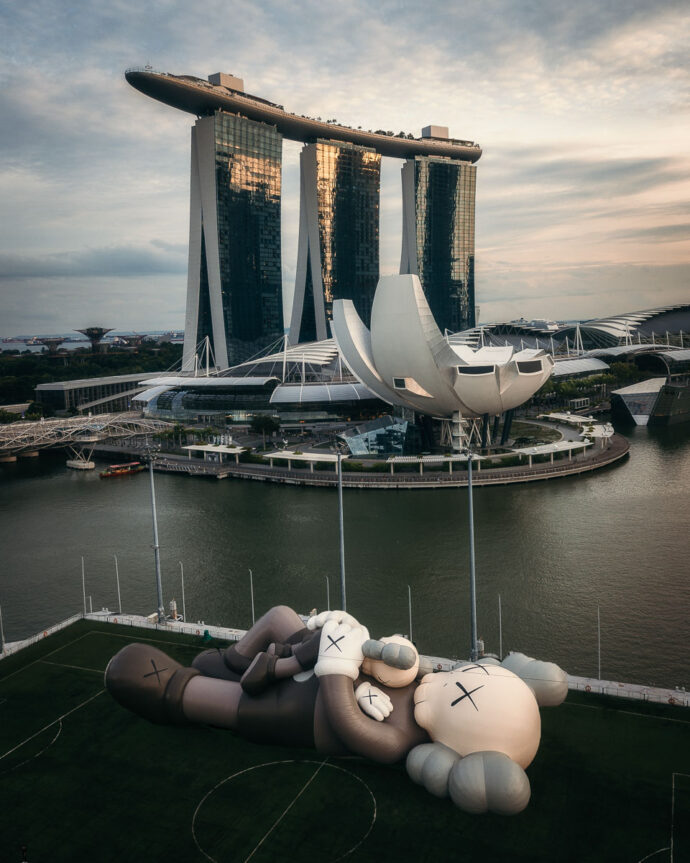 KAWS has unveiled a colossal 42-metre artwork of his signature character, COMPANION, at The Float @ Marina Bay in Singapore today until 21 November 2021 from 2 pm to 9 pm daily. The artwork depicts the character in a reclined position embracing a miniature version of itself on The Float @ Marina Bay set against Singapore's cityscape. Singapore is the seventh stop for KAW'S HOLIDAY. It has been to Seoul, Taipei, Hong Kong, Japan, Outer Space and the United Kingdom.
Limited edition collectables have also been created. A 10.5-inch long COMPANION in brown, grey and black, 500 limited-edition camping sets, tank top and fan will be available on DDT Store's ddtstore.com while stocks last. Shipping begins in December this year.
[Update 15 November 2021 – The organisers have been ordered by the court to stop the exhibition on 13 November 2021. The Ryan Foundation is suing AllRightsReserved. On 15 November 2021, after hearing arguments from the organiser's legal team, the Court discharged the injunction and ordered the Ryan Foundation to pay AllRightsReserved the legal costs. The Court further ordered that there will also be an inquiry into the damages sustained by AllRightsReserved by reason of the injunction. This means that the "KAWS:HOLIDAY" exhibition is now reopened]
Pokémon Staycation At The Fairmont Singapore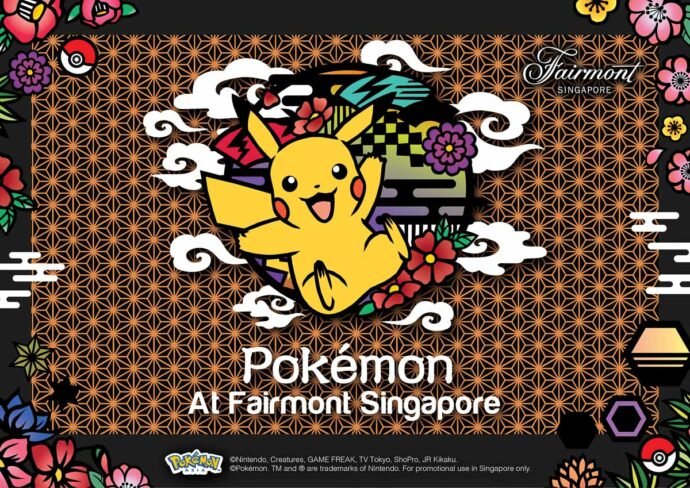 From 15 November 2021 to 29 January 2021, Pokémon fans can unravel new mysteries in a fun-filled adventure at the Fairmont Singapore. Singapore's first Pokémon-themed staycation transforms Fairmont Singapore into an interactive playground for families and fans to explore and win prizes. Try your hands at the gamified Quiz Rally and photo wall.
Check out the Pokémon-themed elements in the lobby and within the guest room. Upon check-in, guests will be given a customised quiz booklet to solve a series of questions with varying challenge complexities throughout the stay. Each correctly completed quiz presented to the Hotel's Front Office Team a check out will receive a special sticker and a surprise Pokémon gift. The first 20 guests who complete the Quiz Rally correctly each week will also get a bonus giveaway. Take an individual or group selfie hotpot at the Pokémon photo wall in the hotel lobby with adorable Pikachu and legendary Pokémon Mewtwo and upload onto Facebook or Instagram and get a deck of Pokémon Trading Card Game Battle Academy worth S$34.90.
Pokémon Staycation for 2 Adults and up to 2 Children – S$420++ (Sun – Thurs in Nov), S$435++ (Fri – Sat, Eve of PH & for all days in December)
Overnight stay in Fairmont Room
Daily breakfast for 2 adults and up to 2 children
Special Pokémon merchandises in-room on arrival
Participation in the Quiz Rally with special prizes to be won
Complimentary loan of Nintendo Switch during stay to try out various Pokémon game: Pokémon SNAP and Pokémon Sword and Shield from 15 Nov 2021, or Pokémon Brilliant Diamond and Shining Pearl from 19 Nov (subject to availability).
1 extra bed for children
Parking at Raffles City Shopping Centre with unlimited re-entries for the duration of
stay
Visit https://www.fairmont-singapore.com/offer/pokemon-staycation/ to book your Pokémon stay.
We Bare Bears Capsule Collection
Check out the exclusive We Bare Bears capsule collection this holiday season. Textile and Fashion Federation has partnered with Warner Bros. Consumer Products. The collection from Cartoon Network's hit animated series will feature the work of six Singapore-based designers from 19 November 2021 to 6 January 2022 at Design Orchard.
We Bare Bears themed decorations, life-sized 3D models will be available for photo opportunities. There will also be a new range of fashion, activewear, accessories and lifestyle items, from Joannalsm, La Tierra, Pearly Lustre, Photo Phactory, Rooki Beauty and Yumi Active.
The We Bare Bears x TaFF limited edition EZ-Link cards feature the characters at different iconic Singapore landmarks. There are four different designs in limited quantities available exclusively at Design Orchard. The Stacked We Bare Bears at Design Orchard is priced at S$11 each. Get the set of three of We Bare Bears at Gardens by the Bay, Marina Bay Sands and Singapore Flyer for S$32. A complete set costs S$40.
tokidoki x AIA Better Lives Charity Run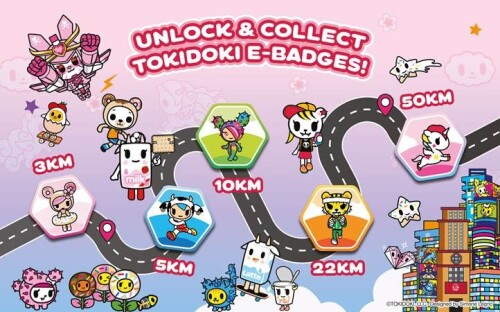 The tokidoki x AIA Better Lives Charity Run is happening from 17 December 2021 to 31 January 2022. AIA Singapore will host South East Asia's first tokidoki-themed run in support of AIA Better Lives Fund. The fund is administered by Comunity Chest. It will support AIA Singapore's longstanding adopted charity partners – Children's Wishing Well and VIVA Foundations for Children with Cancer.
tokidoki is a global pop-culture and lifestyle brand that made its debut in 2005. Individuals and families can create a far-reaching impact for the Fund's beneficiaries. The charity run will feature unique tokidoki's Better Lives stories to reach and engage the fanbase in relevant and meaningful ways.
The run will feature a hybrid format that combines in-person and virtual elements. Clock distances at your own pace and convenience, anytime and anywhere during the event period. Track your progress on 42Race's app. tokidoki character badges and rewards can be unlocked and collected at each milestone.
300 tokidoki fans will also get a chance to meet iconic Tokidoki mascots in person. Also receive additional exclusive tokidoki gifts by purchasing the S$55 meet and greet experience package.
Complete curated tokidoki-themed routes anytime during the 46 days event period. These routes will feature checkpoints with QR codes for participants to stand a chance to win exclusive prizes when they complete missions along the way.
Sign up before 15 November to enjoy a discounted registration fee of S$35.90 per participant instead of S$45. Each registration will include a limited-edition tokidoki goodie bag worth over S$100. Registration for the run ends 20 January 2022 at 11.59 pm.
Register for tokidoki X AIA Better Lives Charity Run at www.aia.com.sg/tokidokirun.
4 Limited Edition Hello Kitty To Collect from FairPrice Express and Cheers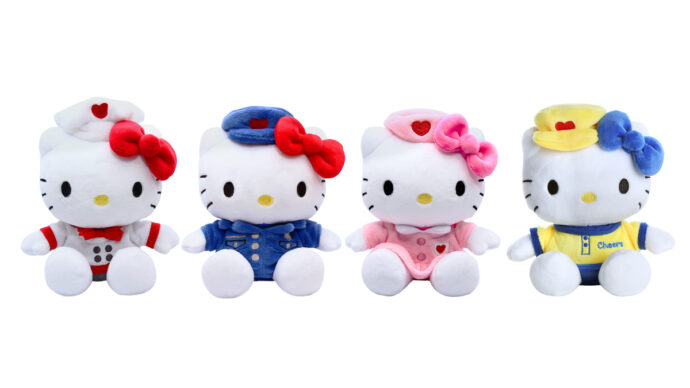 Cheers and FairPrice Express have partnered with Sanrio to offer four specially designed limited quantity Hello Kitty plushies this festive season from 16 November to 13 December 2021. They are dressed in four different uniforms – Nurse (16 November), Police Officer (23 November), Master Chef (30 November) and Cheers Crew Member (7 December).
We love the uniqueness of the Cheers Crew Member plushie! Only 50 plushies will be available per week in each store. And every week will feature one different character. Each plushie is priced at S$29.90, or S$14.90 with six stamps or S$19.90 with 4 stamps. Collect one stamp with every S$5 spent at all Cheers and FairPrice Xpress outlets.
Shop for Christmas roasts, deli, quick gift options, snacks, beverages, ready-to-eat products and necessities at Cheers & FairPrice Xpress! Check out the full list of products on promotion at Shop for Christmas roasts, deli, quick gift options, snacks, beverages, ready-to-eat products and necessities at Cheers & FairPrice Xpress! Check out the full list of products on promotion at https://cheers.com.sg/christmas2021/..
Sing 2 Coming Out In Cinemas 23 December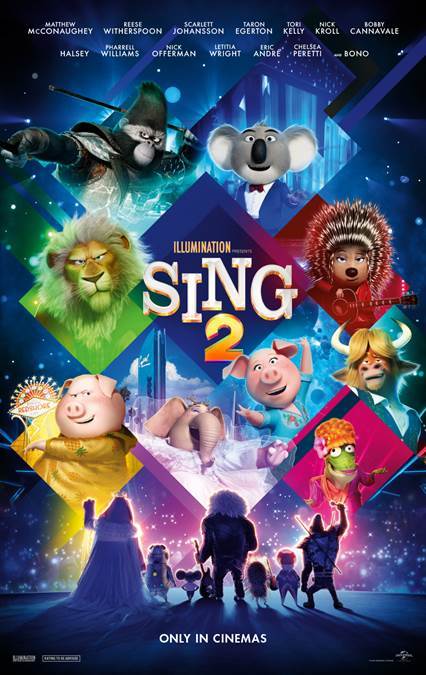 This holiday season, the new chapter in Illumination's smash animated franchise returns with big dreams and spectacular hit songs as can-do koala Buster Moon and his all-star cast of animal performers prepare to launch their most dazzling stage extravaganza yet …in the glittering entertainment capital of the world. There's just one hitch: They first have to persuade the world's most reclusive rock star—played by global music icon Bono, making his animated film debut—to join them.
Buster (Oscar® winner Matthew McConaughey) and his cast have turned the New Moon Theater into a local hit, but Buster has his eyes on a bigger prize: Debuting a new show at the Crystal Tower Theater in glamorous Redshore City.
But with no connections, Buster and his cast—including harried mother pig Rosita (Oscar® winner Reese Witherspoon), rocker porcupine Ash (Scarlett Johansson), earnest gorilla Johnny (Taron Egerton), shy elephant Meena (Tori Kelly) and, of course, porcine provocateur extraordinaire Gunter (Nick Kroll)—have to sneak their way into the world-famous Crystal Entertainment offices, run by a ruthless mogul wolf named Jimmy Crystal (Emmy winner Bobby Cannavale).
In a desperate attempt to get Mr. Crystal's attention, Gunter spontaneously pitches an outrageous idea that Buster quickly runs with, promising that their new show will star lion rock legend Clay Calloway (Bono). Problem is, Buster has never met Clay, an artist who shut himself away from the world more than a decade ago after the loss of his wife and hasn't been seen since.
As Gunter helps Buster dream up an out-of-this-world theatrical masterpiece, and the pressure (and sinister threats) from Mr. Crystal mount, Buster embarks on a quest to find Clay and persuade him to return to the stage. What begins as Buster's dream of big-time success becomes an emotional reminder of the power of music to heal even the most broken heart.
Sing 2 is written and directed by acclaimed returning filmmaker Garth Jennings and features, in addition to Bono's and Cannavale's roles, new characters played by music superstars Pharrell Williams and Halsey, Black Panther's Letitia Wright, and comedians Eric Andre and Chelsea Peretti.
The film is produced by visionary Illumination founder and CEO Chris Meledandri and by Janet Healy. Sing 2 combines dozens of classic rock and pop hit songs, electrifying performances, breathtaking artistry, and Illumination's signature humour and heart into the definitive feel-good cinematic event of the year.
Rock Dog 2: Rock Around The Park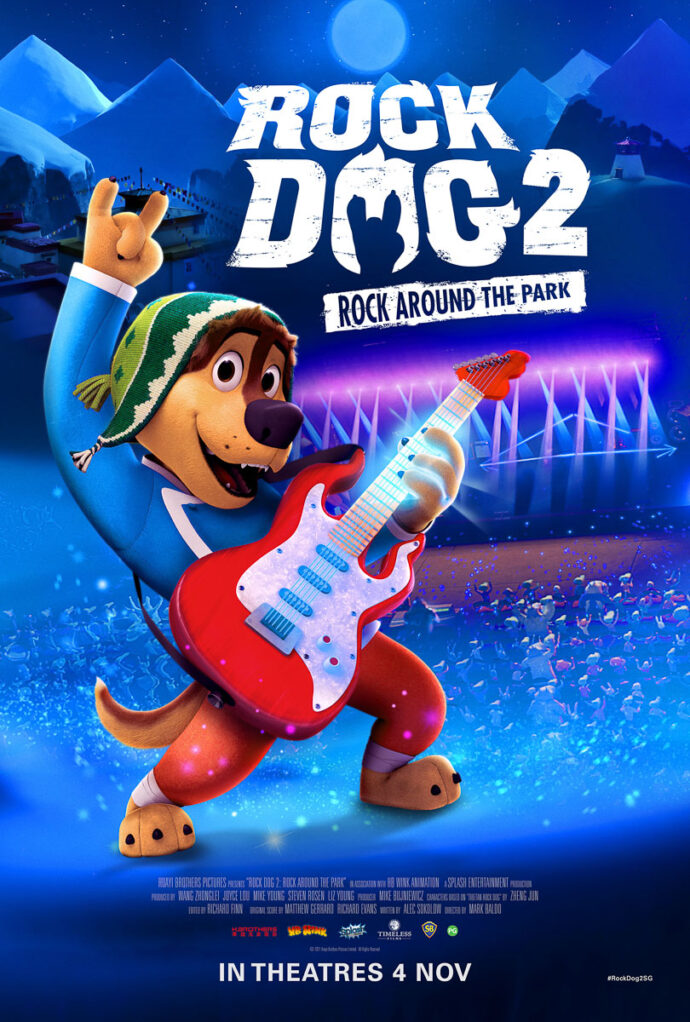 One year after the original ROCK DOG: Bodiand his band, True Blue, have become locally famous in the village of Snow Mountain–they even have devoted fans! But when a music mogul named Lang gives them the opportunity to tour with pop sensation, Lil' Foxy-Bodi and his friends learn that fame comes at a price, and ultimately discover that only by staying true to yourself can you unleash the power of Rock N' Roll.
The characters of Rock Dog series are based on a graphic novel written by Chinese rock icon, Zheng Jun, who drew inspirations from his own experience. He was groomed for a career in international business, until the day he fatefully heard Bruce Springsteen on the radio. The encounter ignitedJun's passion for music, and his life changed course in order to share his love of rock 'n' roll with the world. He travelled to Beijing, where he got by as a busker, sleeping on friends' floors to save money. He gradually built his career from there, rising to the very top of China's music industry
This 90-minute animation adventure comedy is directed by Mark Baldo and targets kids age 6 to 10 years old and families. It features the voices of Graham Hamilton, Kathleen Barr and Jason Simpson.