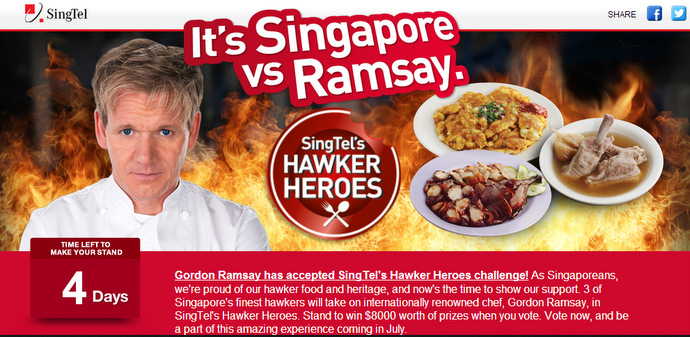 Celebrity Chef Gordon Ramsay has taken up SingTel's challenge "It's Singapore VS Ramsay" where he will face-off with SingTel's Hawker Heroes. The public will get to be involved in the final selection of the Top 3 Hawker Heroes by voting for their favourites from the Top 12 Contenders through this link here.
<Update> Find out who were the three contenders here.
After looking through the 12 contenders, you might notice Jumbo Seafood Restaurant being considered as one Hawker Heroes where in fact they have started out as a restaurant from the very beginning of their history.  So why Jumbo Seafood Restaurant is considered in this challenge.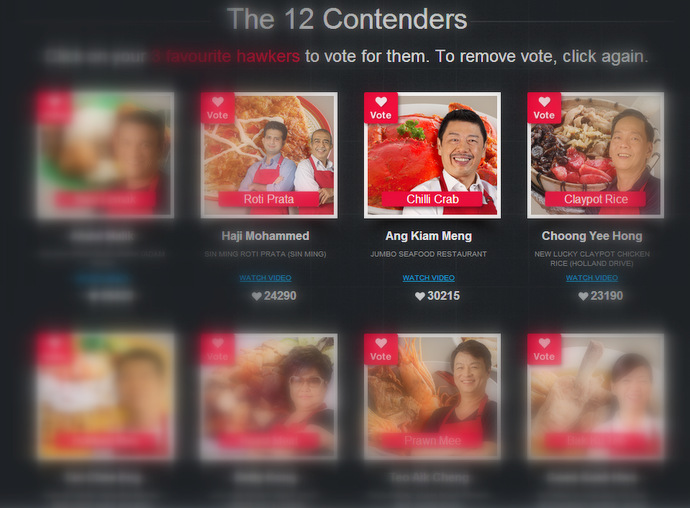 After much research and thoughts, the history of Chilli Crab started out from a pushcart in 1956 (according to Wikipedia). So the term "Hawker Heroes" used in the SingTel challenge may in fact not refer to the Chef but the hawker dish itself and we feel the public should vote for the heritage dish that is worthy to take on Chef Gordon Ramsay's Michelin star creations.
Only four more days to go before the polling ends. So its time for you to help decide the faith of which dish will come forth to Chef Gordon Ramsay and give Singapore the best chance to win in this challenge and make us proud.
Another interesting point to note.  In 2009, Malaysia's Tourism Minister then, Dato Ng Yen Yen, claimed that "Chilli crab is Malaysian" while accusing "other countries" of "hijacking our food".
So here's a good chance to win with Chilli Crab since it is so delicious that even our neighbour wants to claim this dish from our heritage.