Locale Firenzi Guest Shift With Fabio Fanni at Caffe Fernet for One Night Only
22 June, 2022
@
5.00 pm
–
8.00 pm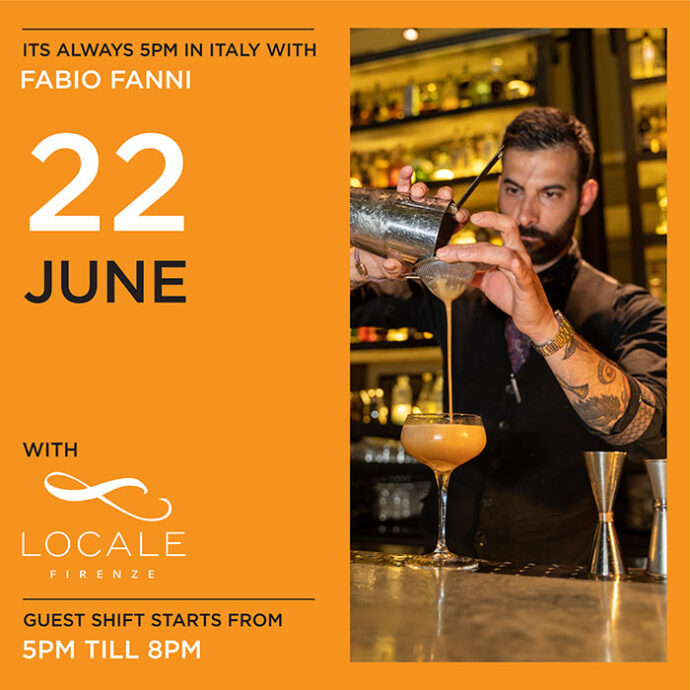 Caffe Fernet will be hosting its first guest shifts since 2018 this June showcasing drinks perfect for day drinking because "it's always 5pm in Italy!". Chill with your friends in an al-fresco venue with a view.
Ranked No. 51 on the extended list of the World's 50 Best Bars 2021, Locale Firenze is where modern mixology and culinary arts meet Florence's heritage and culture. Housed in a historic building with an original 15th-century affresco dedicated to the Medici family, one of its many lavish rooms is a fully equipped bar lab. Their full-time experimentation with fermentation, distillation, maceration and other modern bar techniques result in ingredients like artichoke hydrolat, red onion shrub, and salicornia cordial.
Taste these ingredients in Fabio's cocktails on Wednesday, 22nd June, in numbers like the fizzy Elisir Caterina with Sailor Jerry Spiced rum, Campari, sweet vermouth, and artichoke hydrolat. Gimlet fans can look forward to a twist in the classic with Hendrick's Neptunia Gin and lemongrass and salicornia cordial whilst the highball-style Serendipity features Monkey Shoulder Whisky, red onion shrub, and viking salt.