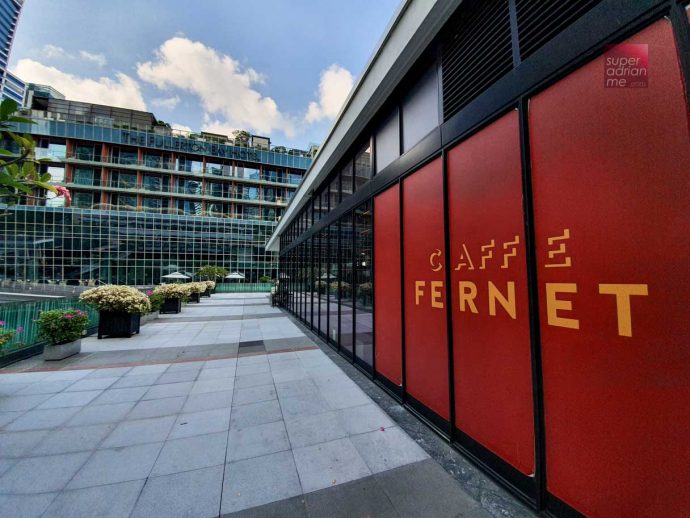 If you are looking for a place to chill with your friends in an al-fresco venue with a view, then Caffe Fernet would be our recommendation. In fact, I love it so much, that I am bringing some friends over later this evening.
This new-Italian F&B destination has been sandwiched between The Fullerton Bay Hotel and Customs House at Clifford Pier since 2018. The view of the Marina Bay skyline is beautiful, especially during dusk. The towering Marina Bay Sands, with the iconic Art Science Museum and Singapore Flyer over a couple of drinks to imbibe and sharing plates or hearty mains to dig into on a windy evening, is the perfect place to be.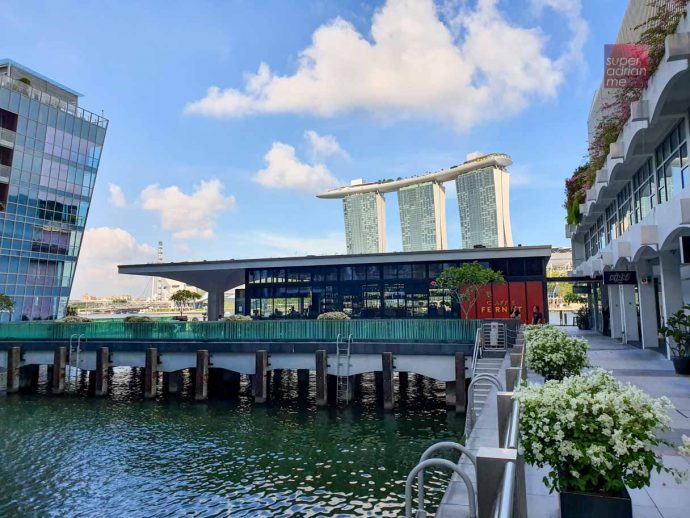 This concept under the Jigger & Pony Group dishes out refined flavours of new-Italian cuisine where traditional Italian ingredients and dishes are updated with local and seasonal produce. The kitchen is helmed by Chef David Tang who grew up in Los Angeles and trained at the Le Cordon Bleu College of Culinary Arts in Los Angeles California and worked in the kitchens of Wolfgang Puck.
Quenching Your Thirst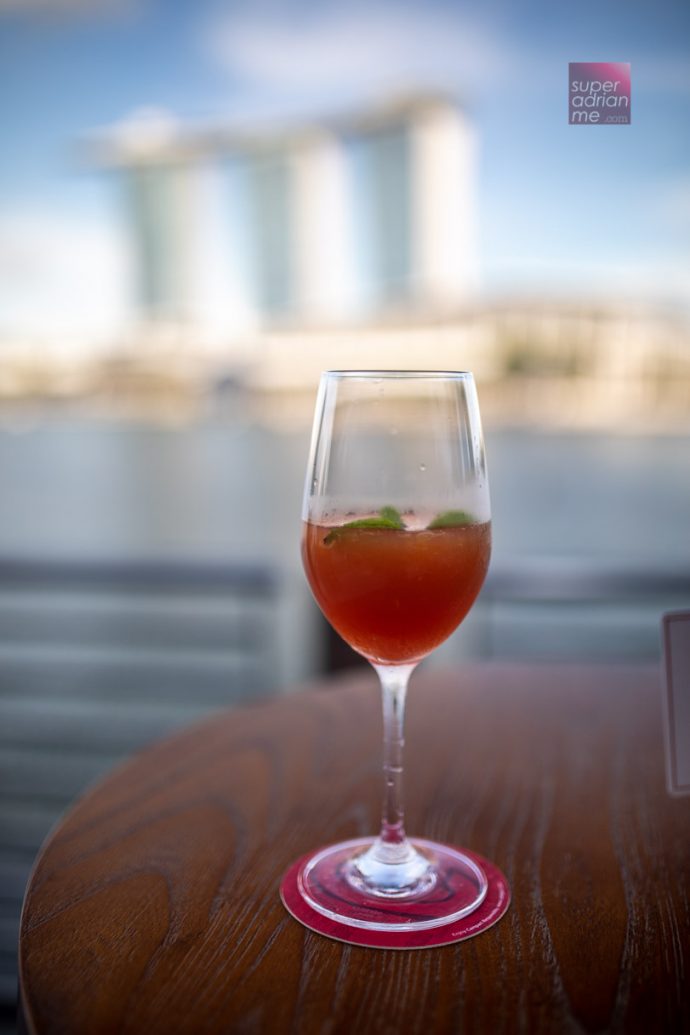 The beverage menu here features an accomplished modern aperitivo drinks programme. The tipples here are inspired by old-school neighbourhood bars in Italy. Cool down with an adult take on the slushie with the Garibaldi Frose that contains Campari, orange juice and fino sherry. Available by the glass (S$12 during happy hour or S$15) or pitcher (S$56 during happy hour or S$68).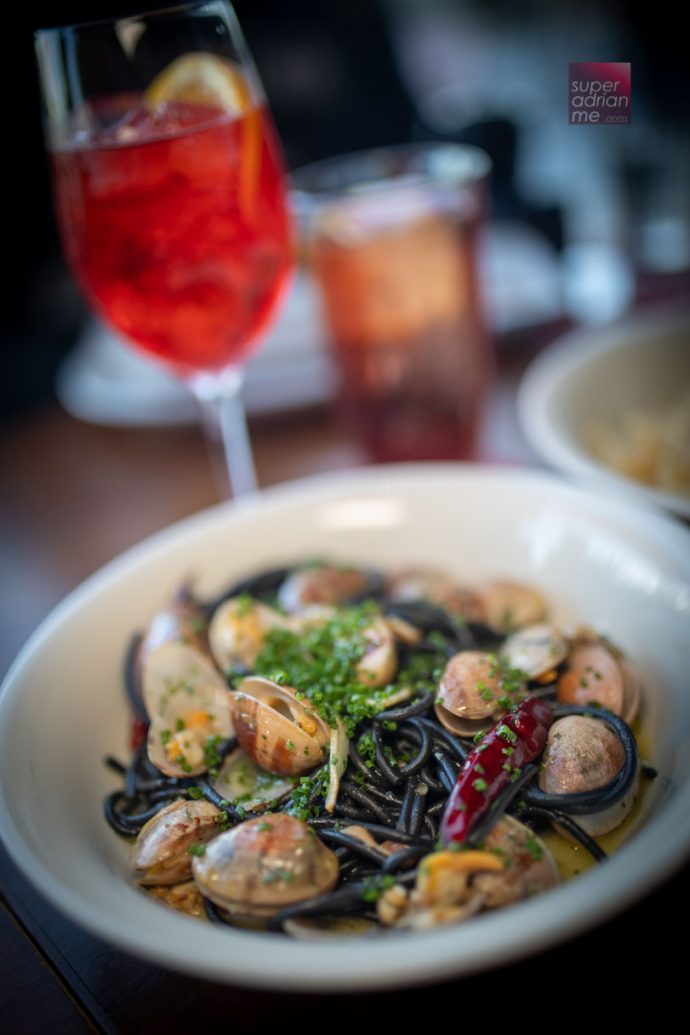 Aperitivos such as the Americano, Bicicletta, Campari Shakerato or the Vermuttino are priced at S$13 during happy hour and S$17 at other time.
Happy hours are from opening till 7pm.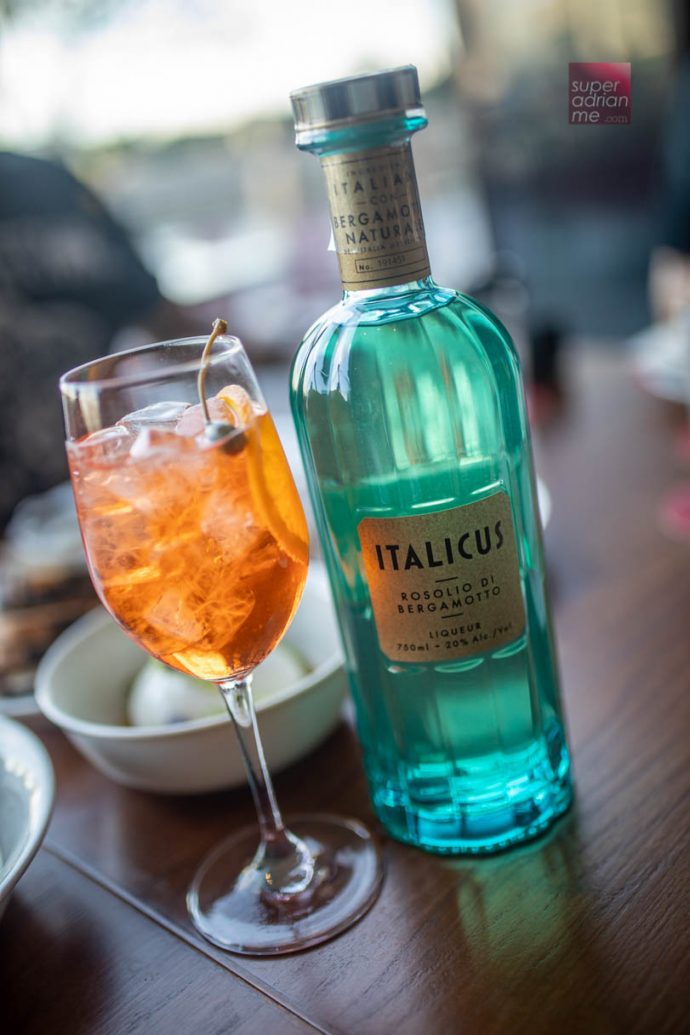 If you are a fan of Spritzs, then go for the new Sicilian Spritz, a beautiful concoction of Italicus, Aperol, olive, prosecco and soda. A glass during happy hour is priced at S$13 or S$17 at other times. Pitchers are also available at S$60 during happy hour or S$78 at other times.
A glass of Aperol Spritz is available at S$14 during happy hour and S$18 at other time. Pitchers are priced at S$67 during happy hour and S$85 at other time.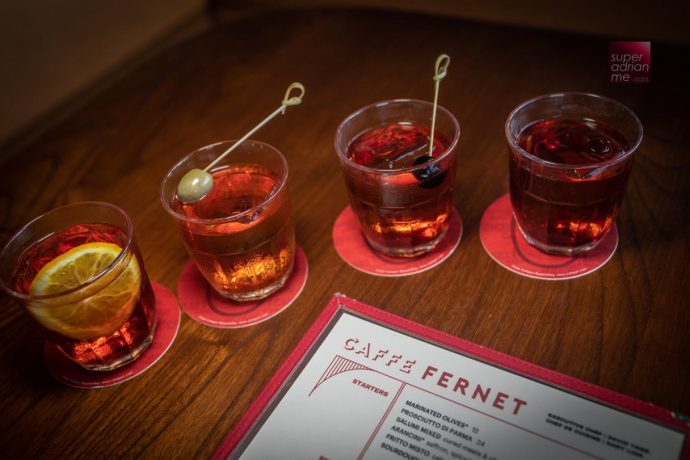 A new addition to the drinks programme is a menu of four Negronis.
| NEGRONI | Ingredients | Happy Hour Price | Price |
| --- | --- | --- | --- |
| Classico | Beefeater Gin, Campari, Cinzano Rosso | S$16 | S$22 |
| Secco | Tanqueray Gin, Mulassano Bitter, Cocchi Torino | S$16 | S$22 |
| Elegante | No. 3 Gin, Campari, Gran Classico, Bitter, Mancino Vecchio | – | S$23 |
| Vecchio | Koskue Gin, Campari, Mancino Rosso | – | S$23 |
What's New On Caffe Fernet Food Menu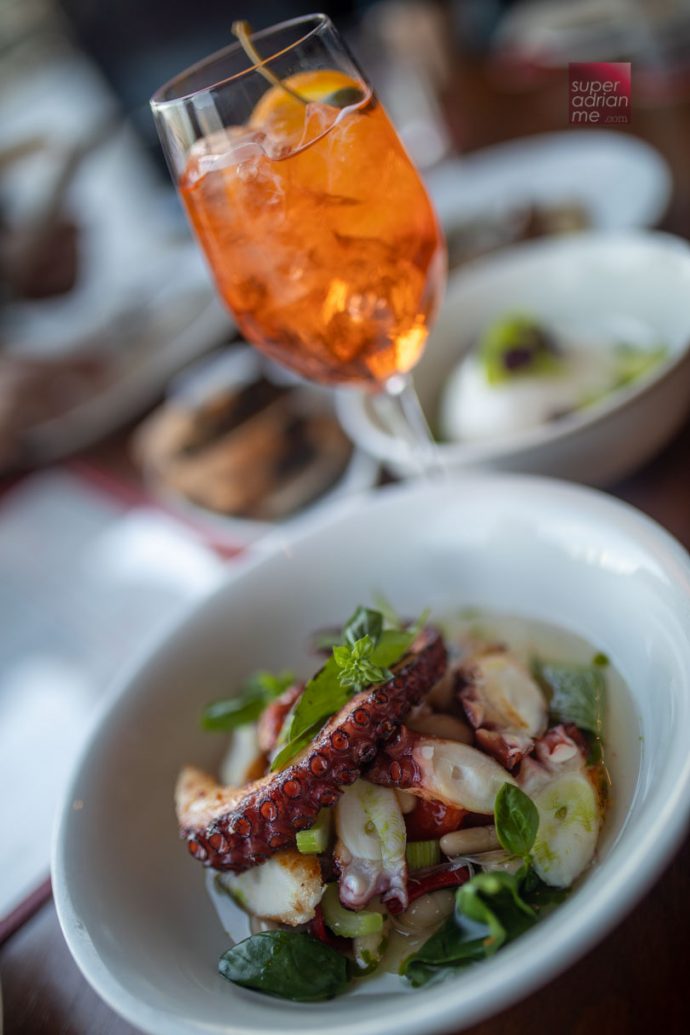 I am a fan of Octopus. The Octopus small plate (S$32) did not dissapoint. The Mediterranean octopus is charred a la plancha in a cast iron pan and served with a salad of marinated cannellini beans, celery and roasted pepper, finished with pepperoncini rosso vinegar and fragrant basil oil.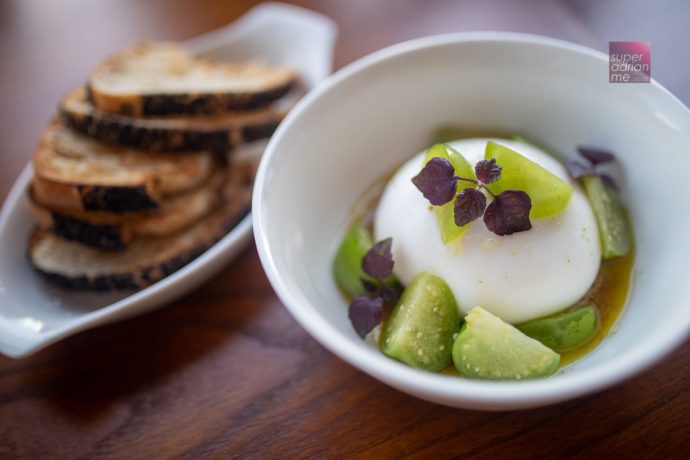 The Burrata (S$24) features locally produced burrata, served with a base sauce of roasted tomatillo with fermented serrano chile and a garnish of compressed green tomatoes with lime juice and zest.
The Mushroom Agrodolce (S$24) is a surprising dish. King oyster mushrooms and savour herbs are caramelised in butter and glazed with a red wine agrodolce that is made with red wine vinegar, apple cider vinegar, star anise, fennel seeds and honey. What looked like a base of mash potato is actually not. Polenta and ground sweet white corn and cooked in milk, finished with crème fraiche, Parmesan and black Kampot pepper.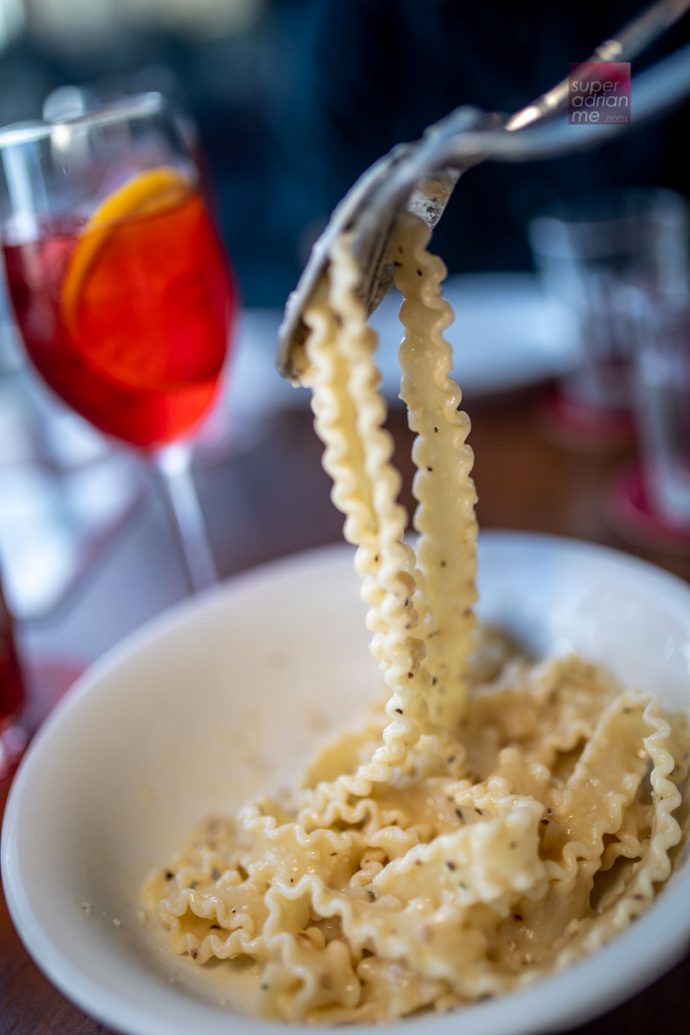 The pastas here are beautiful! Malfadine Cacio E Pepe (S$26) is a Caffe Fernet Signature dish. Everyone who visits Caffe Fernet must try this dish at least once. "Little Queens" or mafaldine, a ruffled ribbon-shaped pasta is used instead of the traditional spaghetti or tonnarelli so that it can better capture the cheese and pepper sauce. This dish is prepared with parmesan, pecorino and four peppercorns. Looks like a simple dish, but the flavours are beautifully complex.
New on the menu is the Tonnarelli Vongole (S$29). This is a new-Italian take on the classic spaghetti vongole. It features squid ink tonnarelli, cured citrus butter, green pepper, oregano and clams sourced from Ah Hua Kelong.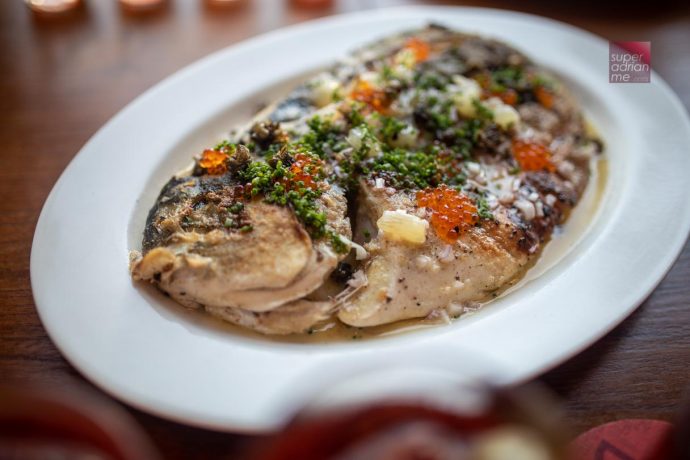 Have you ever eaten a deboned Golden Pomfret? The Pompano Piccata S$42) is a new-Italian take on the Golden Pomfret sourced from Ah Hua Kelong. Each serving features half a fish that is deboned and pan roasted until the skin turns crisp. It is topped with fresh lemon-butter sauce featuring Amalfi lemon, briny trout caviar and crispy capers.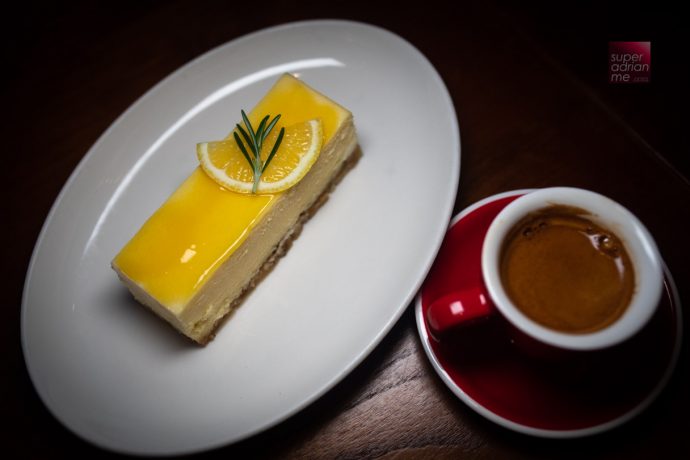 And if you still have appetite for desserts, go for the lemon Ricotta Cheesecake (S$16 for a slice). The Classic baked cheesecake with a twist features cow's milk ricotta with Amalfi lemon zest and a rosemary shortbread crust. It is glazed with a lemon
Operating Hours
Caffe Fernet operates from 4pm to 10.30pm on Mondays and Tuesdays. and from 12pm to 10.30pm from Wednesdays to Sundays. Last seating is at 9pm. Happy hour is from opening to 7pm.