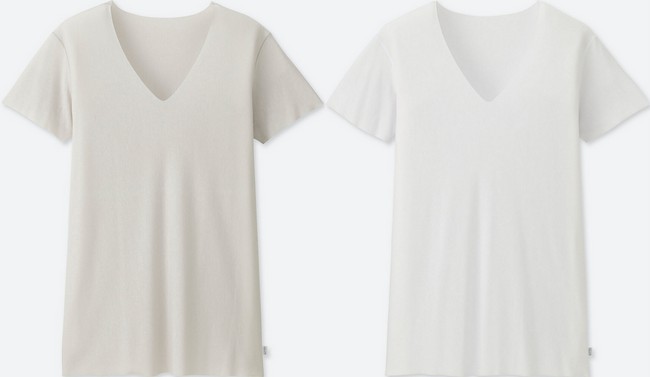 It's the travel season and it is getting cold in many countries. It's time to prepare yourself for the cold with the affordable UNIQLO HEATTECH options. I have armed myself with my trusty HEATTECH top and pants as well as my UNIQLO 4Way Coat for the past few recent trips in Seoul, Turkey and Berlin and have been kept snuggly warm and comfortable.
UNIQLO celebrates the 15th anniversary of HEATTECH, its signature thermal innerwear range with the launch of its new HEATTECH Seamless T-Shirt for men with improvements to its current line-up.
UNIQLO HEATTECH Seamless T-Shirt for Men
No more seams around the neck, sleeves and hem means that there are no more lines under business shirts and other tops. It fits like your own skin. And they are available in White, Light Gray, Black and Beige and sizes of S, M, L & XL at S$19.90 each.  Available at selected UNIQLO stores including UNIQLO Orchard Central Global Flag Ship store or online at www.uniqlo.com/sg.
Which HEATTECH To Buy?
We help you to decipher to three types of HEATTECH available and help you choose the appropriate one for your travels.
HEATTECH – Light and warm. Suitable for everyday winter wear or in extremely cold air-con environment.
HEATTECH Extra Warm – Has a raised lining and is 1.5 times warmer than regular HEATTECH. Suitable for very cold days.
HEATTECH Ultra Warm – 2.2 times warmer than regular HEATTECH. Great for intense cold environments.
HEATTECH is available in men, women and kids sizes and cuts.
UNIQLO HEATTECH Extra Warm and Ultra Warm with Argan Oil Moisturiser
Argan Oil moisturiser, which helps to increase hydration of your skin, has been incorporated in the HEATTECH fabrics for a softer, suppler feel against the skin for:
Men's Extra Warm
Kid's Extra Warm
Men's Ultra Warm
Women's Ultra Warm