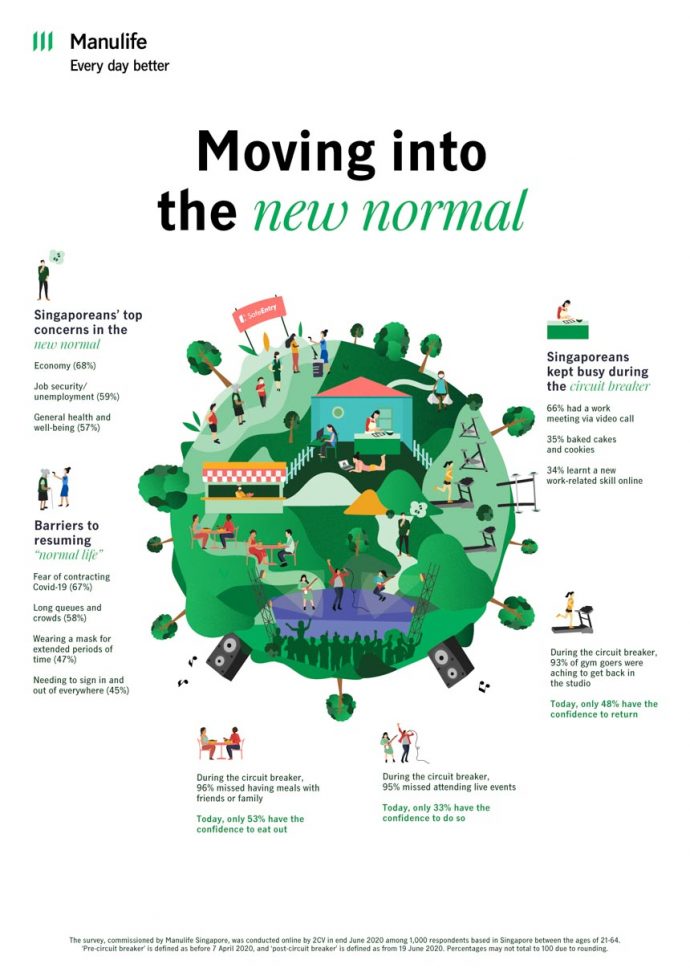 Manulife Singapore conducted a survey with 1,000 people in Singapore to understand their attitudes and sentiments towards the lifting of circuit breaker restrictions, as well as what the 'new normal' might look like.
We have been so used to the fast-paced on-the-go lifestyle before COVID hit the world. Going to work, visiting the malls, watching a movie and catching up with friends and family over dinner or drinks were all common activities. Perhaps we did take that freedom for granted. And now that these liberties have been taken away from us, the new normal still see people still wary about going out.
Majority of respondents were confident to resume essential activities like grocery shopping or dining at home with friends and family. Many aren't ready to restart outdoor entertainment, lifestyle and fitness activities now.
67% missed eating out during circuit breaker. Today only 53% have the confidence to eat out. During the circuit breaker, 93% of gym-goers couldn't wait to get back in the studio. Today, that number is 48%. While 95% missed attending events, only 33% had the confidence to attend one. Cinemas have opened but only 31% of respondents have the confidence to watch a movie in one.
Besides the fear of contracting COVID-19 (67%), other barriers to resuming normal activity include fear of long queues and large crowds (58%), convenience related factors such as not wanting to wear a mask for a long time (46%) and the hassle to sign in and out everywhere (45%).
Staying home has given us more opportunities to upskill via an online course (34%), bake cookies and cakes more often (35%), learn to order groceries online (29%) or even organise virtual happy hour with family and friends (27%).
Life Goes On, Let's Move Responsibly
Manulife Singapore encourages Singaporeans to resume life in the new normal with a nationwide sneaker hunt in end August with the message "Life Goes On, Let's Move Responsibly".
Through this Campaign, we hope to help Singaporeans take small steps in re-introducing a sense of normality of their daily lives in a safe way, and find joy while doing so.

Darren Thompson, Chief Customer Officer and Chief Product Officer, Manulife Singapore
The sneaker hunt will run for five weeks online and offline. Participants stand a chance to win limited-edition sneakers each week. More details will be released on Manulife Singapore's Facebook and Instagram.