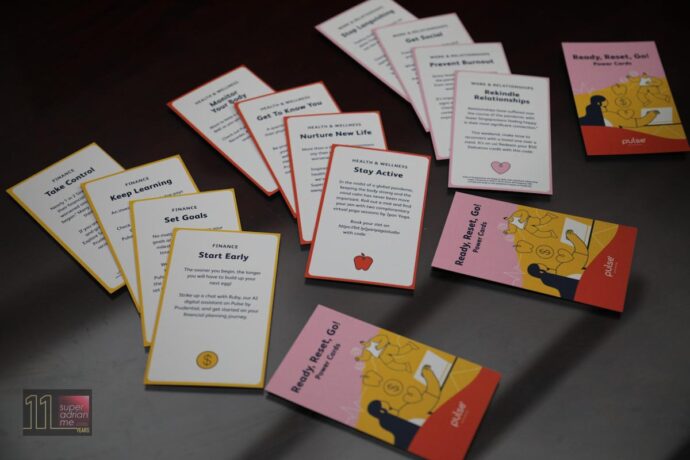 Prudential Singapore is giving away 85 limited-edition decks of "Ready, Reset, Go! Power Cards". These cards have been designed to help Singaporeans improve their overall wellbeing amid the COVID-19 pandemic.
Prudential's "Re-imagining 100: The Pandemic's Impact on Longevity" study has shown that people's wellbeing has been significantly impacted since the onset of the pandemic. 47% of Singaporeans surveyed say their financial wellbeing has deteriorated. 35% said their mental health has suffered. 25% say their physical health has worsened. People feel stressed from new work routines. However, 50% say they enjoy remote working. Fewer people today admit to being happy in their most important relationship. It is now 62% compared to 92% in 2018.
The "Ready, Reset, Go! Power Cards" deck consists of 15 cards. They are divided into three categories – Finance, Health & Wellness and Work & Relationships. Each card in these categories contains an interesting tidbit followed by a prompt to take an action step that will improve the state of your wealth, health, work or social life.
The Finance category urges people to kickstart their financial planning journey with four action steps.
Plan early
Improve financial knowledge along the way
Set clear goals
Find the right financial solutions to achieve these goals
These cards direct people to discover a set of wealth solutions available on Pulse by Prudential, a digital health and wellness app from Prudential. You can start planing your finances by chatting with "Ruby", an AI digital assistant, through wealth solutions available on the app. Or enhance your financial literacy by checking out the Knowledge Centre on the app. Finally you can set and track financial goals with the My Goals feature and discover the right financial solutions through the Explore Solutions feature.
The Health & Wellness category urges people to improve their mental and physical health with four action steps.
Check your BMI to see how healthy they are. Access the BMI Recorder on Pulse by uploading a selfie.
Monitor your health with AI powered feature called Healthcheck on Pulse.
Explore activities that improve mental and physical wellness. You will get two complimentary virtual yoga sessions with Juan Yoga.
Explore activities that de-stress the mind and body. A complimentary kit of ends from Super Farmers is enclosed with the deck of cards. You will be surprised how soothing and comforting gardening can be.
The Work and Relationships category urge people to improve their professional and personal lives.
Deepen existing ones. Comes with a S$50 Deliveroo voucher to enjoy a meal with a loved one.
Recognise the warning signs of burnout. Check out useful health-related content on Pulse.
Rediscover your purpose at work.
Make new meaningful connections. You can join interest groups on Pulse.
There are also three blank cards in the deck. You can personalise, by penning intentions and reflections as your take action to improvise your wellbeing.
Stand a chance to win yourself a set from now until 24 December 2021.
Screenshot the registration page and email it to [email protected]
Wait for the confirmation email and reply with your contact details to receive the physical deck of cards