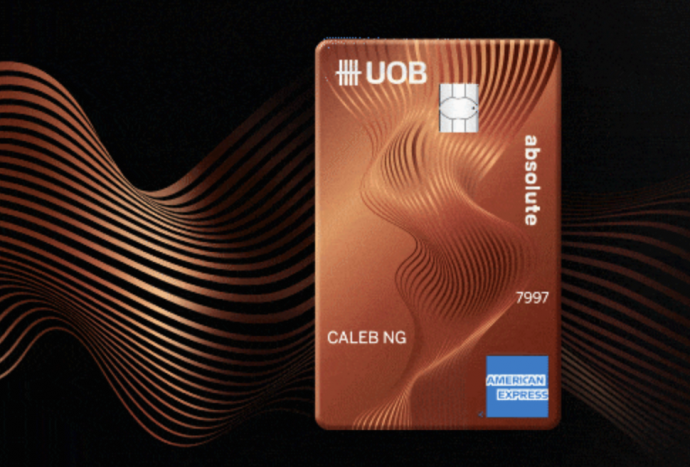 UOB and American Express has launched the UOB Absolute Cashback American Express Card. It lets you earn cash back on all credit card spend. Stretch your spending dollar with the UOB Absolute Cashback card's highest flat cash back earn rate of 1.7 per cent in Singapore. No need to worry about spend exclusions, meeting a minimum spend requirement or having a cap on the cash back earned.
According to a UOB survey of 1,275 individuals in Singapore between 21 and 55 years old, two in three respondents said they want to earn cashback on all card spend. The UOB Absolute Cashback Card is also set to become a favourite among these respondents, with almost 80 per cent of them saying such a card would quickly become their most frequently used card.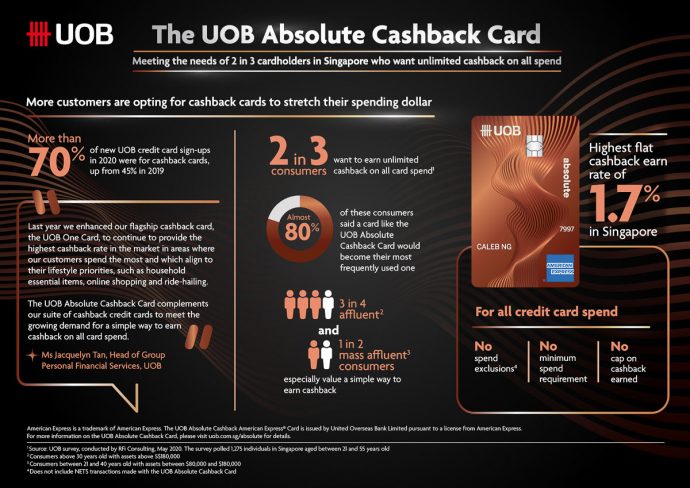 "Given the disruptions of COVID-19 to the economy in 2020 and increased expenses for necessities such as groceries and utilities, more consumers are looking for financial solutions to help them draw more value from their spend. More than 70 per cent of new UOB credit card sign-ups in 2020 were for cashback cards, up from 45 per cent in 2019. 

 Ms Jacquelyn Tan, Head of Group Personal Financial Services, UOB 
To qualify, you need to be at least 21 years old and earn a minimum annual income of S$30,000 for Singapore Citizens and Permanent Residents or have a fixed deposit collateral of at least S$10,000. For foreigners, a minimum annual income of S$80,000 is required or a fixed deposit collateral of at least S$10,000.
The Principal card has an annual fee of S$192.60 per year with the first year waived. The first supplementary card is offered free while subsequent cards come with an annual fee of S$96.30.
New-to-UOB credit cardmembers can enjoy 5% cash back on the first S$3,000 spend when they apply and spend by 31 July 2021.