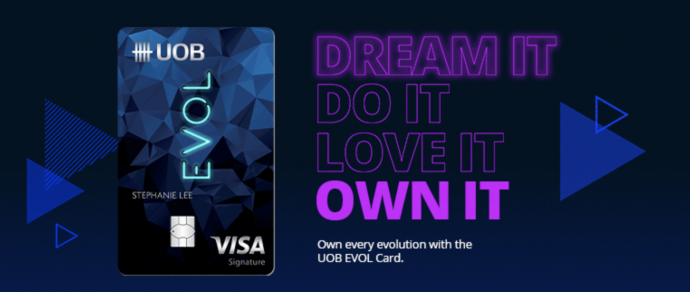 UOB has revamped its UOB YOLO Credit Card renaming it the UOB EVOL Card. UOB YOLO credit card serves the needs of Gen Zs across ASEAN. UOB EVOL Card was the name chosen by the banks' Gen Z customers.
Gen Zs have different needs to Millennials and they are expected to make up a quarter of Asia's population by 2025. Gen Zs tend to be more pragmatic having grown up during the global financial crisis. As a result, they are more conscientious about their financial well-being. They are also mobile-first consumers who value speedy, convenient digital services. They spend over six hours a day on mobile phones and do most of their shopping online.
The UOB EVOL Card is Southeast Asia's first bio-sourced credit card. It is made of 82% polylactic acid and created from renewable sources which are safe for incineration. Expired cards are biodegradable in an industrial facility.
"Thales is proud to work with UOB as they shift to more sustainable banking solutions with the launch of Southeast Asia's first bio-sourced banking card. By creating cards from an innovative alternative to plastic, which are non-petroleum based and non-toxic if incinerated, we are supporting UOB in their efforts to implement environmentally-friendly banking practices. As a pioneer in bio-sourced card production, Thales was the first card manufacturer to provide a PLA card body for banking cards. We align with Singapore's ambitions to be a leading centre for green finance in Asia, and our full set of sustainable products and solutions will continue to enable banks worldwide to reduce their carbon footprint and meet their sustainability goals "

Mr Michael Au, Senior Vice President Asia, Banking and Payments Solutions, Thales
This card will be rolled out progressively in Indonesia, Malaysia and Thailand. Existing YOLO cardmembers will enjoy the EVOL card benefits automatically from today.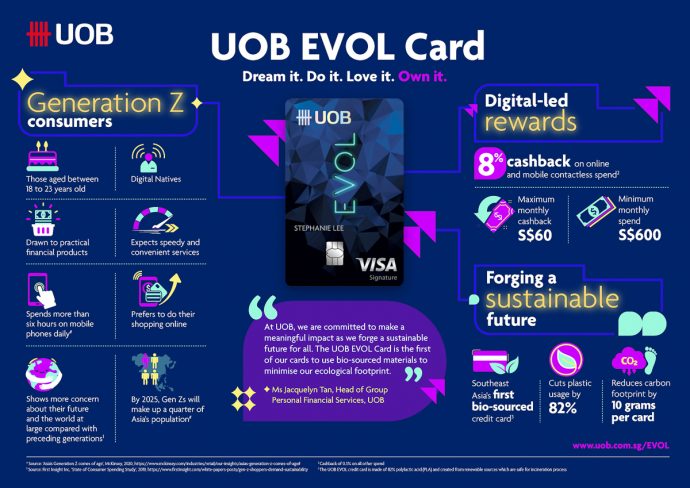 The UOB EVOL Card offers 8% cashback on purchases made online or via mobile contactless such as ApplePay, SamsungPay or GooglePay. They also earn 0.3% cashback on all other spend. There is a cap of S$60 every month and cardmembers need to spend at least S$600 on their card each month to be able to earn cashback.
Track your expenses and cashback at any time and anywhere with UOB's AI-driven insights service Mighty Insights. This is integrated within UOB's all-in-one mobile banking app UOB Mighty. Insights are customised based on your unique spending and saving patterns to guide you to be more financially disciplined and to optimise your UOB EVOL Card benefits.