Here's a look at the next revolution of juices. From personalised ice blends, cold pressed to hot juices, Korean D.I.Y. juice bar Beesket (FB/Instagram) is the next new stop for the health conscious. But, just want is so special about it?
Beesket Original
Choosing what you want in your juice is nothing new, but, I am pretty sure kale or pomegranate is not on your usual menu of choices. Beesket Original (S$5.90) takes the process further with adorable beeskets baskets and a myriad display of colours in a honeycomb-like design with each hue representing one fruit or vegetable. Like a bee, busily fliting around the honeycomb, customers do the same to choose their fruit capsules that fit snuggly into their beeskets. Instagram-worthy and a treat for the kids.
The health conscious can also keep their calorie count in check thanks to the radio frequency identification chips hidden inside the capsules. The scanner does a rough calculation of the calorie counts and nutritional values including fibre and various vitamins, all of which will be printed out with a discount or promo for your next purchase.
Even if you decide to go a little adventurous or go all-green, Beesket will be ensuring you a delicious, refreshing beverage with a spoonful of their Beesket Fruit Nectar. Made from an all-natural fruit extract from eight different fruits, it supposedly draws out the juice's flavour natural while balancing out acidity. So, go ahead and order a red cabbage, broccoli and yam blend if you'd like!
No worries if you are hard pressed for choices, the menu will have an extensive list of 100% Natural Blended Juices categorised depending on your needs. Whether you are hoping to renew your radiant glow or just trying to detox your system, they already have a blend taste-tested and ready for you. The unusual but tasty Yam Honey (S$6.40) might just end up being your favourite.
100% Natural Pressed Juice
Cold-pressed juices have gained immense popularity over the years. Beesket will no doubt be carrying them at room-temperature in fixed combinations of: Kale and Green Grape (S$6.40) and Pear and Ginger (S$5.40).
Natural Fruit Tea
Continuing on the cold pressed juice craze is their innovative new Natural Fruit Tea. While it does not actually carry any sort of caffeine, it is indeed a "hot" fruit drink. Made by gently steaming juices through a steamer to preserve its natural nutrients and enzymes, it gives us a sweet, refreshing yet comforting choice on a cold, rainy day. I loved the Green Grape Tea (S$5.40), which even had actual grape halves floating inside, and the cold soothing Pear Ginger Tea (S$5.40).
Loyal Bee Programme
They will also be offering a loyalty card programme from July 2015 onwards. It is similar to an EZ-Link card where customers can top up a stored value in dominations of S$10, S$20 to S$100 in a Beesket store card in pink or grey. An additional S$5 and S$10 will be accredited to the card with every S$50 and S$100 top up respectively.
Beesket is currently located at Changi City Point #01-20 and 321 Clementi Shopping Mall #02-03.
About the Writer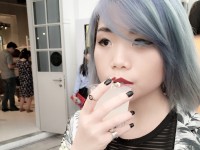 Jessica is a young lady of many obsessions. She gets herself into everything ranging from the latest in the monochrome fashion world (she only wears black, and sometimes, white) to convincing the masses that Community is the best TV series ever made.
Currently, she enjoys looking like Sailor Mercury had a baby with Wednesday Addams.