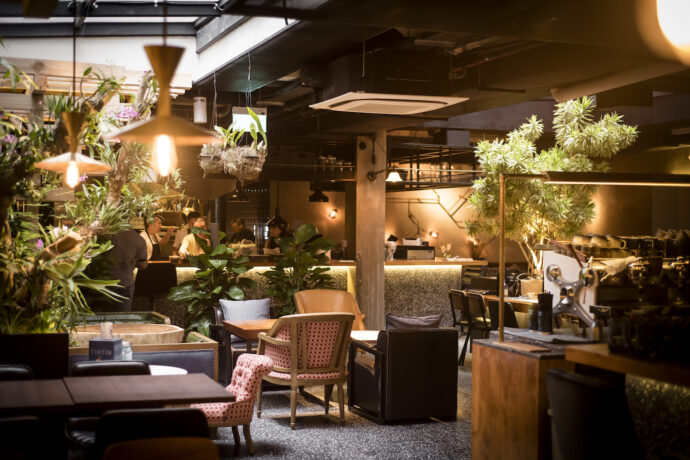 I've heard so much about Bird Of A Feather all these years. On how amazing is their food. The first media tasting, Adrian attended was in 2017.
Mind-boggling concept of contemporary western cuisine with a Sichuan twist. Will it be too much fusion that it becomes gimmicky? My answer is NOT AT ALL!!! And it had become my top choice for Restaurant for a date or to impress someone. Why had I only tried it out recently? But it's better late than never. Now let me share why I like it so so so MUCH.
To complement the best food, you need a good ambience to kick it up a notch. I like the rustic interior with a touch of greenery in Birds Of A Feather. It's a blend of fine dining and yet casual. I feel especially comfortable to chat here, unlike a more refined dining experience where I need to whisper to my date. And the unique cuisine will definitely be able to spark a good conversation with your date under the cloud lightings.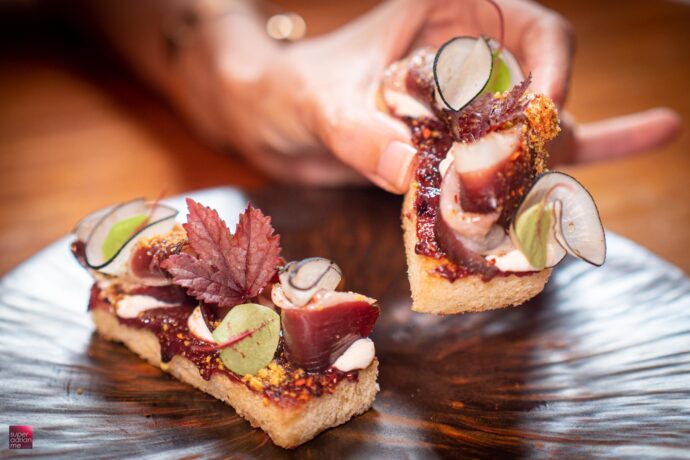 Okay, enough of that. Let's talk about some FOOD PORN. You know how fatty meat are so good yet so gelatinous. You can't have too much of it. But with Chef Eugene See's golden metric of combination, the fatty cured magret duck breast paired with fig & blackberry marmalade are so balanced and tasty. The tangy note from the marmalade will open up your palette, making it the perfect appetiser to start your meal. The melty duck are cured by the restaurant's chefs, marinated with Sichuan seasoning and aged for around 20 days.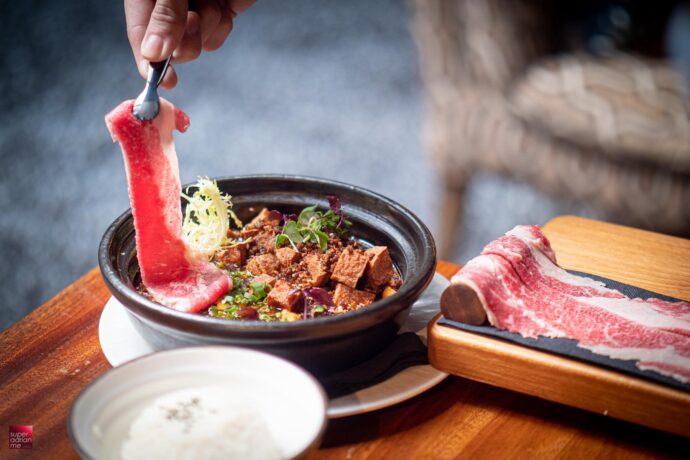 Next, we had the Two Way Braised Tofu which is a levelled up Mapo Tofu. Served with premium A4 wagyu beef, "shabu shabu~ed" in the steaming hot gravy is both tasty and InstaStory worthy. With silky tofu and broad bean chilli paste, topped with marinated fried tofu, this dish needs to be completed with a big scoop of rice.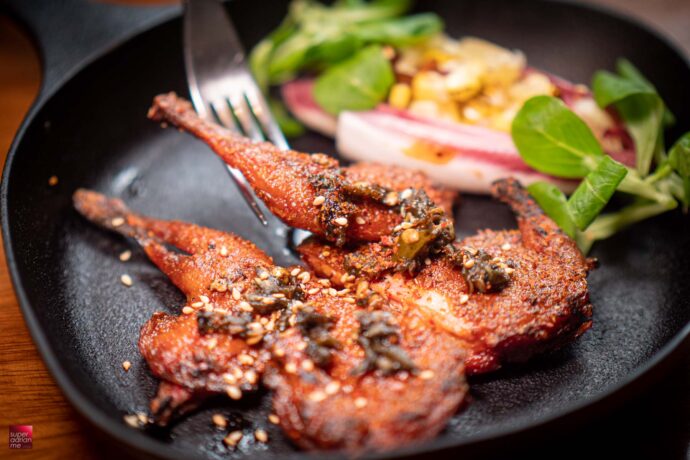 This smoky and crispy BBQ French Quail is inspired by Chengdu street food. Brushed with their signature chilli oil, grilled atop a bed of charcoal and finally dusted with a blend of Sichuan spices. This tender and tasty quail is a must-have that complements the alcoholic beverage you have on the side. The quail is nicely deboned, so it's easy to savour with a fork and knife too.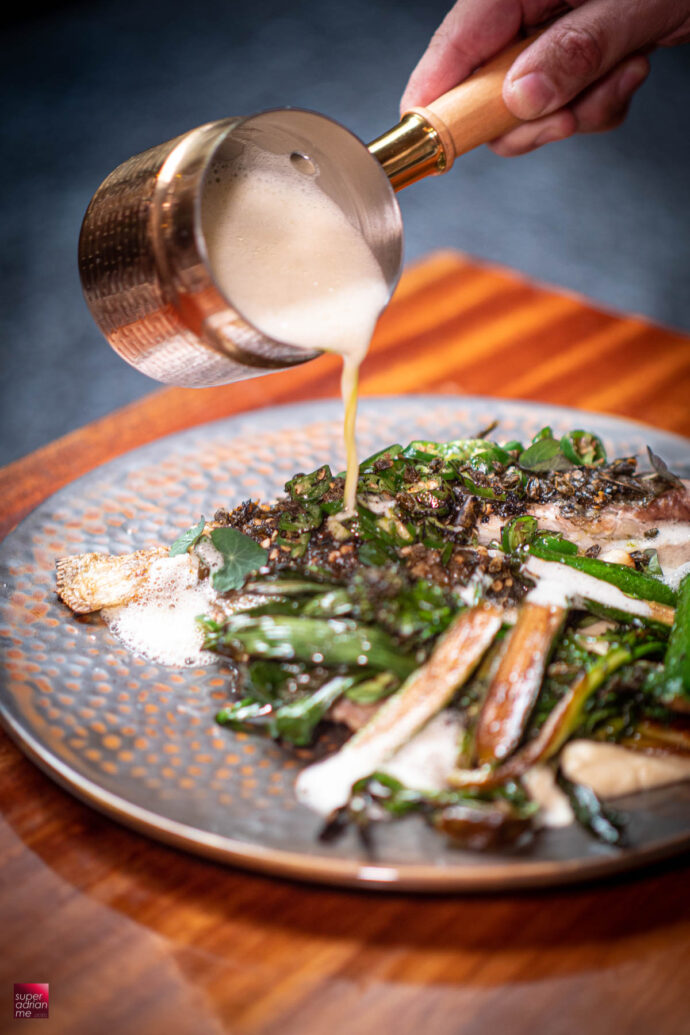 I am not a fish person, especially whole fish. That's because I am terrible with fish bones. And I enjoyed the Whole Wild Caught John Dory, to my surprise. The fish meat was chunky and flaky with a hint of sweetness. Don't worry about the fish bones, they are quite huge for that small fish and the server removes the bones for you. Topped with a bed of charcoal-grilled chillis, baby leek and broccolini, the smoky charred flavour is the perfect complement to the John Dory.
FYI, John Dory is an expensive fish and I think Birds Of A Feather may only have like five of these fishes coming in each week. So do book this dish in advance.
Braised Pork Belly lovers, please fall in. This dish is so amazing. It gives a perfect savoury ending before desserts. The pork belly does not melt in your mouth like DONG BO ROU. But it is still soft and super tender, perfect when mixed with the mushroom garlic rice and fried kale. Topped with an egg confit and shaved black truffle, Chef Eugene has put all my favourite food in this claypot rice dish. I can finish the whole pot on my own.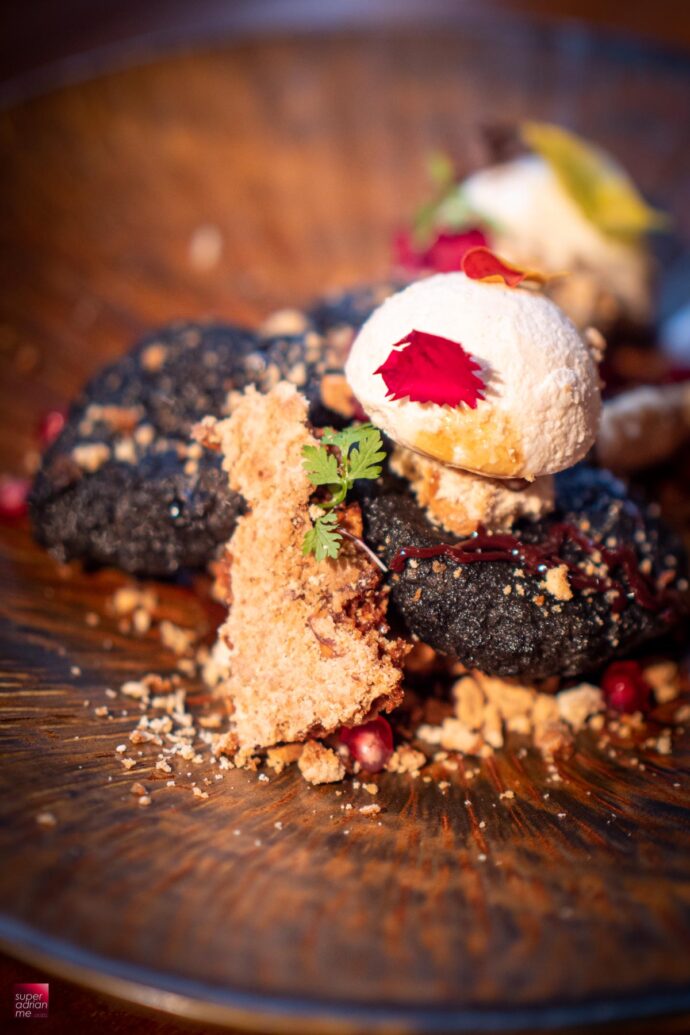 This is my first time trying 糍粑 (cí bā) which is a similar to a mochi but they stopped the pounding before the dough is smooth, leaving some grainy bits of rice in it. I quite like its unique texture. Coated with sesame grains and then fried, the Glutinous Rice Cake Rock is a not too sweet dessert that most will enjoy.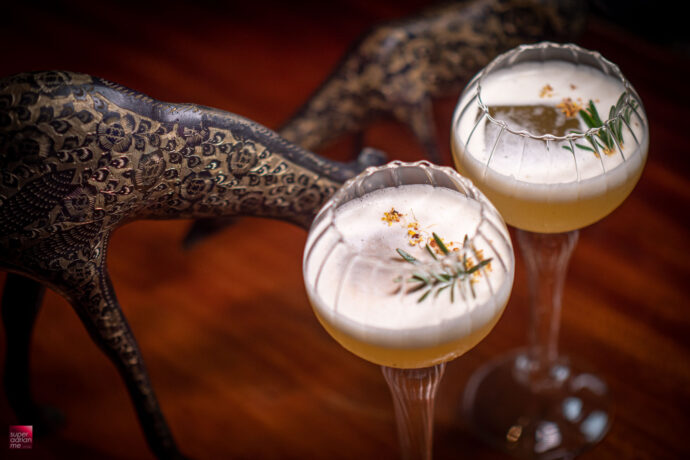 When you are at Birds Of A Feather, remember to check with their resident bartender which cocktails pair well with your choice of food. Like their food, they have a few specially concocted cocktails and mocktails to try out.