1-Michelin-starred Alma by Juan Amador has recently reopened from its renovations from 20 February to 23 March this year and is set to welcome a new culinary team and a new menu on 24 March 2023. Chef Juan Amador of 3 Michelin-starred Amador Restaurant in Vienna, Austria was in town to unveil the new chapter of his restaurant at Goodwood Park Hotel.
Executive Chef Haikal Johari has also recently left to pursue his interests. The last time we dined at Alma by Juan Amador was in 2021 when it celebrated its sixth anniversary.
The new culinary team has been trained first-hand by Chef Juan to take the reins. A new revamped menu will reflect the new chapter of Alma by Juan Amador, where the brand DNA of fresh produce and respect of ingredients and flavours remain the core.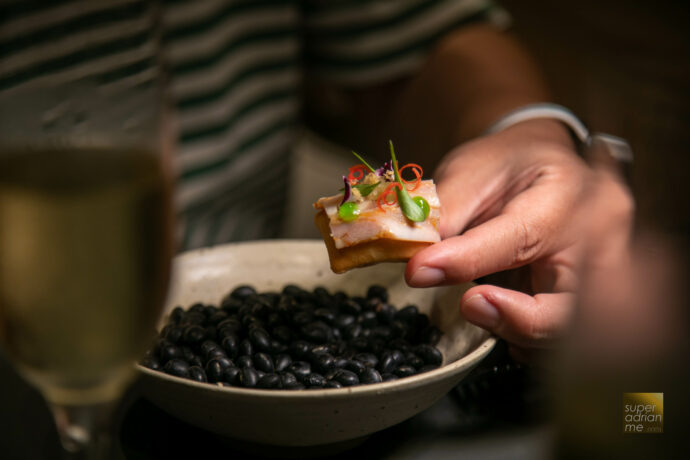 To launch the refreshed Alma by Juan Amador is a five-course degustation dinner menu priced at S$228++ without wine pairing. This degustation menu allows guests to try the best of Chef Amador in one sitting.
To start, snacks are offered. The Eggs Benedict 2.0 features Bafun uni, black truffle, and sauteed spinach in beurre blanc mousse encased in a vol-au-vent. Sa-bo-fun is a take on the iconic clay pot rice dish. Duck paté is prepared with red wine, port wine, and a red grape reduction. It is then blended with a pan-seared duck liver sausage and served on a charred homemade rice crisp. The Tikka Masala is served on a homemade oyster pillow with coconut yogurt masala marinated 'Benja' chicken leg terrine with coconut purple curry cream, compressed pickled cucumber, and crispy chicken skin minty cucumber gel.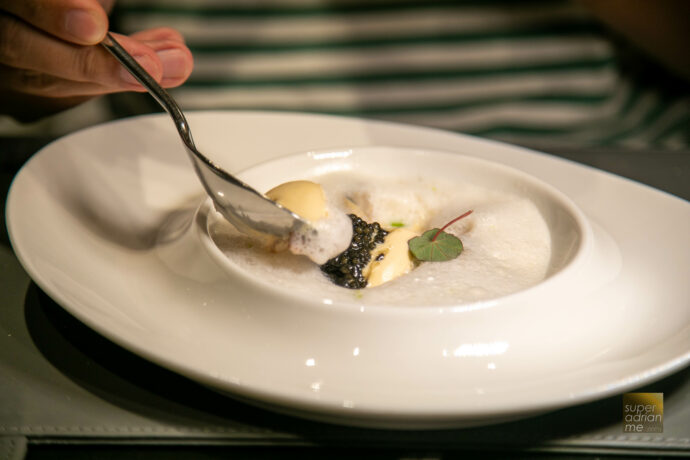 The menu features Chef Amador's signature dishes and his take on Asian ingredients. He takes inspiration from his travels to Asian destinations. We are happy they have retained the Potato Bread & Smoked Butter and the Beurre Blanc on the menu.
The bread is made with Potato flour and is served warm. The crisp crust is so alluring. The Beurre Blanc is paired with Fine de Claire oysters, caviar, pumpernickel bread and hazelnut foam. The hint of tartness and the salty and nutty flavour of the oyster offers a multi-layered experience when eaten with all the ingredients. Paired beautifully with the slightly acidic Robert de Pampignac Brut Champagne.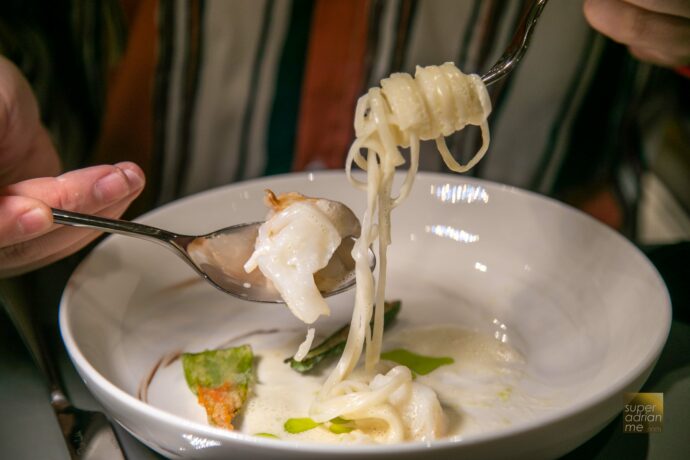 Two spectacular dishes I enjoyed are the Parfum de Siam and the fatty Crackling Iberico Pork belly. Parfum de Siam was inspired by Chef Amador's visits to Thailand, where he enjoyed the flavours of the herbs and spices from the country. In this noodle dish, a Thai-inspired green curry cream sauce is fragranced with Thai herbs and spices and served with a butter-poached Australian rock lobster, Inaniwa Udon, mini zucchini and tempura zucchini flower. I enjoyed the prominent lemon grass flavours from this dish.
The Crackling Iberico Pork Belly was well executed. The pork skin was crispy and crunchy while the pork belly was succulent and tender. Eat this with the spicy chicken pate mousse, Japanese orange, and braised pearl onions pork au jus.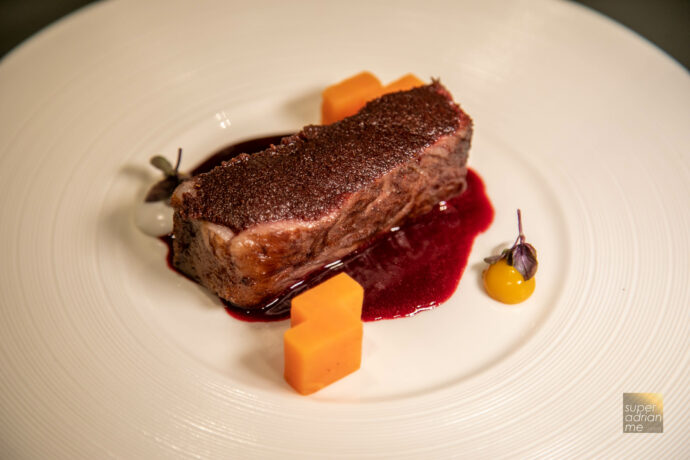 The A4 Satsuma Wagyu features a highly marbled premium striploin seared with Chef Amador's purple curry from Vienna. Dried hibiscus flower powder gives the curry a purple hue. The curry gives the dish a floral and citrus aroma. A layer of mango and coconut gen is served with sweet potato. Crunchy bits from the base of the purple curry is layered on top of the beef for added texture.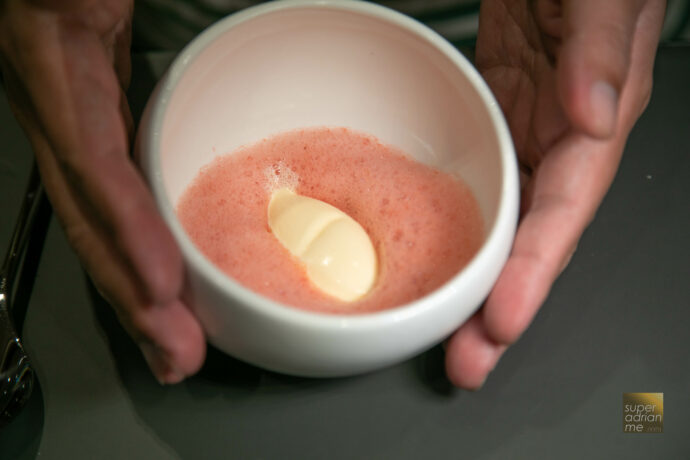 For desserts, Moutai "Flying Fairy" Ice Cream is a refreshing dish of Moutai Flying Fairy baijiu, tree gum snow nest, strawberry air and a crisp Hawthorn flake.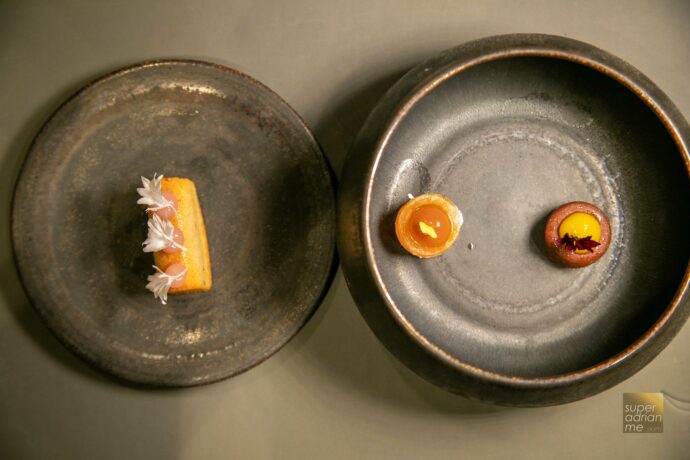 End the degustation menu with a serving of Petit Four. The PIstachio Praline Bonbon, Passionfruit Pate and Financier go perfectly with a cup of coffee.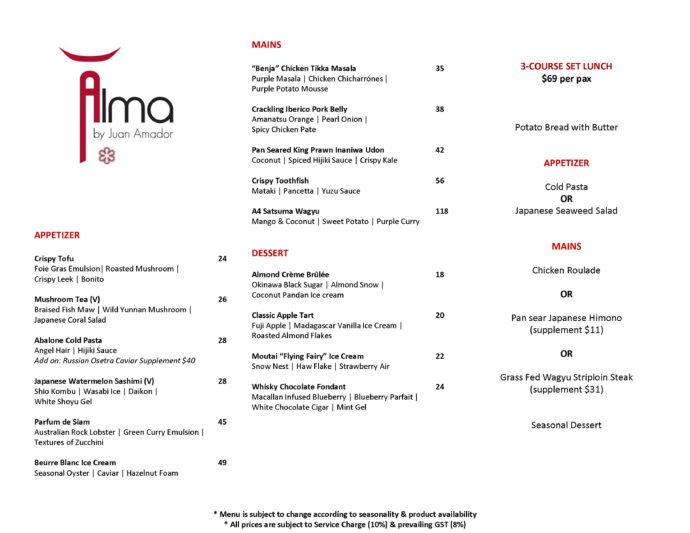 The new Ala carte Menu shares the best of its kitchen any time of the day with mains from S$35++. There is also a three-course set lunch priced from S$69++ per person.
Alma by Juan Amador is at 22 Scotts Road, Goodwood Park Hotel, Singapore 228221. Lunch is available from Tuesday to Saturday from 12 pm to 2.30 pm. The last seating is at 1.30 pm. Dinner is served from 6 pm to 10.30 pm, with the last seating at 7.30 pm.