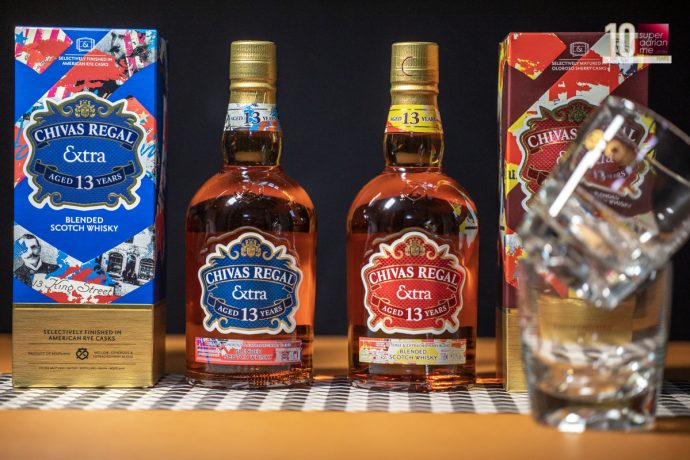 The Chivas Extra 13 Collection has been launched with a range of four 13 year old whiskies. The blended Scotch whisky has been matured or finished in four different casks. These include Oloroso Sherry, Rum, American Rye or Tequila casks. Each additional cask imparts its own unique combination of characteristics onto the Chivas blend.
4 Chivas Extra 13 Collection Expressions
This is not the first time Chivas has used Oloroso Sherry for maturation and finishing. Chivas has also used American Rye casks in the selective finishing in its blends. However, Rum and Tequila casks are new to Chivas in the whisky-making process.
Chivas Extra 13 Oloroso Sherry Cask
Sandy Hyslop and his team carefully monitor the influence of the casks on the whisky, a meticulous task in which the quality of each batch of Chivas Extra 13 Oloroso Sherry Cask is individually assessed. Each sherry cask in the blend has matured one of the key component malt whiskies of the blend for a full 13 years.

A richer finish with hints of sweet ripe pears in syrup, vanilla caramel, cinnamon sweets and almond.
Chivas Extra 13 Rum Cask
A sweet finish with rich flavours of juicy orange, sweet apricot jam and honey offset by warm and spicy cinnamon flavours
Chivas Extra 13 American Rye Cask
There is no fixed time period attached to selectively finishing. instead the process is one that relies on craftsmanship, expertise and the fine art of blending whisky.

A smooth and mellow finish with flavours of sweet and juicy orange and creamy milk chocolate
Chivas Extra 13 Tequila Cask
A sweet and round finish with hints of grapefruit and pineapple
Chivas Extra 13 Collection Design
Chivas has partnered Greg Cossel, a renown US-based street artist, to design the artwork for each of the new expressions. Inspired by the origin of each cask, the packaging design blends geographically relevant contemporary designs with imagery of 13 King Street, James and John Chivas' fine food emporium.
The Oloroso Sherry Cask design blends sherry production references and Chivas heritage with imagery of 13 King Street. Iconic yellow and red colours pay tribute to Spain.
For the American Rye Cask design blends American and Scottish history with elements of the prohibition period. The stars, stripes, blue, red and white in the design paying tribute to the US.
The Extra 13 Collection represents new territory for Chivas as we continue to open up the world of Scotch whisky to new audiences and fresh experiences. At Chivas we believe that blended is better – and nowhere is this more evident than with our new collection, which blends exceptional Scotch and a diverse, internationally-inspired palette of flavours.

Sandy Hyslop, Director of Blending at Chivas
Availability in Singapore
The Oloroso Sherry and American Rye Cask will be available globally. And in Singapore, they will be available from 13 January 2021 from Pernod Ricard's Official Shopee Store at S$84.
Unfortunately, the Rum cask will only be available via travel retail outlets. Also, the Tequila Cask will be available exclusively in Mexico before launching to other markets later this year.
Cocktails with Chivas Extra 13
13 participating cocktail bars in Singapore will serve special cocktails made with the Chivas Extra 13 over 13 weeks. The first four bars will be serving Chivas Extra 13 cocktails in January 2021. The other 9 bars in February will be announced at a later date.
| | |
| --- | --- |
| 4 to 10 January 2021 | Smoke & Mirrors |
| 11 to 17 January 2021 | MO Bar |
| 18 to 24 January 2021 | Miss Fitz & Roxy |
| 25 to 31 January 2021 | No Sleep Club |