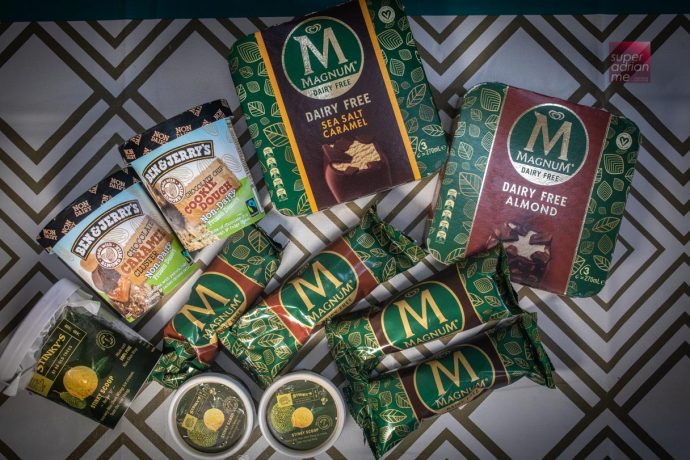 Perfect for a hot day or when you are craving for something sweet and cold. These new ice cream products offer you more variety. Dairy free options from Magnum and Ben & Jerry means those who are lactose intolerant can also indulge in them.
Magnum released the Dairy-Free Sea Salt Caramel in October this year. The Magnum Dairy Free range is certified vegan by the European Vegetarian Union. The plant-based ice cream provides the same unrivaled Magnum indulgent experience. This new flavour joins the Magnum Dairy-free Classic and Almond and is available at S$11.90 for a multipack of three at FairPrice Finest and Hypermarkets, and Cold Storage supermarkets islandwide as well as online via RedMart, Everyday Vegan Grocer and the EatRoamLive marketplace.
Ben & Jerry's Non-Dairy ice cream comes in the form of two Vegan flavours – Chocolate Chip Cookie Dough and Chocolate Caramel Cluster. They are made with almond milk and 100% certified vegan. Ingredients in each pint are non-GMO sourced, certified vegan and Fairtrade. Each pint is priced at S$14.90 and are available online or at neighbourhood supermarkets.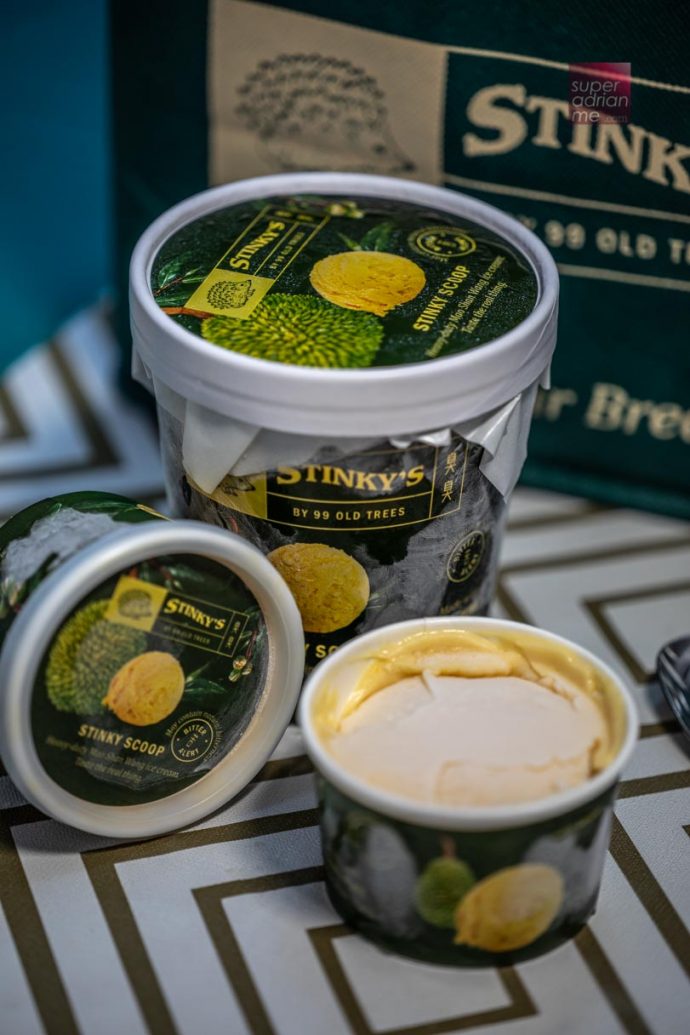 99 Old Trees introduces Stinky Scoop! made with 15 seeds of Mao Shan Wang. That's equivalent to two Mao Shan Wang durians worth of flesh. Stinky Scoop ice cream is available until 31 December 2020 at S$28 per pint (500ml).
Artificial flavourings, preservatives and stabilisers are not added to the ice cream but it has a shelf life of only three months.
The durians are harvested from Fook Gor Durian Farm and sent to 99 Old Trees' processing facility five minutes away. Where they are then sent for deep-freezing, which extends their shelf life to about six months. The impurities are removed by hand in order to ensure the durian pulp is of high quality. This pulp is then shipped to Singapore and added to pasteurised custard to create the frozen treat. It is uncooked so as to retain the natural aroma of the fruit which would otherwise be destroyed by heat. Each batch of ice cream is churned manually at low speed and in small batches for freshness and consistency and so the amount of air whipped into ice cream.
For every two pints of Stinky Scoop purchased at S$56, you get a complimentary Stinky's cooler bag. These are also available in 100g scoop cups at S$6.50 each. There is a special bundle price of S$32 for five cups.