Yang Ming Spring, Taiwan's pioneering Michelin Green Star restaurant, has achieved the prestigious recognition for two consecutive years, 2021 and 2022. Renowned for its unwavering dedication to plant-based cuisine and the utilisation of fresh, carefully selected ingredients from their mountain garden, Yang Ming Spring has established itself as a beacon of innovation in the culinary world. Setting itself apart from traditional Chinese vegetarian cooking that often relies on gluten-based mock meats, the restaurant embraces a creative culinary ethos that pushes boundaries and redefines vegan gastronomy.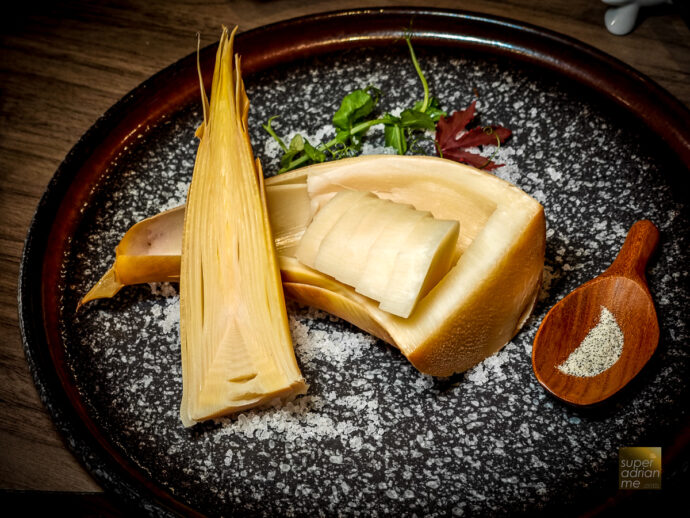 From 5 June to 31 July 2023, Yang Ming Spring's Executive Chef Sean Hsueh will present two vegan tasting menus at S$108++ and S$128++ per person at Si Chuan Dou Hua Restaurant at TOP of UOB Plaza. The menus will be refreshed with new signature dishes on 1 July 2023.
Si Chuan Dou Hua Restaurant's Executive Chef Hoo Chee Keong will also present some of his exquisite Cantonese plant-based creations in the same menus.

Bamboo shoots are best harvested in Summer. They are flown in fresh from Taiwan. Chef Hseuh ensures their freshness shines though by serving them with a touch of seasoning and a simple tea salt dip on the side. Such clean flavours and the slightly crunchiness with each bite makes this an addictive dish.
The Chlorella and Edamame Soup is a vibrant green colour, showcasing the use of Taiwanese chlorella, a microscopic single-cell freshwater algae and Edamame beans. This nourishing soup not only provides a satisfying and wholesome experience but also aids in cleansing the upper respiratory tract and abdomen. The soup is adorned with delicate shavings of Italian black truffle to enhance its flavours, adding a touch of luxury to the dish.
On the other hand, Chef Hoo presents his Double-boiled soup featuring Japanese Shitake Mushroom and Chinese Herb. This meticulously prepared soup offers a clear and light broth, allowing the flavours of the ingredients to shine through and providing a refreshing experience for the palate. The combination of Japanese Shitake Mushroom and Chinese herbs creates a harmonious blend of tastes and textures, resulting in a delightful soup that will leave diners craving for more.
The Forest Mushroom Medley showcases an assortment of mushrooms, such as the Monkey's Head Mushroom and Bai Ling Mushroom. Yang Ming Spring takes special care in preparing their Monkey's Head mushroom, which involves a meticulous process of soaking, dehydrating, and marinating that spans over two days. These mushrooms are then freshly baked to order, resulting in a delectable dish with a crispy exterior that beautifully contrasts with the tender and flavourful flesh within.
Yang Ming Spring carefully selects Hwa Gung Tea's Lishan oolong tea, cultivated at an altitude of over 1,700 meters on Lisan, widely known as Pear Mountain. This exquisite tea, often referred to as the 'champagne of tea,' has garnered prestigious gold awards at international tea competitions, including the esteemed "Teas of the World" competition by Agence Pour La Valorsiation des Products Agricoles in France.

Indulge in the cold brew Lishan Estate Oolong Tea to complement your vegan meal. This refreshing beverage provides a perfect accompaniment to your dining experience, allowing you to savour the unique flavours of the tea while enjoying the vegan dishes.