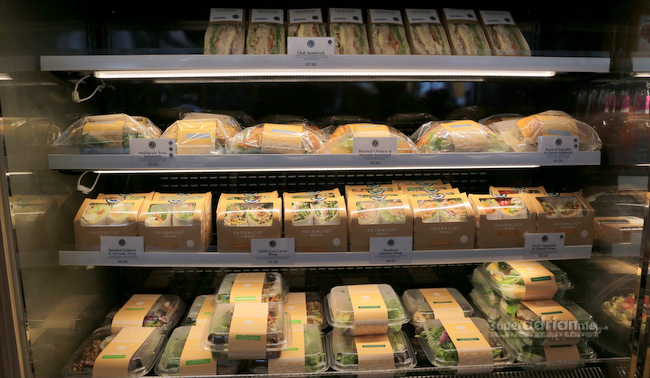 It is meant to be healthier with lower calorie and lower glycemic index (GI). But step into Foodology Fresh and the last thing you think about is your waistline. Besides their key offerings of salads, sandwiches and wraps, they also offer a good variety of other goodies, not necessarily healthy fare, that tempts you to ditch that diet.
Located in URA Centre beside the Maxwell food centre, it is a welcomed change for office executives looking for something other than hawker favourites like Tien Tien or Zhen Zhen.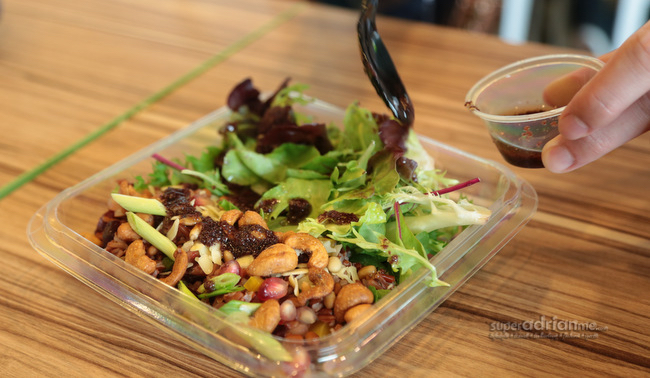 We tried the Brown Rice & Pomegranate Salad (S$7.50) with mesclun, parsley, bell peppers, celery, scallion, mixed herbs, dried cranberries, cashew nuts, almond and sumac dressing. Just from the ingredient list alone, you can imagine how wonderful a mix of tastes you will get. And it definitely lives up to every bit of its description, from the sweetness and crunchiness of the pomegranate and nuts, to the slightly sour dressing. Other salad options include Smoked Duck Breast Salad (S$8.50), Quinoa Summer Salad (S$8.50), Roasted Chicken, Grape & Apricot Salad (S$8.50) and a traditional Chicken Caesar Salad (S$7.80).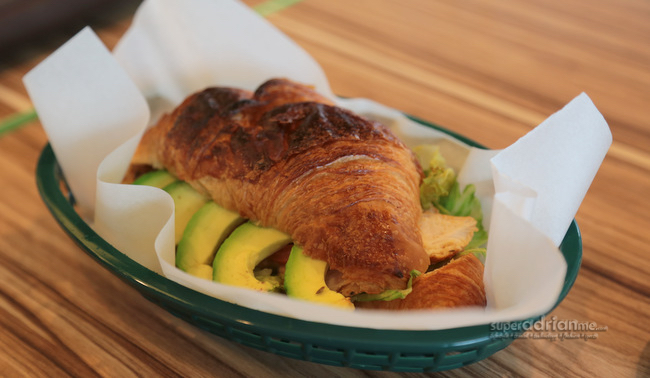 For sandwiches, the recommended Roasted Chicken & Avocado (S$7) is a safe choice. It comes as a cold sandwich but you can ask for it to be toasted, or heat it up yourself in a microwave oven provided to guests. Reminds me of 7-Eleven but with a bit more class. The sandwich is big with succulent chicken and fresh avocado spilling out of the croissant bun. You would need a big hand and large mouth in order not to create a mess. Non-meat eaters will be glad to find a Roasted Vegetable & Cheese Sandwich (S$8.50) with zucchini, eggplant, tomato, onion, basil, cream cheese, parmesan, mozzarella and balsamic dressing in focaccia. Or a Multigrain Tuna Sandwich (S$7) with anchovies, French beans and hard-boiled egg.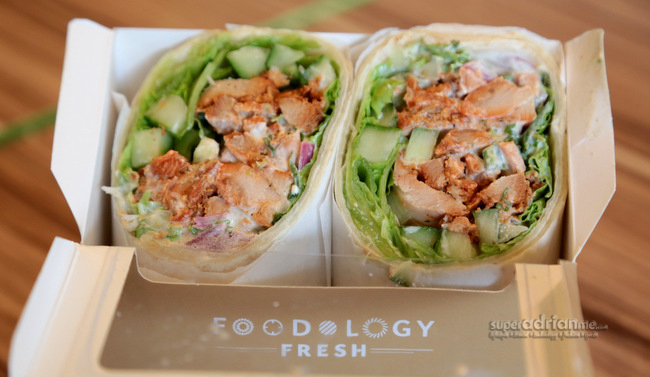 An easier to handle option (and way cleaner too) would be the wraps. We went Asian with the Tandoori Chicken Wrap (S$8.80) with generous chunks of chicken tikka and a fragrant raita dressing. Something more interesting would be the Chilli Con Carne Wrap (S$7.50) with beef con carne and sour cream. And there are non-meat options – the Fresh Vegetable & Cheese Wrap (S$8.80) and Smoked Salmon & Avocado Wrap (S$8.80).
The above salads, sandwiches and wraps are made onsite and pre-packed with labels indicating if they are Vegetarian, Sugar-free, Gluten-free, Lactose-free or Trans-fat free. If you have special dietary requests, they will make a fresh one for you according to your requirements.
For a top-up of S$3, you can add a Soup, Quiche or SavoUry Muffin. The Mushroom soup is the most popular and I would seriously just opt for that. But if you want something heavier, the savoury muffins are quite unique with flavours like Feta Cheese & Black Olive or Caramelised Onion.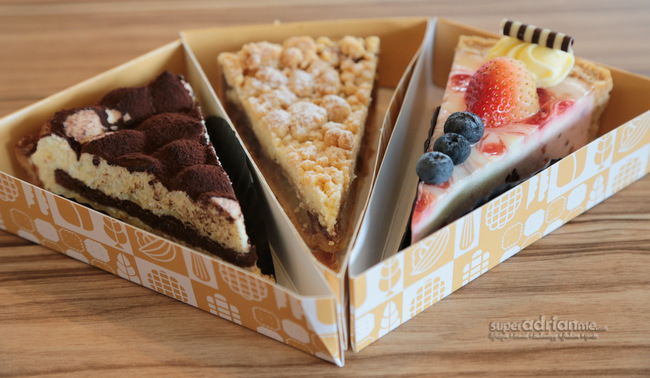 Now comes the less healthy part. Besides a handful of sweet muffins, Foodology Fresh offers a delectable range of tarts at S$5.80 – Apply Crumble Tart, Mascarpone Creme Brûlée Tart, Lemon Curd Tart and my favourite, the Summerberry Yoghurt Tart. I simply love tarts and because I could never leave this place without eating one of these beauties, the whole notion of healthy is thrown out of the window for me. But that's me. I am sure you have better discipline.
Foodology Fresh @The URA Centre  is located at #01-02, 45 Maxwell Road and operates Mondays to Fridays, 8am to 6pm.
About the Writer
Kevin Khoo is a self-professed foodie who loves his bak chor mee as much as an authentic al dente aglio olio; and savoury as much as sweets. 

He also works in F&B so he literally eats and breathes food. He struggles to stay in shape.