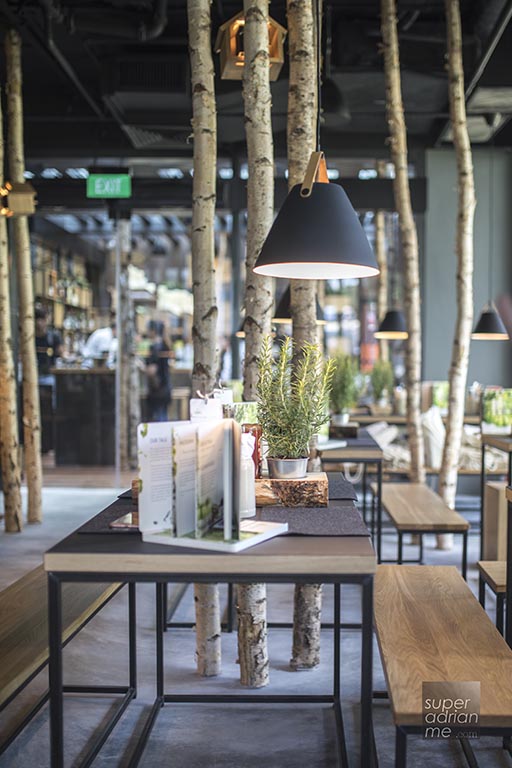 Hans im Glück, German gourmet burger chain, has opened its first 242 sqm outlet in Singapore and 50th around the world. It is located between International Building and the Royal Thai Embassy at 362 Orchard Road.  It held its opening night party on 4 December where signature cocktails and naked burgers were served. The first Hans im Glück opened in Munich's Neuhausen district in 2010. The brand is seven years old and there are plans to expand to other Asia Pacific cities including Hong Kong, China and Taiwan.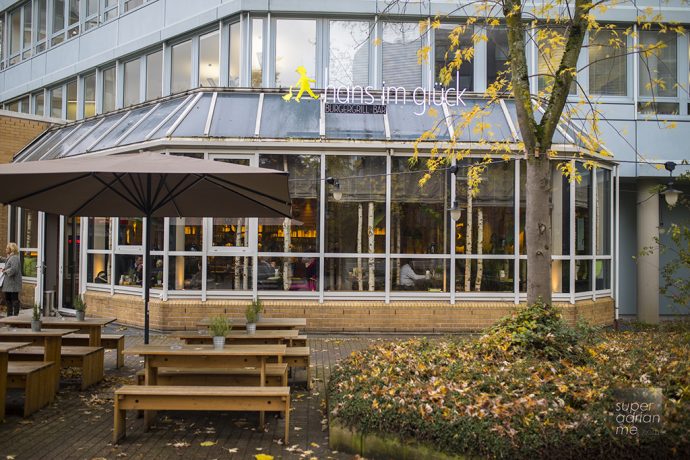 Our first encounter with Hans im Glück was in Arabellapark in Munich, Germany last November on the first day of our Trafalgar Imperial Europe tour. We were staying at the Sheraton Arabellapark and after a 13 hour 5-minute nonstop red-eye flight from Singapore, we were tired, jet-lagged and hungry. We wanted to find something to eat, and explored around the neighbourhood and decided we should eat at Hans im Glück because it was packed. And we did not regret it. The burgers were extremely juicy and tasty and we wanted more.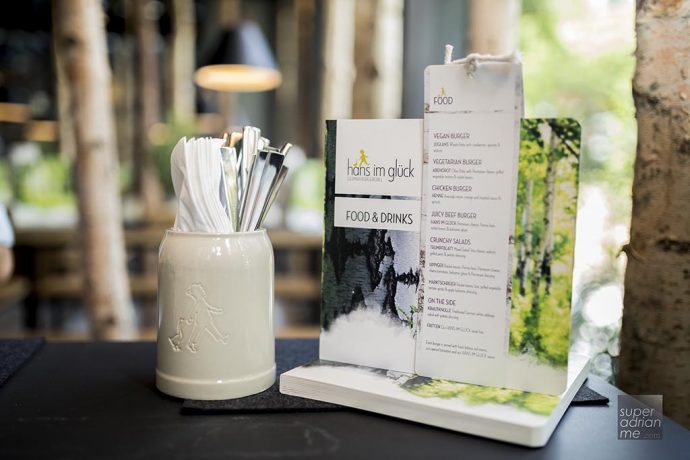 Step into the restaurant in Singapore, and it is like you walked into a birch forest, just like each of the other 49 restaurants. Hans im Glück's average pricing for drinks is S$12, for food at S$15 and desserts at S$11. You have a choice of sourdough or multigrain buns, or 'naked' burgers without and buns but just lettuce and vegetables.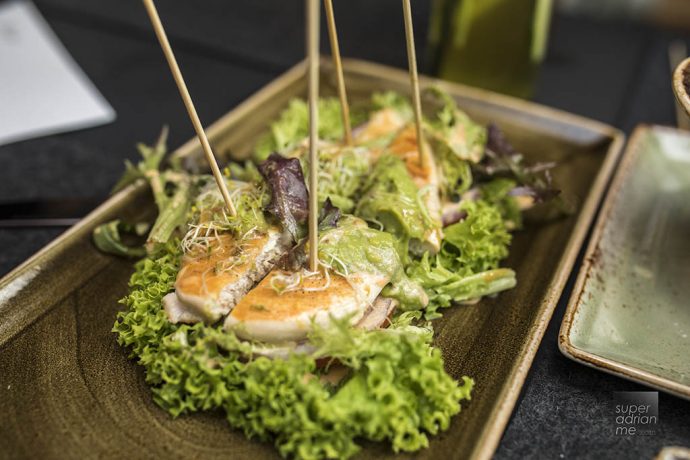 A variety of beef and chicken breast burgers are available. We shared the naked HENNE Avocado Cream, orange and mustard sauce & sprouts (pictured above).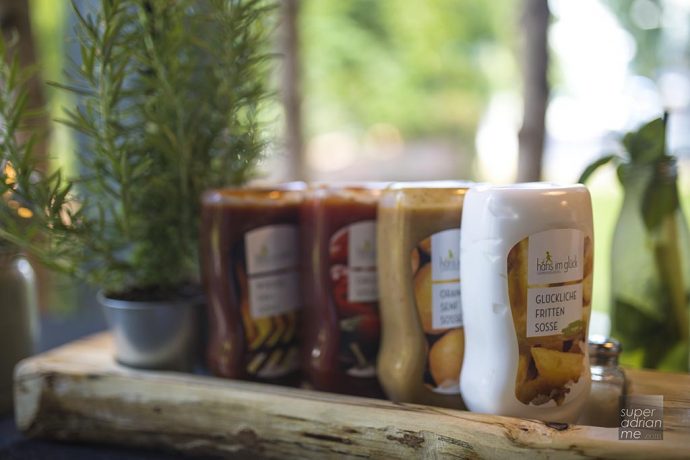 Guests can also enjoy a selection of four vegan or seven vegetarian burgers. The sauces are made without dairy or milk. The dairy or milk-free mayonnaise or orange mustard sauce still tasted good with the burgers or fries. There is something for everyone.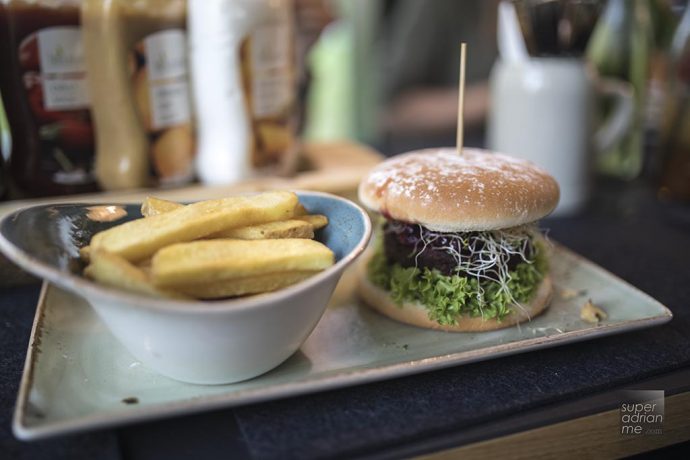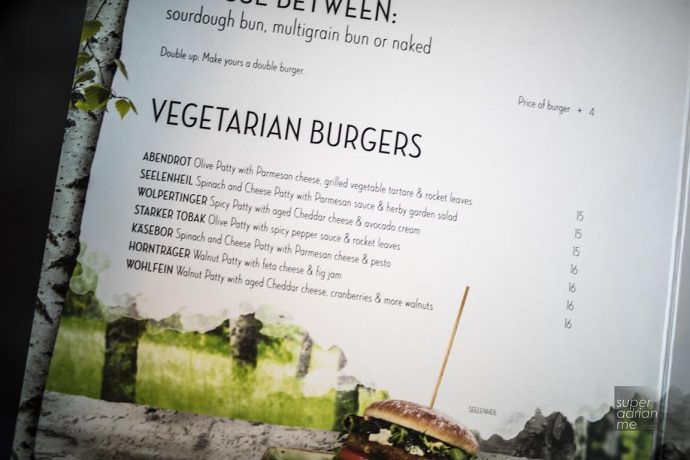 We tried the Juglans Wheat patty with cranberries, sprouts and walnuts vegan burger and it tasted surprisingly appetising especially when we are meat lovers. Other vegan burgers include the KUTSCHER, a spicy patty with grilled vegetable tartare and rocket leaves; ANGERLING wheat patty with mushrooms and three pepper sauce or the FABELHAFTER wheat patty with avocado cream, orange-mustard sauce and herby garden salad.
The vegetarian burgers are priced S$15 or S$16.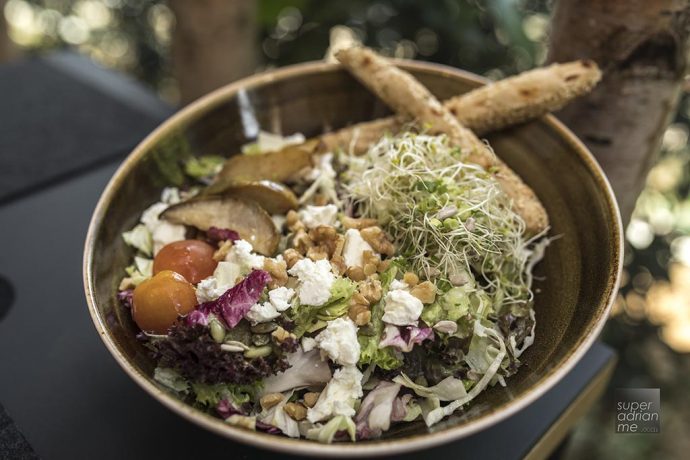 We also tasted the Trumpfblatt mixed salad, feta cheese, walnuts, grilled pear & potato dressing.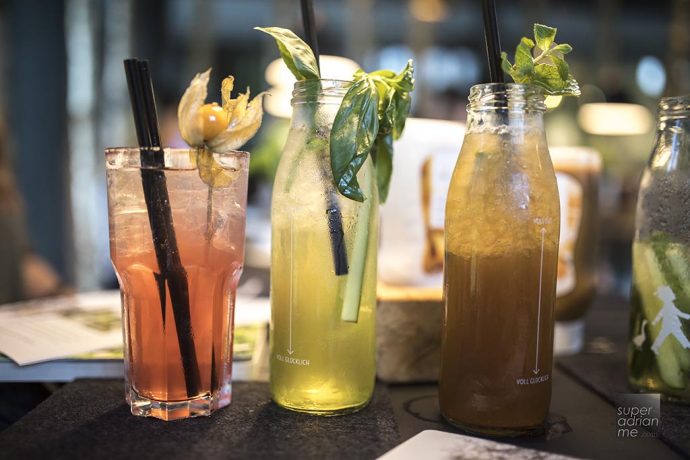 There are a couple of cocktail creations that you have to try. The LEICHTSINN is made from Baileys, Amaretto and strawberries or that GOLDREGEN made from vodka, elderflower, mango, pineapple, passionfruit and lemon. Even the ice teas are infused creatively. There's fruit salad-mint, cucumber-basil and mango-ginger served in traditional milk bottles.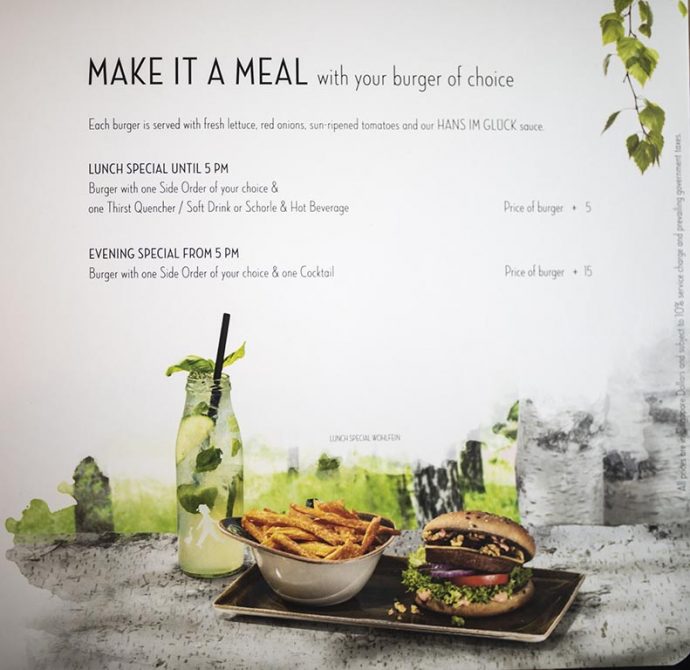 Give the burgers a try during lunch till 5 pm. Add S$5 to the price of the burger and get a burger with one side order of your choice and one drink. Evening specials from 5 pm are available for S$15 in addition to the price of the burger and get a burger with one side order of your choice and one cocktail.
We'll have to return to give the beef burgers and chicken breast burgers a second try.
Hans im Glück
operates at 362 Orchard Road, Singapore 238887 from 11 am to 12 midnight from Sundays to Thursdays and public holidays, and from 11 am to 1 am on Fridays, Saturdays and eve of public holidays.