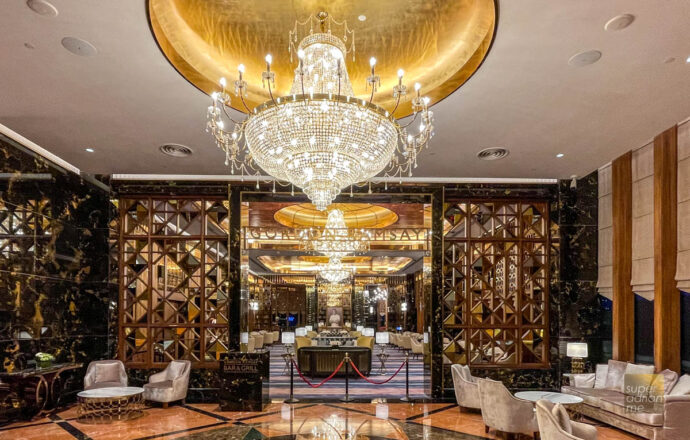 Gordon Ramsay Bar & Grill opened in June this year serving only dinner at the refurbished Sunway Resort Kuala Lumpur. It's the British Chef's first restaurant in Malaysia and also the first Gordon Ramsay Bar & Grill to open outside the United Kingdom. The fourth Gordon Ramsay Bar & Grill joins three other outlets in Mayfair, Chelsea, and Park Walk. It also becomes part of the expanding network of Gordon Ramsay Restaurants with over 35 locations around the world with a total of seven Michelin stars. Definitely, nothing like the casual Bread Street Kitchen at Marina Bay Sands Singapore. Expect everything to be elevated here. Taste, experience, price and perhaps the way you dress.
Lunch service has recently been added to its operations while Sunday Roast is served every Sunday at lunch from 12 to 3 pm.
"I am delighted to finally introduce the stunning Gordon Ramsay Bar & Grill at Sunway Resort, Malaysia. This is a concept that was born in London and exudes the British sophistication created out of its original Mayfair setting, however, we always wanted to introduce Gordon Ramsay Bar & Grill to an international setting once we had found the perfect partners and the perfect location. Malaysia is a wonderful country with a rich heritage and an exciting future, and I am confident that local guests and international visitors will have an exceptional dining experience in our beautiful new restaurant."

Gordon Ramsay
Gordon Ramsay Bar & Grill Kuala Lumpur Interiors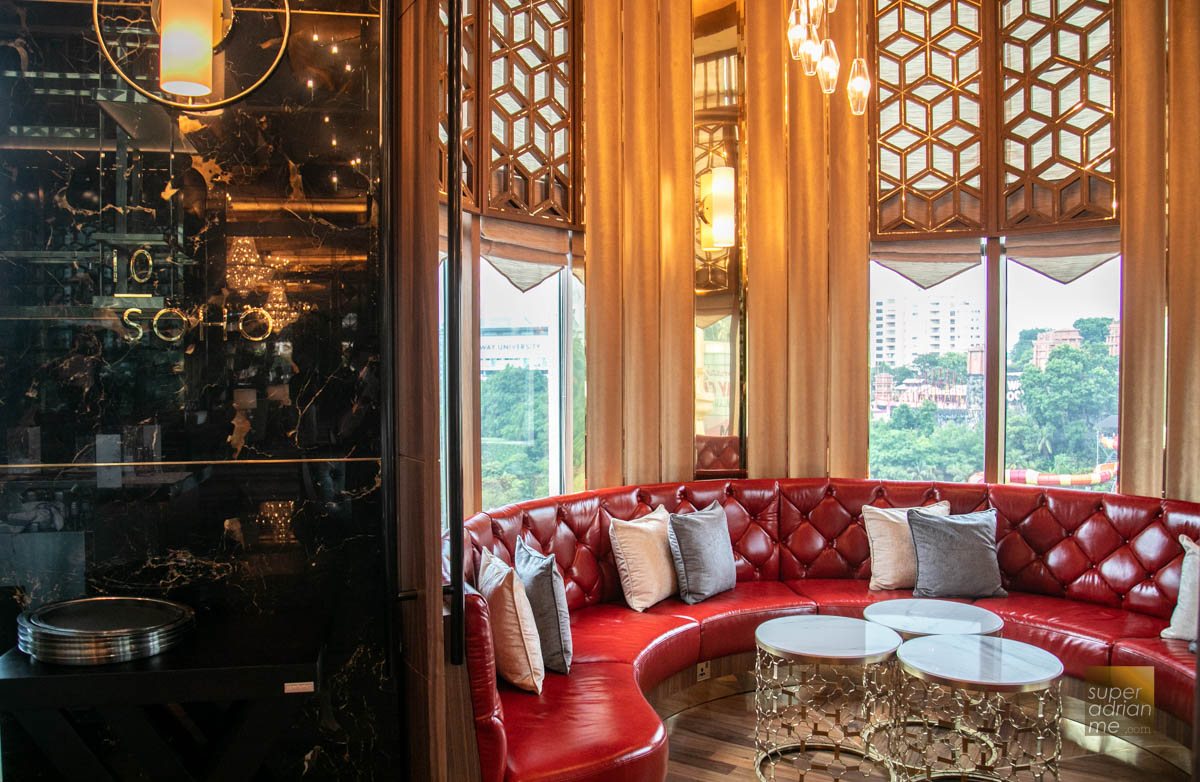 The restaurant features a series of luxurious and intimate spaces. Three private dining rooms – 8 Mayfair, 10 Soho (a private lounge adjacent to the bar) and 12 Chelsea, are named after London's most cosmopolitan districts. The numbers preceding the districts denote the capacity of each private dining room. The grand dining room offers semi-private seating booths while a cocktail bar with floor-to-ceiling windows offers pre or post-dinner drinks. The restaurant can take a total of 150 guests at a time.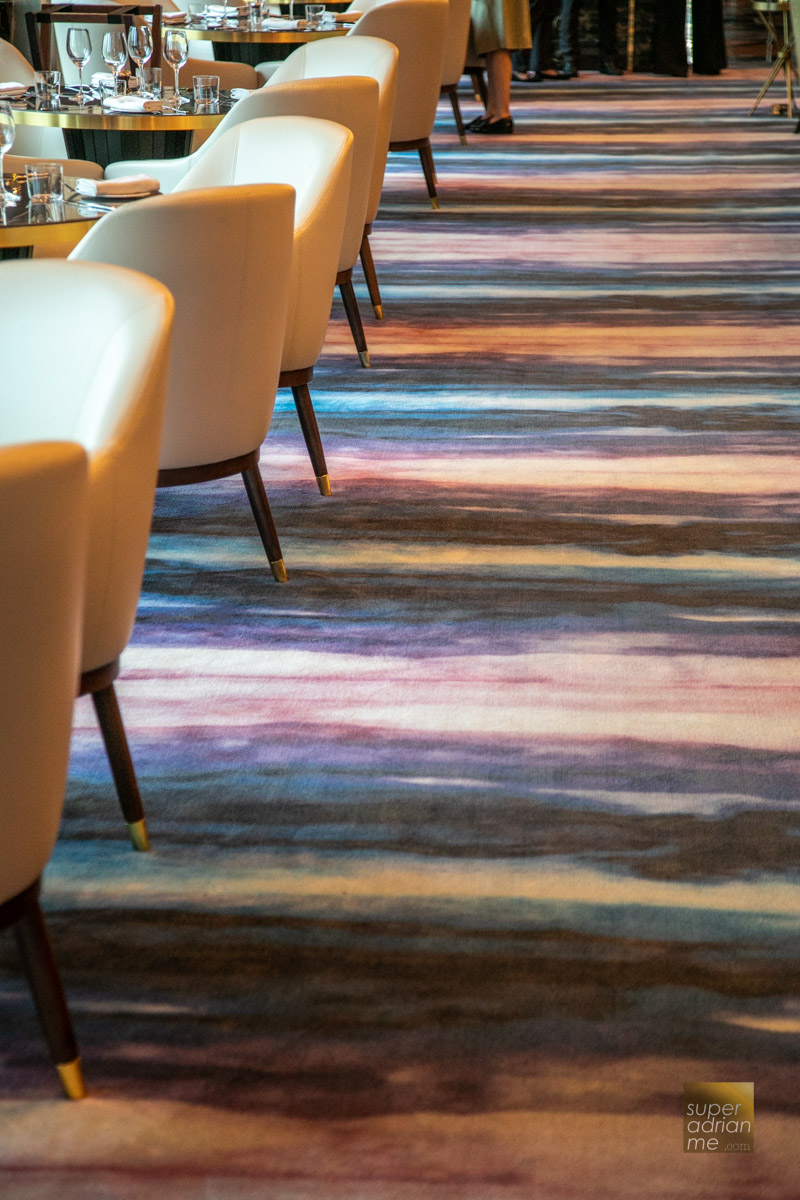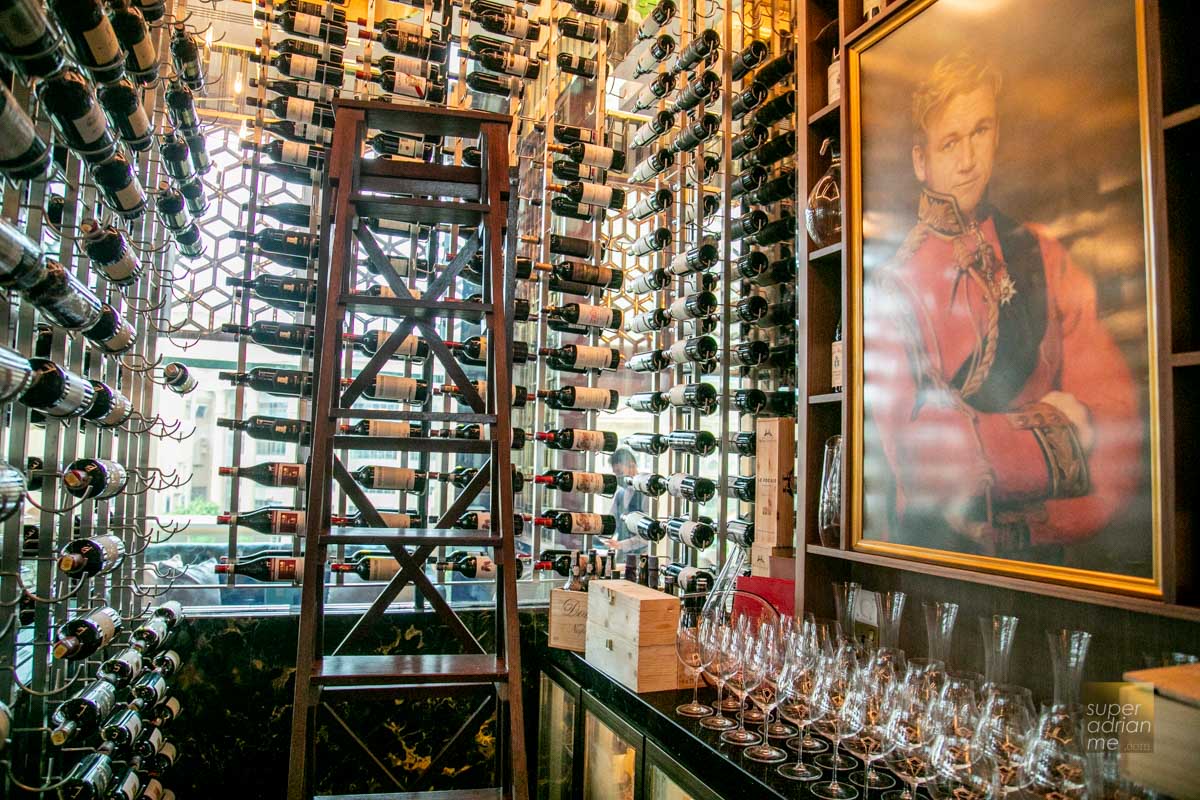 The grand interiors are elegantly furnished with a rich red and forest green colour scheme accentuated by polished walnut hardwood flooring, brass finishes, 24 karat gold leaf hand-placed ceiling and monochrome portraits of British style icons by Terry O'Neill and Arthur Steel. One can appreciate these photos of Mick Jagger from The Rolling Stones, Sean Connery, and supermodels Jean Shrimpton and Twiggy in the main dining room.
Check out the Wine Cellar and spot the portrait of Gordon Ramsay, gloriously bedecked and looking like the 1st Duke of Wellington, a description by Spirited Singapore.
There is so much gold within the restaurant. It is opulent and quite befitting of the space in the hotel's lobby and entrance where everything seems larger than life with the high ceilings and towering pillars. I was expecting it to be gaudy from the pictures that I have seen prior to visiting. All that changed during my visit.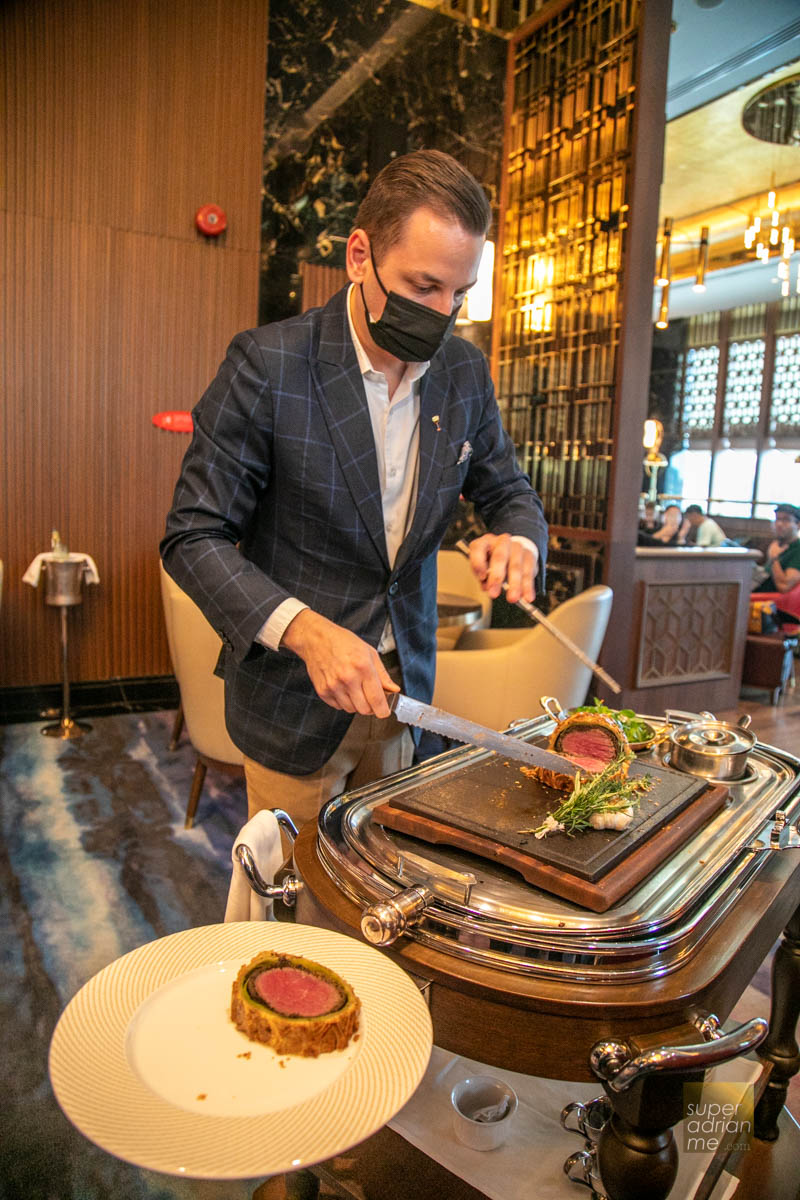 The menu is inspired by the Savoy Grill in London, showcasing the finest ingredients. Savour prime cuts of in-house dry-aged meats and Ramsay's signature dishes such as his Classic Beef Wellington served tableside, that's popularised by Ramsay's Hell's Kitchen. The beef is so juicy and tender with an equally buttery crust and mushroom duxelle. The Wellington is served with a luscious Pomme purée (aka mashed potatoes), red wine jus and fine salad. Definitely something you have to order when you dine here.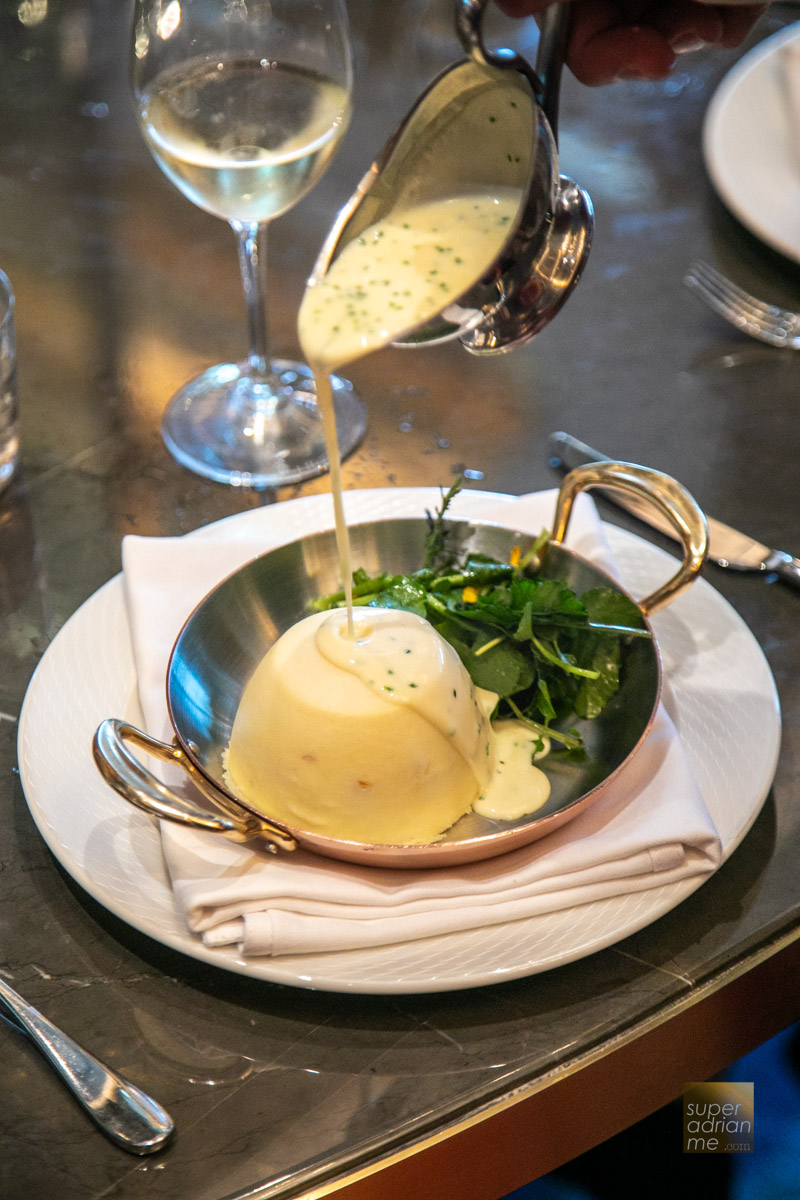 The 'Arnold Bennette Twice-baked Cheese Soufflé with Mornay Sauce' was the highlight for me. A rather unique yet piquant dish. Not quite the dessert soufflé but a savoury pudding. This was the dish that stood out most for me.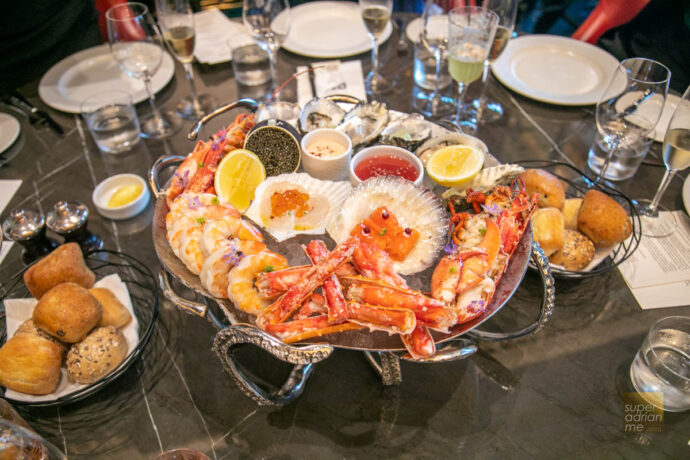 The Seafood Tower makes a great starter to share with a glass of Nicolas Feuillatte champagne in hand of course. Would pair refreshingly well with the fresh oysters, Boston lobster, scallop ceviche, king crab legs, prawns and citrus-cured salmon.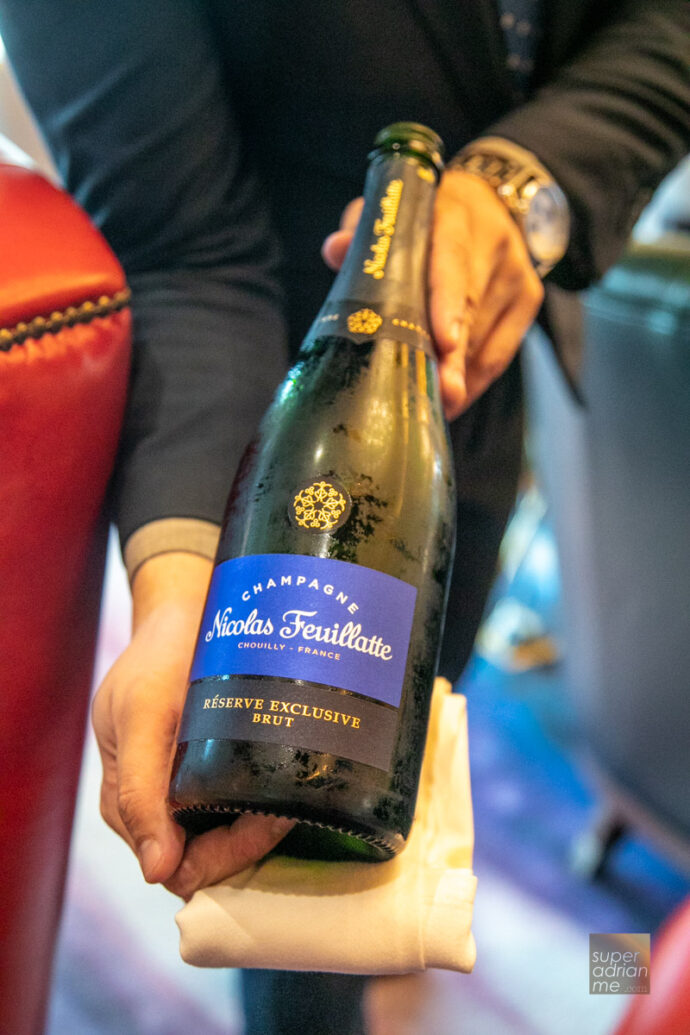 "The opening of Gordon Ramsay Bar & Grill at Sunway Resort marks the start of a new era of international epicurean excellence in Malaysia. It also represents the culmination of our once-in-a-generation transformation to enhance every aspect of Sunway Resort as we embark on a bold drive to seal our position as Asia's leading fully-integrated premier hospitality and entertainment destination," said Alex Castaldi, Senior General Manager, Sunway City Kuala Lumpur Hotels.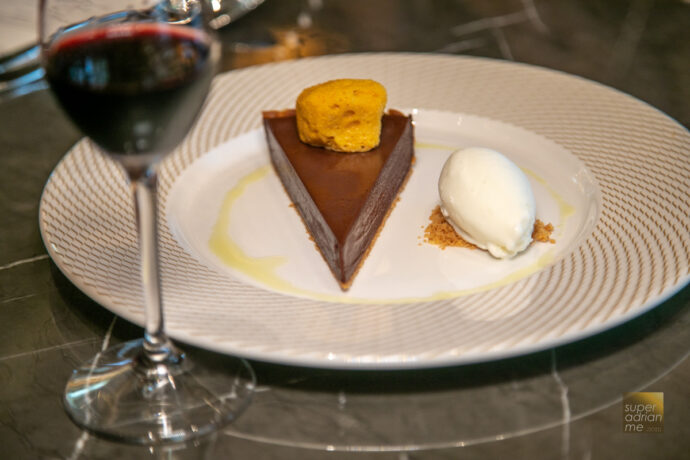 You have to save space for the 64% Manjari Chocolate Tart served with Honeycomb, yoghurt sorbet, extra virgin olive oil.
The Bar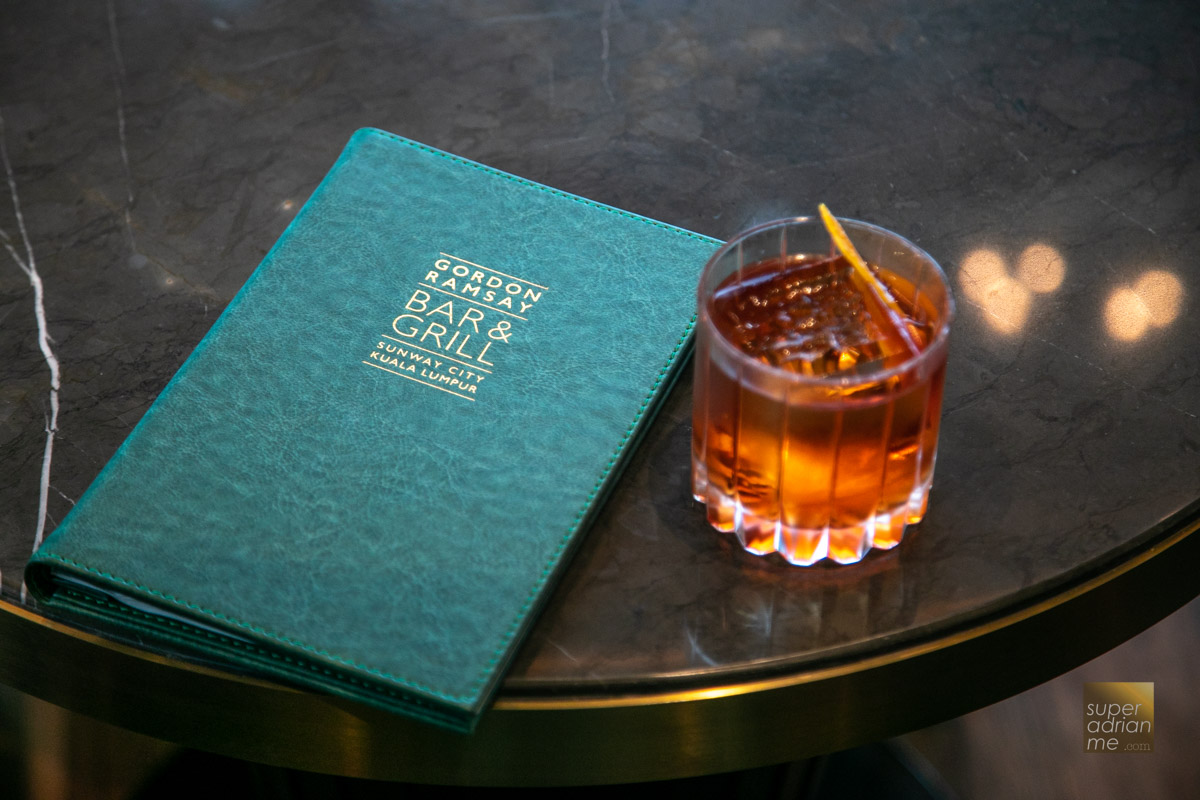 Imbibe in classic favourites as well as cocktails with Malaysian-inspired flavours at the cosy bar. Have a Barrel-Aged Negroni that is smoked in a dome before it is served. Bar Manager Marek Klecka makes this classic cocktail with Tanqueray, Campari, Cinzano Rosso, Wooden Chips and Orange Peel. I made my very own Barrel-Aged Negroni at a masterclass by the bar counter and enjoyed putting it together.
Sunway Resort Kuala Lumpur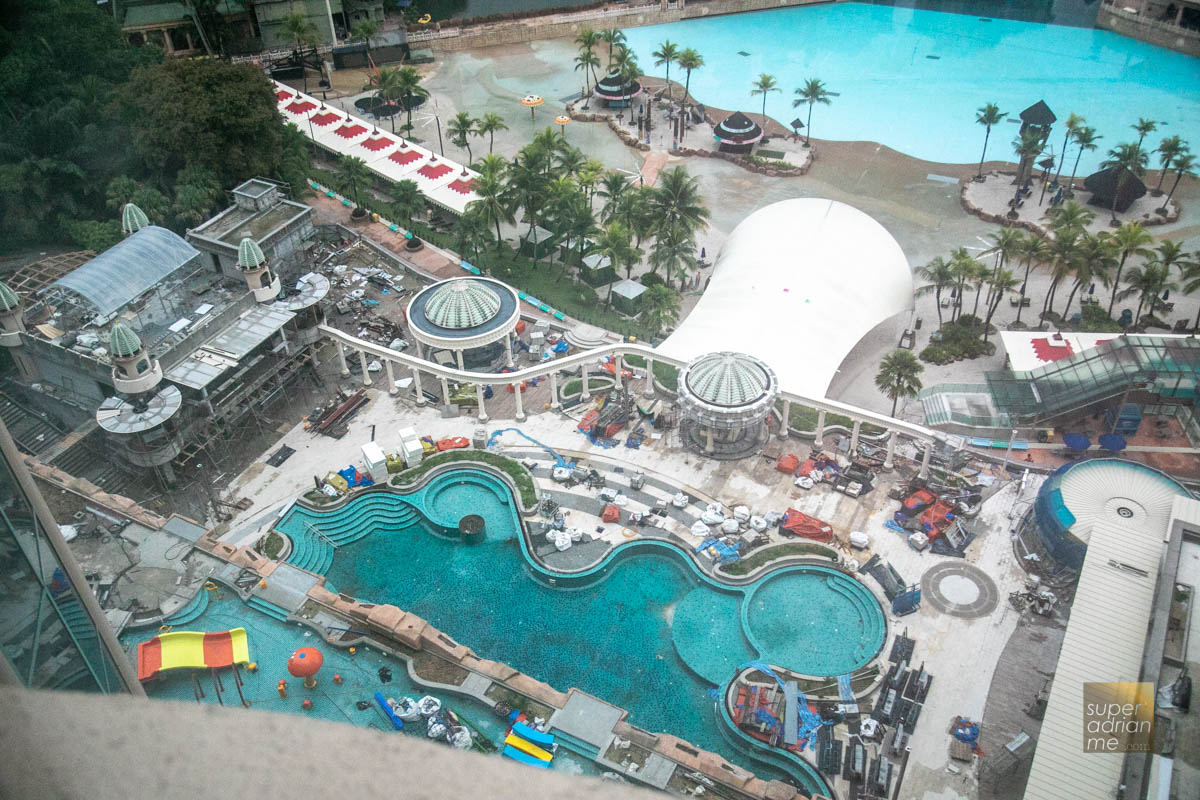 Sunway Resort Kuala Lumpur is undergoing refurbishments in phases. It has completed the ground floor lobby, Gordon Ramsay Bar & Grill restaurant as well as guest rooms on the upper floors. It is currently refurbishing the rest of the hotel as well as its outdoor pool area. It expects to open a new Black Tap Restaurant and the rest of the hotel from November this year.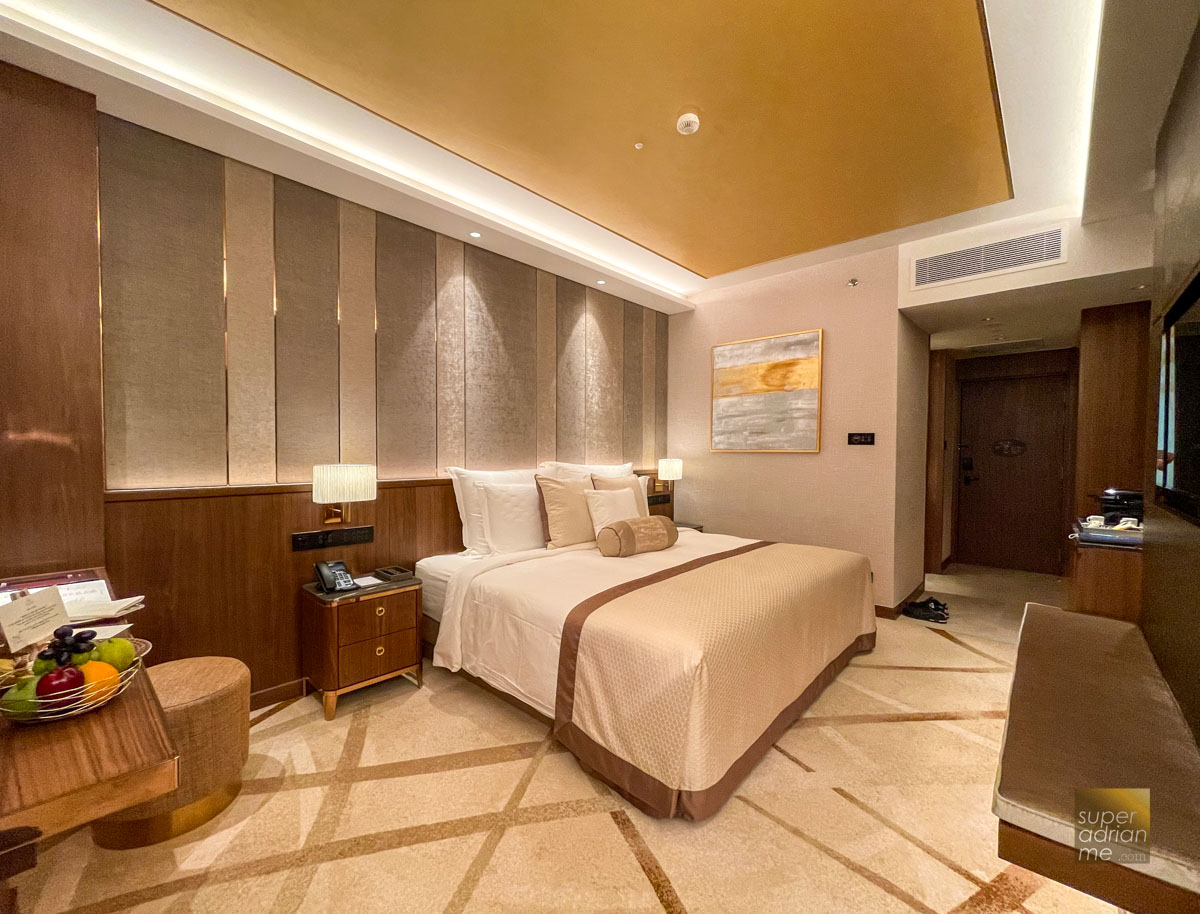 We stayed a night in a refurbished Business Suite that's 40 sqm and equipped with a separate executive office area with a large desk and sofa, essential business amenities including a printer, scanner, stationery, USB ports amongst others. My room was on level 17, and I was impressed at how spacious and comfortable the room was. Balmain bath amenities kept me smelling fresh and moisturised during my stay.
Getting to Sunway Resort by flight is most convenient via Subang Airport which is around half an hour away by car. Firefly flies direct four times daily from Seletar Airport in Singapore.