Zorba, The Greek Taverna Opens at Clarke Quay
Zorba, The Greek Taverna is 1-Group's latest opening at Clarke Quay along the Singapore River. Located just across from the group's Riverhouse which houses modern Chinese restaurant Mimi, Yin Bar & Lounge and Yang club.
Zorba serves authentic Greek dishes using traditional ingredients sourced directly from Greek suppliers.
The Dips Platter (S$28) is a must-order. Five Greek dips are served with pita bread. Tzatziki is made from yogurt mixed with cucumbers, fresh herbs, garlic, lemon juice, olive oil and salt. There is also mashed chickpea Hummus blended with tahini, lemon juice and garlic dip, Tirokafteri spicy sheep feta cheese spread with fresh chillis, Melitzanosalata roasted egg plant dip and Taramasalata cured cod roe sauce with olive oil and lemon juice.
Some of the dishes I liked include the Greek Moussaka (S$22), Garides Saganaki (S$28), Zorba's Mixed Grill Platter (S$88) and Lamb Kleftiko (S$36).
The flavourful Greek Moussaka is layered with thinly sliced zucchini, eggplant, potato and minced beef then baked to a golden brown finishing topped with a flavourful béchamel sauce.
Garides Saganaki features pan-fried jumbo prawns prepared in two-handled heavy-bottomed frying pan called 'Saganaki'. The fresh jumbo prawns are sautéed in olive oil, deglazed with spicy tomato, garlic, shallots and feta cheese sauce.
For something heartier, order the Zorba's Mixed Grill Platter of 2 lamb chops, 2 bifteki, chicken souvlaki, porky gyro meat and lamb souvlakia served with chips, salad and tzatziki sauce. The Lamb Kleftiko is 250g of traditional Greek slow-roasted lamb that has been marinated in garlic and lemon juice for 24-hours and served with roasted potatoes and salad.
End off the meal with some warm Greek Baklava that is made with filo dough, chopped pistachios and honey syrup. The sweetness of this dessert has been deliberately toned down to suit our local palate.
The alfresco diner is only open for dinner from 6 pm daily and closes at midnight everyday except for Sundays where they are not open.
A New Head Chef and Menu at Summerlong in Robertson Quay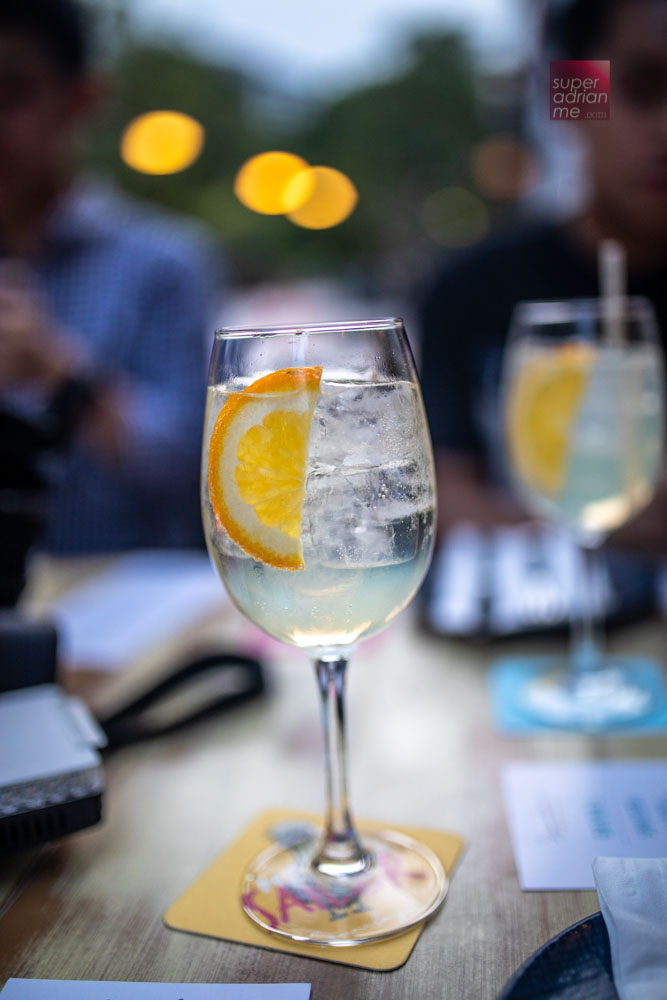 Summerlong has a new head chef Fotis Kokoshi who has come up with a new menu in January 2020 offering a taste of Greece and the Mediterranean. 28 year-old Chef Fotis's contemporary approach to cooking means lighter, brighter dishes that are vibrant from plate to palate.
Chef Fotis underwent culinary training at Le Monde Institute of Hotel & Tourism Studies in Athens, Greece. He took on several internships while undergoing professional training and upon graduation, he joined Vasilenas Restaurant in Piraeus, Greece. He has also had a stint at CTC Restaurant, a one Golden Hat institution. He moved to Singapore in 2016 to join Alati Divine Greek Cuisine as Sous Chef and was promoted to Executive Chef.
Greek-inspired cocktails and mocktails, as well as a selection of wines including Arcadia wine from Greece, are available to pair with your meal. Enjoy a Blood Orange Spritzer by the glass at S$20++ or a pitcher to share at S$62++. Another refreshing Tiki cocktail on the menu is the Adriatic Julep(S$20++) and contains Codigo tequila, Masthika, fresh lime and cucumber. The Skouras Moscofliero dry white from Mantinia, Greece and Skouras Saint George Aghlorghitiko dry red from Nemea in Greece pair well with some of the dishes. Available at S$18++ per glass or from S$85++ per bottle.
Summerlong offers a selection of vegetarian and gluten-free dips including the Tzatziki (S$14++), Cauliflower Hummus (S$14++), Smoked Eggplant (S$15++) and Spicy Feta (S$15++). Dips can also be ordered as a sharing platter with the All The Dips (S$39++) option.
The Seabass Carpaccio (S$22++) is absolutely divine. Locally-farmed Barramundi is served with savoury trout roe and wasabi. A salad that is beautiful is the Talagani Salad (S$19++). It is mixed with mesclun, talagani goat's cheese, walnuts, figs and mastiha vinaigrette. The Lamb Kebab (S$22++) is prepared with Arabic Spice, Smoked Paprika, Yoghurt and Tahini. The Octopus (S$30++) was grilled to perfection and served with fava beans, caramelised onions, tomato confit and capers.
End off with more mouth-watering desserts. There's a Honey Parfait (S$15++) with green apple compote, forest fruit and raspberry or the Havla Cake (S$15++), a semolina-based, vegan cake served with mascarpone, pistachio, and caramel.