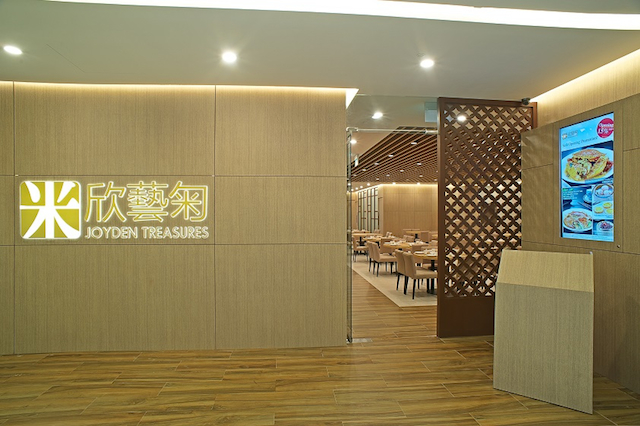 30-year old Joyden Concepts has opened its largest restaurant Joyden Treasures in Leisure Park Kallang, featuring a selection of special recipes from the owner's family. The 7,000 square feet space includes a large bustling dining hall with a capacity of more than 200 seats, plus six private rooms for more intimate dining.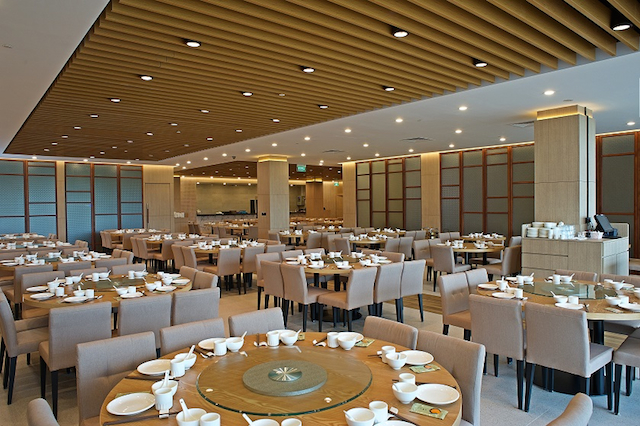 Joyden is known for their seafood dishes as they operate the popular West Coast Seafood, now known as Joyden Seafood. That is probably why the menu in Joyden Treasures is heavy on seafood.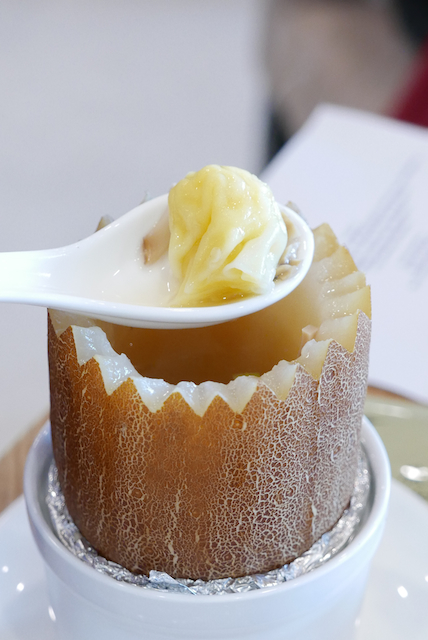 The sweet and hearty Double-boiled Seafood Soup in Old Cucumber (S$14) contains mushrooms, dried scallops and fish maw plus a little surprise in the form of a pork dumpling. Good comfort food to start the meal.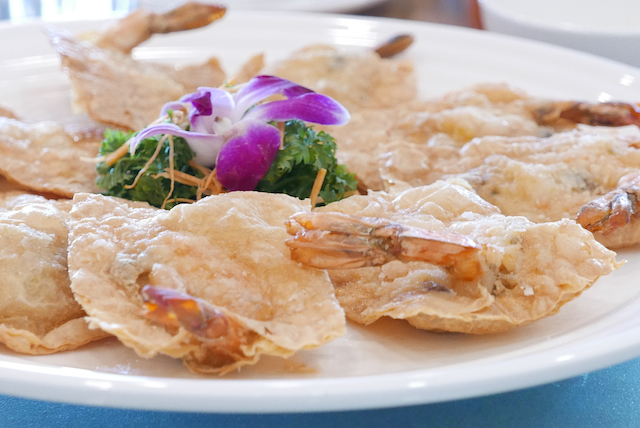 Another great appetiser would be the Phoenix Beancurd Skin Prawn Roll (S$16/S$22/S$30). Each piece comes with a whole red prawn stuffed with salted egg, century egg and chopped prawns. Together with the ultra crispy beancurd skin, this golden snack is such a delight that you cannot stop at one.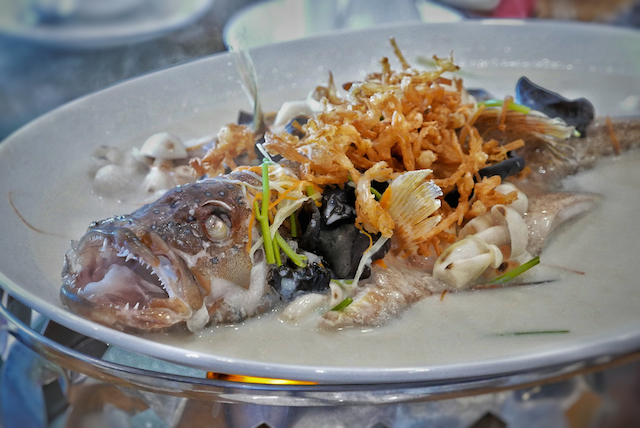 The Steamed Red Grouper (market price) is served with homemade soy bean broth flavoured with ginger, chives and topped with straw mushrooms and black fungus. However, the noteworthy ingredient would be the crispy fried enoki mushrooms that add such a welcomed crunch and bite.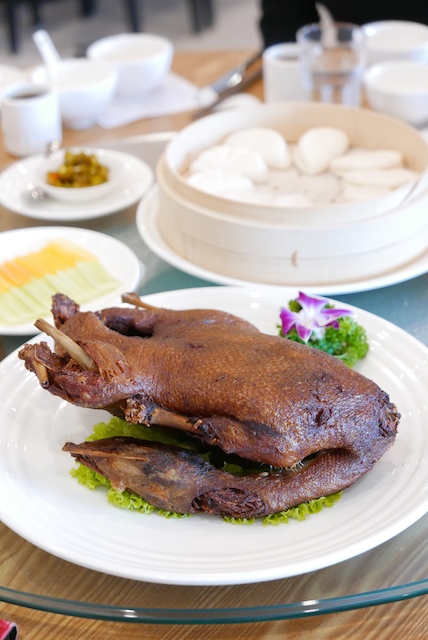 The Crispy Fragrant Duck with Lotus-shaped Buns (S$58) arrives whole but get quickly shredded by the service staff. The duck is seasoned with herbs and spices and deep-fried. The fall-off-the-bone flesh and its crispy skin, together with slices of pickled papaya and cucumber, are sandwiched in a soft bun. The bun is very light and you probably need an additional basket of it for the whole duck.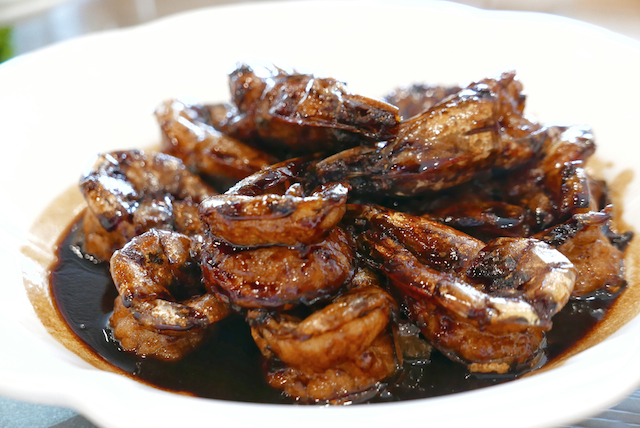 The Jumbo Prawns in Traditional Dark Sauce (S$26/S$36/S$52) is a must-have. It took six months of testing and tasting, to get the right formula of the dark sauce. This special sauce contains sesame oil, dark soy sauce plus secret ingredients. The prawns are fried before they are sautéed to ensure that the shells fall off easily. Perfect with a bowl of white rice.
For crab lovers, try Joyden's signature Traditional Salt Baked Crab (market price). Different types of salt and spices are wok-fried then used to cover the crab completely, before it is baked at low temperature for half an hour. The flesh of the Sri Lankan crab is firm and moist, with a light flavour of the spices and a lingering smoky fragrance.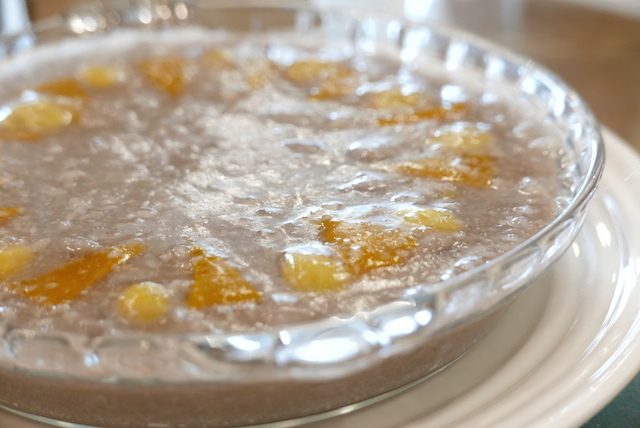 The Traditional Yam Puree (S$16/S$26/S$36, or S$6 for an individual bowl) is made with lard oil and spring onion oil plus chopped water chestnuts to balance any heaviness. It is topped with pumpkin and gingko nuts. The yam paste is not overly smooth giving it some texture, while the lard oil is not overly fragrant that it puts off diners who dislike lard.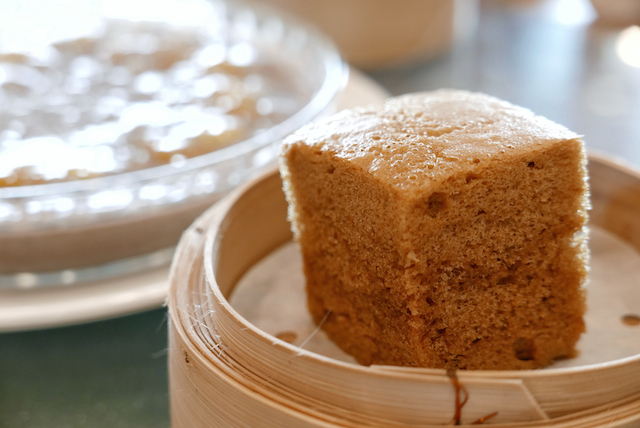 A piece of Brown Sugar Ma-La-Gao (S$4.20) might sound like a challenge after a full meal. However, this cake is so fluffy and light, it is not difficult to finish a piece on your own.
Lastly, one other thing you must try when you are at Joyden Treasures, is their homemade sambal balachan. The balachan is so good you wished they would bottle it for sale. Sadly they do not sell it as it is handmade and they only have enough for use in the restaurant.
Joyden Treasures is located at 5 Stadium Walk #02-42, Leisure Park Kallang, Singapore 397693. Call +65 6446 8488 for reservations. Opens from 11.30am to 3pm / 6pm to 10pm (Mondays to Fridays), 10.30am to 3pm / 5.30pm to 10.30pm (Saturdays, Sundays and Public Holidays).
There is parking in the mall as well as the outdoor public car park.