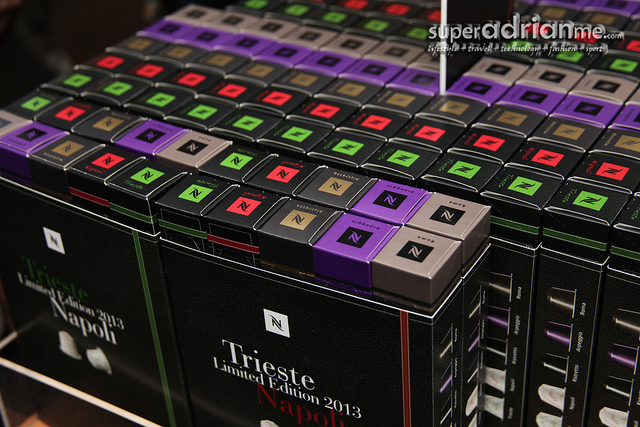 Nespresso launches limited edition coffee Trieste and Napoli at Nespresso boutiques in Singapore from today at S$11.50 per sleeve or S$23 for the duo pack.   Named after the two cities that are passionate about coffee with distinct coffee cultures, the two new flavours represent Nespresso's interpretation of these two emblematic cities and their coffee cultures.
Trieste is a reflection of the rich and varied cultural experience that the city of Trieste offers. Coffee in Trieste can be taken with or without milk, long or short.   Residents of Trieste have even created their own specific language around coffee such as 'nero' for expresso, 'capo' for a dash of milk and coffee is served in a glass rather than a china cup.   Trieste Limited edition is a delicate blend of Arabica beans and is characterised by a rounded texture with notes of chocolate and fresh hazelnuts with fruity notes.  It has an intensity level of 9 and is best enjoyed as a ristretto (25ml).  It can also be drunk as a Cappuccino.
There is only one way for Neapolitans to take their coffee and that would be short and dark, a sharp, jolt to the senses. The Napoli Limited Edition offers a blend of Arabica beans with a hint of Robusta.  You can expect bold and assertive flavours with a syrupy body characterised by refined smoky notes.  Its aroma has scents of dried black tea leaves and it has an intensity level of 11 and is best enjoyed as a ristretto (25ml) .  It can also be enjoyed as an even shorter cup than a ristretto (15=20ml) and is traditionally enjoyed with sugar.
Related articles