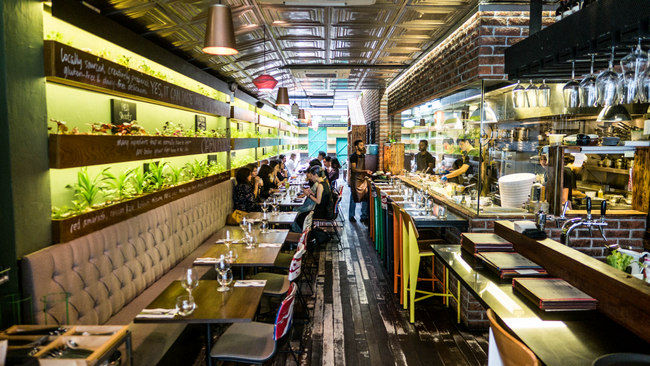 Open Door Policy is starting a revolution, straight from their rustic yet contemporary abode along Yong Siak street. Not only are they advocates of urban farming, as seen from the neat rows of micro greens and herbs within the dining area, but they are are one of Singapore's only diary- and gluten-free restaurants. Taking over the kitchen from Chef Daniele Sperindo is Assistant Head Chef Freddy Ang, who, along with Executive Chef Ryan Clift, has created yet another enticing guilt-free menu of hearty soups, Asia-inspired mains and gorgeous desserts.
Starters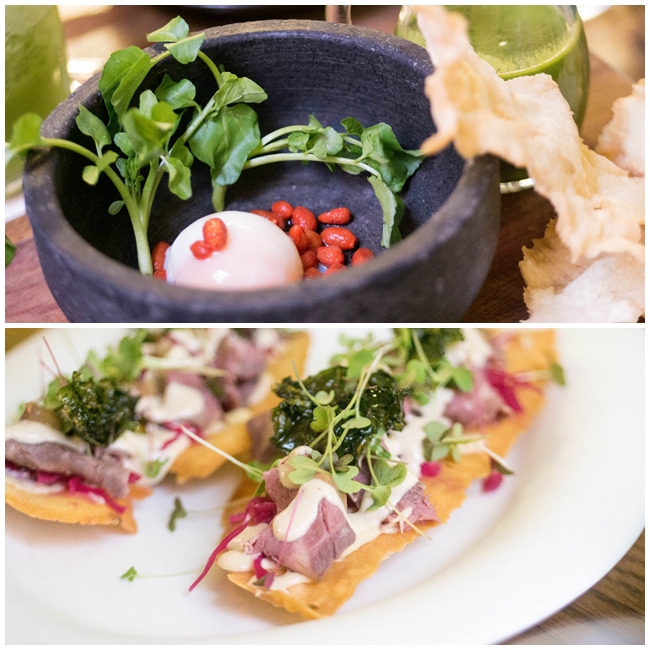 Healthy eating is a running theme, here. While their signature Avocado Jumbo Lump Crab Salad (S$25) is still on the menu, save space for the Watercress Soup (S$18) and Warm Wasabi Green Pea Scallop Soup (S$25). Hiding within these creamy broths are nutritious servings of either wolf-berries or chia seeds, and served with gluten-free bread. The fried version, which is made of tapioca and potato flour, is perfect for dipping or enjoyed as a "taco" base for the Vitel Tone (S$25).
Mains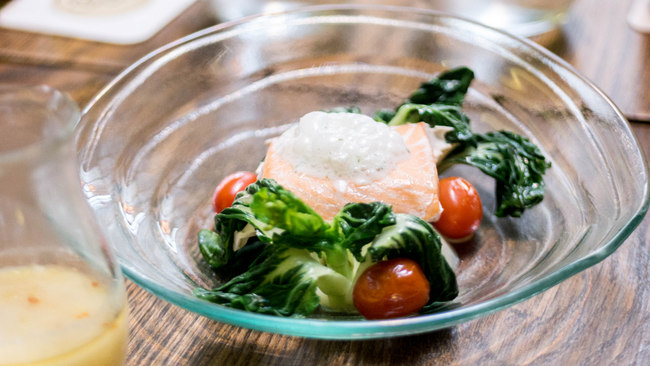 Moving on to the mains, it was obvious Chef Freddy Ang knows his way around his meats. From salmon, pork to veal, each dish presented a unique flavour profile, turning a meal here into an adventure. He prepares the Sous-vide Salmon (S$32) in a sweet miso broth, amped up with a hint of chili and dill, while the prefectly Pan-Seared Threadfin (S$32) is presented atop the tangy Thai mango salad.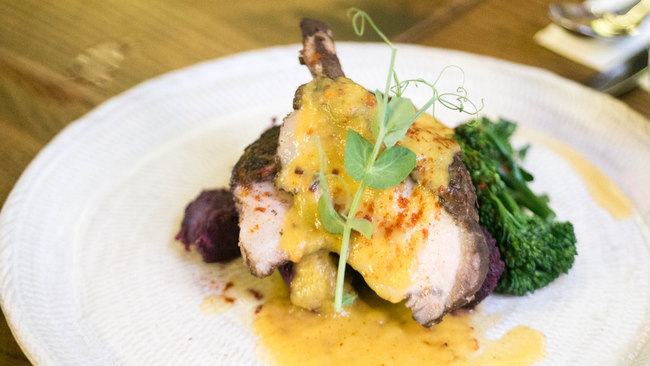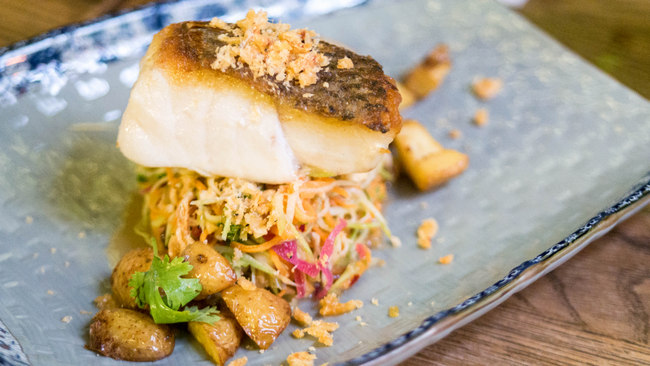 The Roasted Pork Rack (S$38), marinated with five spice and served with a spicy pineapple sauce, hits closer to home with its familiar flavours. An unexpected pairing with the baked purple sweet potatoes and crunchy brocilini made this particular dish an addictive one.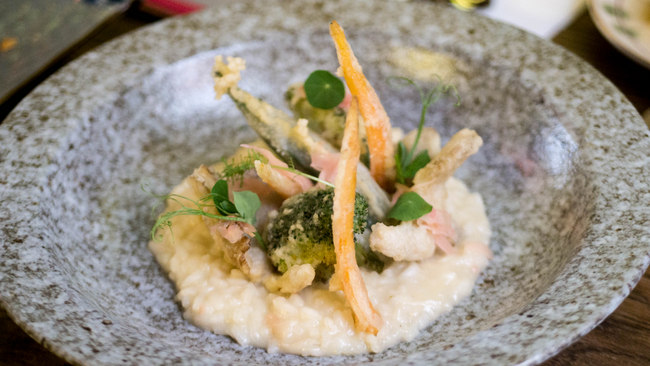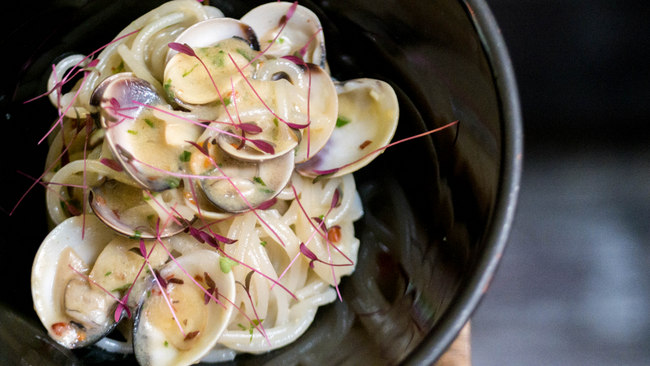 Those who love the sweet yet earthy taste of white miso will love the Vegetable Tempura Risotto (S$25). Presented with a medley of tempura vegetables and mushrooms, what made the dish pop was the bits of pickled pink ginger. Not only does it cleanse your palate in between bites, but also enhances the sweet flavours of a white miso. Likewise, the rice-flour Spaghetti Alle Vongole (S$28) is served with the creamy white msio sauce, topped with a little heat and sweet white clams.
Desserts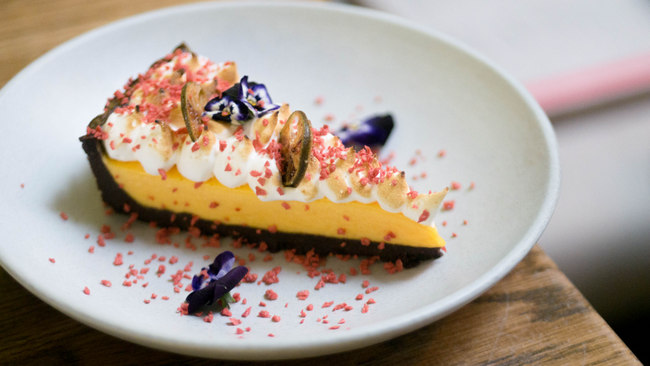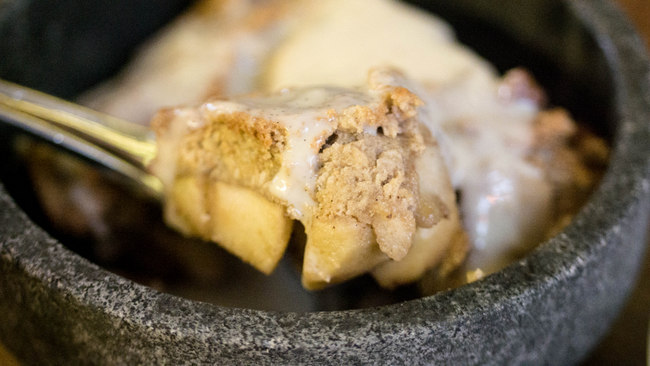 An after-meal treat is always a must at Open Door Policy. Pretty to look at and just as inviting on the palate. The ever-popular Dairy-free Apple Crumble (S$16) continues to win over crowds with its spiced apple chunks and earthy cashew nut milk creme anglais, but, the refreshing yet decadent Calamansi Chocolate Tart (S$16) is a worthy contender.