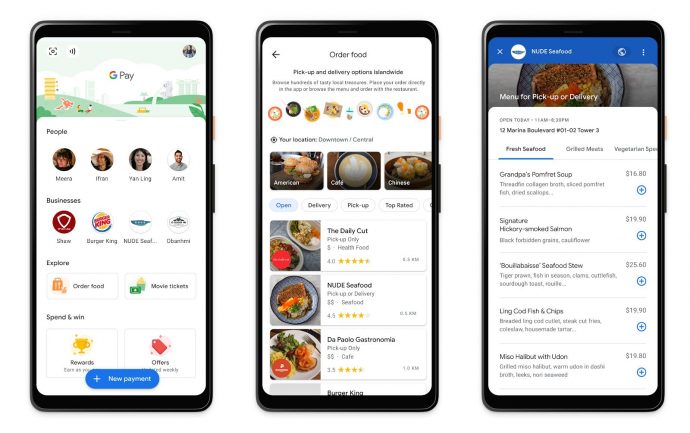 Google just launched a new feature to discover food pick-up and delivery options on the new Google Pay Singapore app to help the local F&B industry that is hurting during the circuit breaker period.
Download the new Google Pay Singapore app for Android and iOS.
Google has reached out to Googlers, SI partners and merchants to source out menus into its system. The new menu discovery experience brings a variety of restaurants, coffee shops and hawker stalls online starting with over 100 businesses in addition to existing restaurants such as burger King, Canadian Pizza, Cedele, Da Paolo Group, The Daily Cut and Tuk Tuk Cha giving patrons over 250 eateries to order from.
Consumers can browse menus, select items, and contact the food establishment to place their order and pay.
Singaporeans will now be able to get family meals from Kok Sen, O Banh Mi, and Outram Park Ya Hua Rou Gu Cha or order restaurant-style spreads at home from Blue Ginger, O.BBa BBQ Jjajang and NUDE Seafood.
The new menu discovery option is free to use by all food establishments and aims to support Singapore and its 200,000 individuals employed in the sector who are impacted by the current situation. Google is also working with Chope to make this menu discover option possible for Chope affiliated food establishments.
Merchants can accept orders and payment on the Google Pay Singapore app through system integration partners such as Aigens, FoodZaps, Novitee, TabSquare, or Waitrr. This offers consumers to enjoy a seamless experience of ordering through the app.
As for merchants who are not integrated to the Google Pay payment platform, consumers will have to call or WhatsApp the merchant after selecting their items from the menu in the app. Users will have to the sort out payment and delivery details directly with the merchant.
If you are a local restaurant or hawker and are interested to include your menu in the Google Pay Singapore app, you can fill out their details here .
Google has also added a PayNow functionality for OCBC customers. DBS and Standard Chartered are in the pipeline.