This is embarrassing but I have driven passed the INDOCAFE a zillion times but never quite know what they are offering. I assume it is a cafe from Indonesia. A high-end one for those with private transport and many afternoons to kill. I can just hear my editor saying "shhhh… don't say it so loud!". Oh well, we don't profess to know everything and it is always good to laugh at ourselves once a while. Not too often though.
INDOCAFE, The White House, actually serves contemporary Straits-Peranakan cuisine. Housed in a colonial-style bungalow with a homely and warm ambience, this restaurant is perfect for a special anniversary, small gatherings or just a quiet evening with your partner.
To celebrate Christmas and New Year, INDOCAFE has launched an ala carte buffet (lunch and dinner) starting from 1 December 2014 to 4 January 2015. It showcases over 35 signature dishes, many recreated to bring back the nostalgic taste of old Singapore.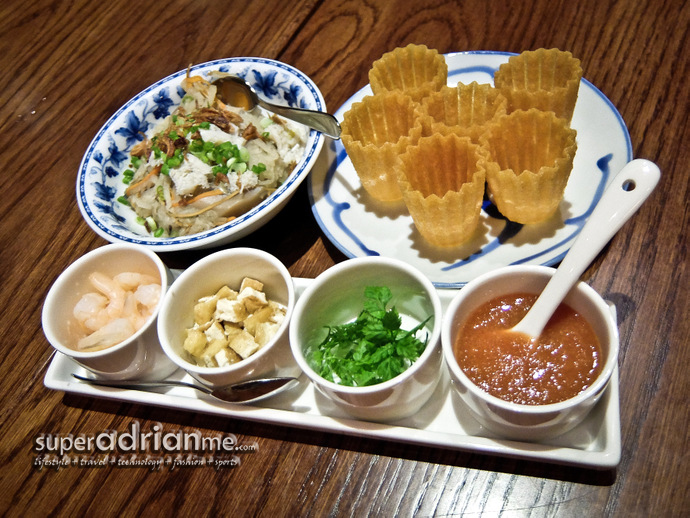 Kueh Pie Tee never fails to evoke memories of how my college mates and I put up a stall during a carnival and sold Kueh Pie Tee. We actually bought the tools to make these little pastry cups ourselves. It was hard work and the cups were never really perfect. But it was good enriching fun. INDOCAFE's Kueh Pie Tee is served with ingredients separated, so you can add more or less of the stuff you like. You get a bowl of the main ingredient which is sweet turnips, topped with a generous amount of crab meat, then little bowls of prawns, beancurd, chilli and parsley. And five perfectly moulded pastry cups. I love the process of making one, especially with a little spoon.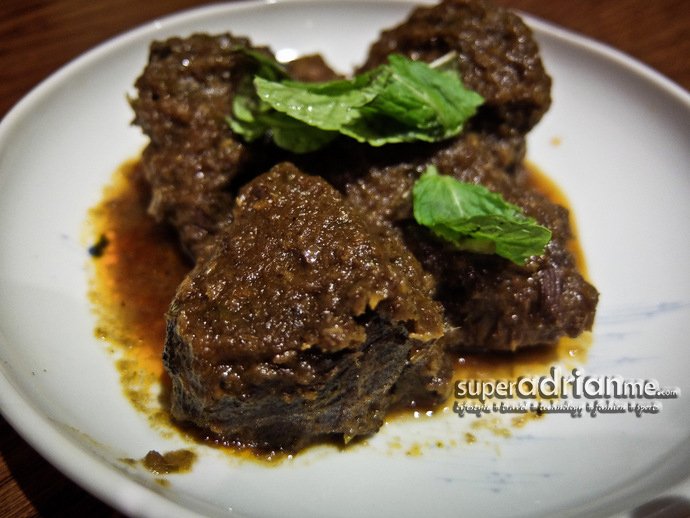 Beef Rendang using Wagyu beef cheeks is an immediately hit for me. There are too many places serving beef rendang with tough beef, so much so that we are quite used to a hard chewy experience. So this melt-in-the-mouth rendang has to be the hero of the buffet.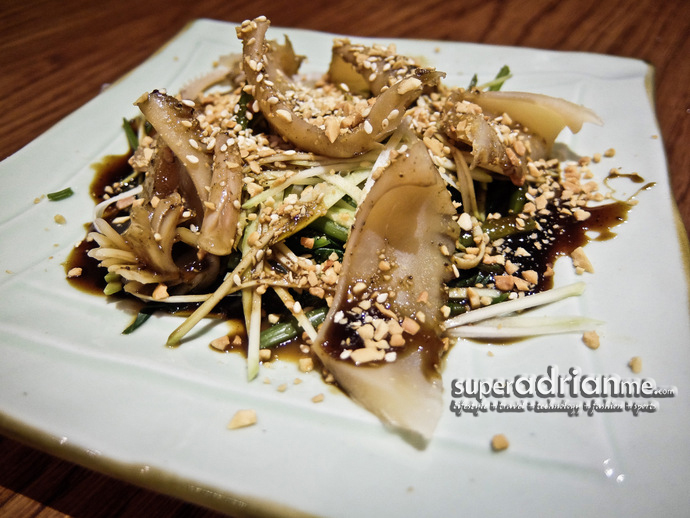 Jiu Hu Eng Chye means cuttlefish kangkong. When I was a kid, my mum would buy this together with satay bee hoon at the nearby hawker centre. The association is almost inseparable. I love cuttlefish and INDOCAFE does theirs perfectly with chewy tenderness. The abundance of sweet prawn paste was what did it for me. The water spinach is also crunchy and not soggy. Perfect.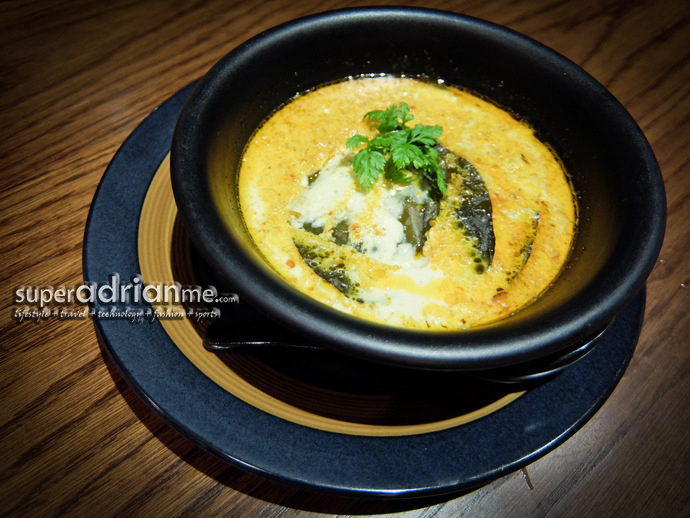 Otak Klasik is not otak otak as we know it but egg custard with rempah paste and barramundi fillet in it. This brought me back to the days when my great-grandma would regularly make steam egg custard for lunch or dinner, to go with a nice bowl of porridge boiled with a piece of lean pork. I welcome the added rempah and fish, making it taste like otak otak so you get two dishes fused into one. Ingenious.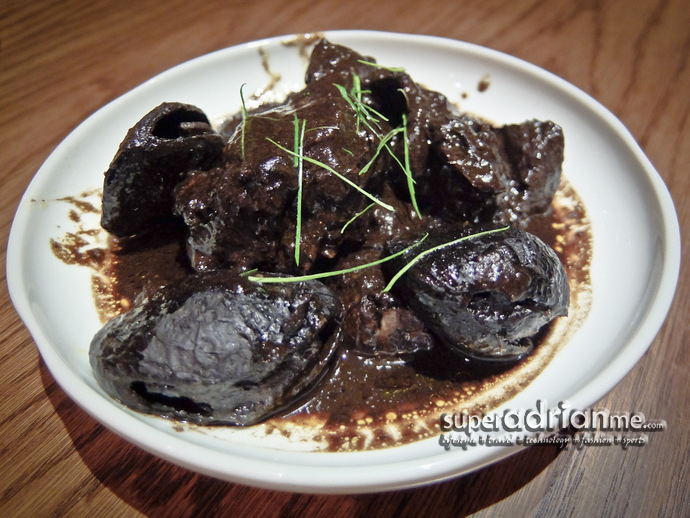 Ayam Buah Keluak is something you can't escape when you have nonya food. Not everyone likes buah keluak but I do. I dig for my "black gold". The flesh of the buah keluak seed is removed, fried with spices and stuffed back in their shells. At INDOCAFE, the stuffing contains meat, a lot of meat. As I am a buah keluak fanatic, I would have preferred more of the buah keluak rather than the meat. But for most normal people, I think the added meat works well as the strong taste of the buak keluak is not too overwhelming.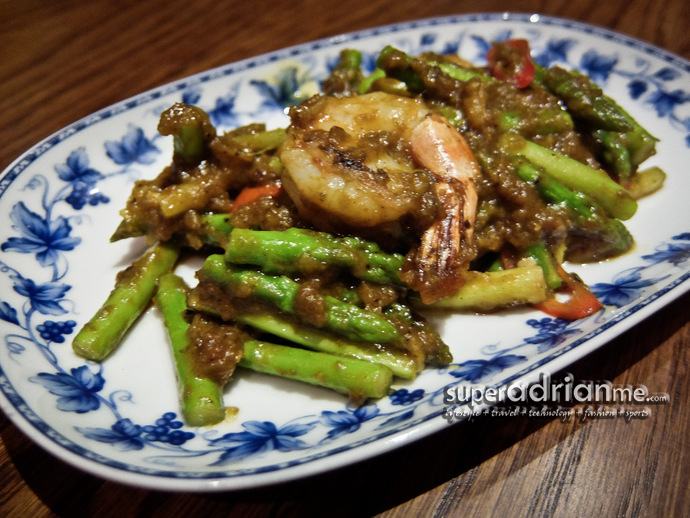 Tempoyak asparagus is a supposedly long lost Peranakan dish. It is stir-fried asparagus with… wait for it… fermented DURIAN. It is odd. I don't think I could appreciate it. The savoury taste of the asparagus combined with the sweet notes of the durian just created a confusion in my palate. It is such an interesting dish to try though. I hope you like it.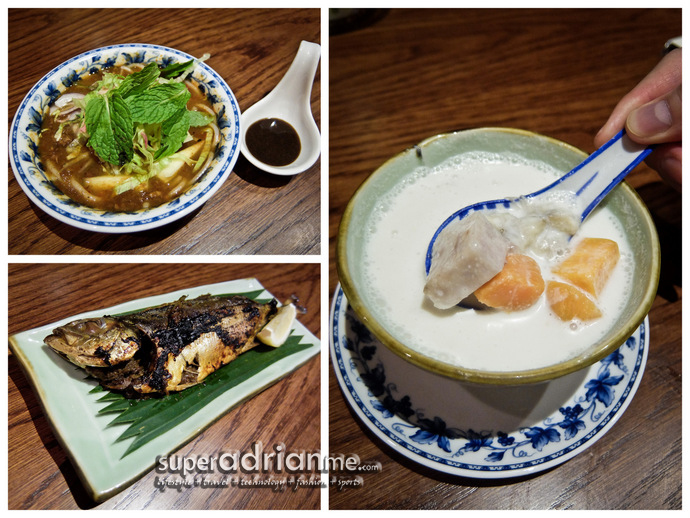 Other dishes to watch out for are the Penang assam laksa, a pan-fried mackerel fish stuffed with rempah paste, and Bubur cha cha for dessert.
The lunch buffet is priced at $48.80++ per adult and $28.80++ for children between 6 to 11 years old; while the dinner buffet is priced at S$58.80++ per adult and $38.80++ for children between 6 to 11 years old.
The INDOCAFE – The White House is located at 35 Scotts Road, Singapore 228227. Call +65 6733-2656 for reservations.
About the Writer
Kevin Khoo is a self-professed foodie who loves his bak chor mee as much as an authentic al dente aglio olio; and savoury as much as sweets. 

He also works in F&B so he literally eats and breathes food. He struggles to stay in shape.