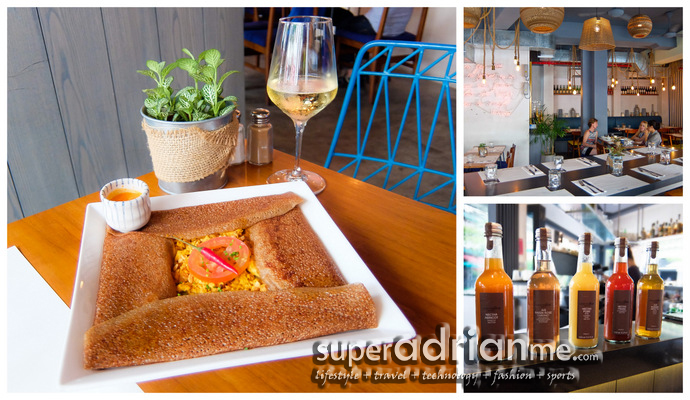 Authenticity is the new buzz for food nowadays. Le Comptoir fulfills with their true blue French crepes and galettes. Located at a corner shophouse in Circular road adds to the charm. And having a French manager explain the delicacies wrapped in sheeted flour, almost completes the experience. It is an open-air concept but there is a small area at the back, that is air-conned. Decor is modern and casual, with a relaxing ambience and chic background music.
Le Comptoir offers savoury crispy galettes made from buckwheat flour and sweet soft crepes from wheat flour.
A small trivia. Buckwheat is not wheat but a flower seed related to rhubarb and sorrel. Though it looks and tastes like a grain, it is not a grain and is therefore gluten-free.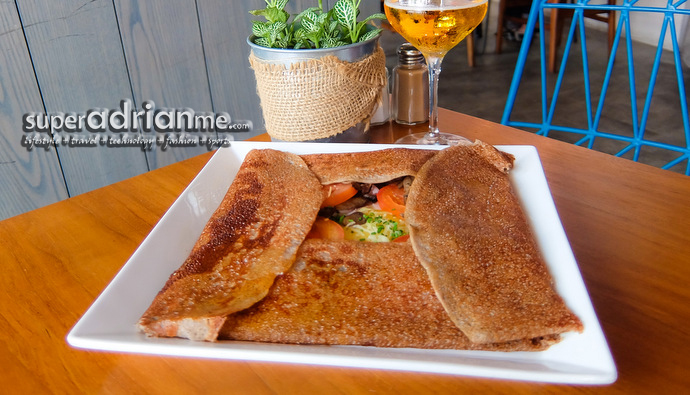 The brunch menu offers 3 categories. The "Make It Classic" range basically allows you to choose the number of ingredients you want in your galette. It starts with just one ingredient of Emmental Cheese (S$8), and goes up to five toppings including Emmental cheese, ham, egg, mushrooms and tomatoes (The "Ménage à 5" for S$16). The "Ménage à 5" is rich and flavourful, best shared between two persons.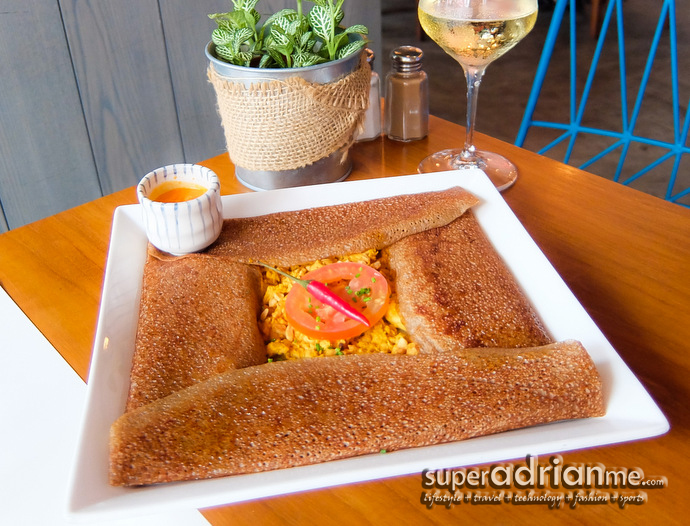 Their "Get Some Vibes" choices of galettes is interesting and impressive. The recommended favourites are Kao San Road (S$20) and Chase the Spice (S$18). Kao San Road comes with pan-friend prawns, tomatoes garlic, soya, mango chutney and mint. Very local. And Chase the Spice, which we tried, contains Masala chicken with ginger, onions, peanuts, chilli, tomatoes and fresh cheese. You can eat this all by yourself. Though it is hearty with generous chunks of chicken, the ingredients and spices somehow keep you going at it. They are considerate with their international clientele so the Masala is intentionally made less spicy. But they provide an additional dip containing a mix of chilli padi, tabasco and lime juice, a combination that would blow your head off. The French manager admits it is so spicy it is the only thing in the kitchen he has not tried.
Not to contradict their pursuit of authenticity, Le Comptoir explains these so called "fusion" galettes is a combination for two authentic tastes and food culture. So they put in extra effort to ensure ingredients like the masala chicken, is as authentic as it gets. I loved it. No complains.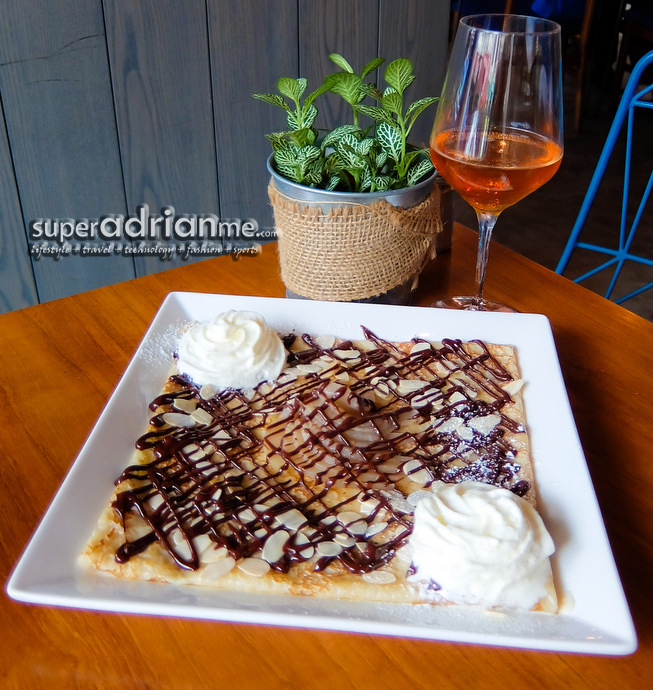 In the "Sweet and Treats" range of dessert crepes, two called out to me. Firstly it was the Normandy Landing (S$8) with homemade salted butter caramel. Simple yet rich. And then there was Coco Chanel (S$11). Who can refuse Chanel? But I don't think Chanel (the label) would approve of this ultra sinful crepe with homemade pear topped with slightly bitter chocolate (60% cocoa), chantilly and almonds. You won't fit into her clothes after. But I don't wear Chanel so I indulged.
Le Comptoir also offers a range of French cider from Nomandy, known to have no sugar additives. The Dry Pear Cider (S$7 per glass) is sweeter compared to the Dry Apple Cider (S$7 per glass). If you are not sure whether you prefer sweet or bitter, settle for the Dry Rose Cider (S$8 per glass) which balances sweet and bitter well so you don't have to choose.
Le Comptoir is located at 79 Circular Road, Singapore 049433. It is open Mondays and Tuesdays from 11am to 12 midnight, Wednesdays and Thursdays from 11am to 2am, Fridays from 11am to 3am and Saturdays and Sundays from 10am to 10pm. Call +65 65347645 for reservations.
About the Writer
Kevin Khoo is a self-professed foodie who loves his bak chor mee as much as an authentic al dente aglio olio; and savoury as much as sweets. 

He also works in F&B so he literally eats and breathes food. He struggles to stay in shape.