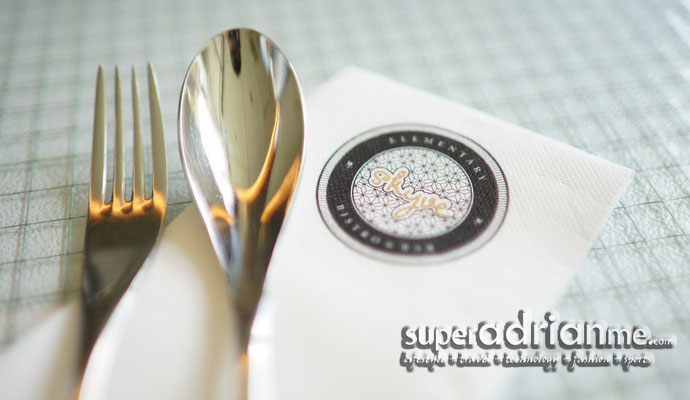 Skyve Elementary Bistro & Bar just overhauled their dining menu for the first time since its opening in December 2011. Skyve have always been renowned for its stylish & sophisticated interior and a mouth watering menu that is ready for a gastronomic journey. These new creations from the new menu are definitely worth a trip down to the cozy & chic restaurant located at the outskirt of Orchard Road.
*Disclaimer: Pictures for most of the food shown in this article are in tasting portions, except for desserts, pizza and Sous Vide Egg & Spaghettini. Full serving portions may be two to three times the size shown on picture. 
How to enjoy the freshness of oysters with a fresh new taste? The Sleeping Oysters section on the menu have three new additions where the same fresh oysters are served with different toppings for new ways to enjoy the oysters. Lychee 'Saketini' Granita and Compressed Watermelon are light on the palate while it enhance the freshness of the oysters by giving them a refreshing lift. The 'Escargot' Style will be a favourite for those who like buttery and flavourful heated oysters which the taste are heavier on the topping than the rawness of the oysters. The oysters are sold at S$34 for half a dozen for each style, where mix 'n' match will have additional top up of S$4.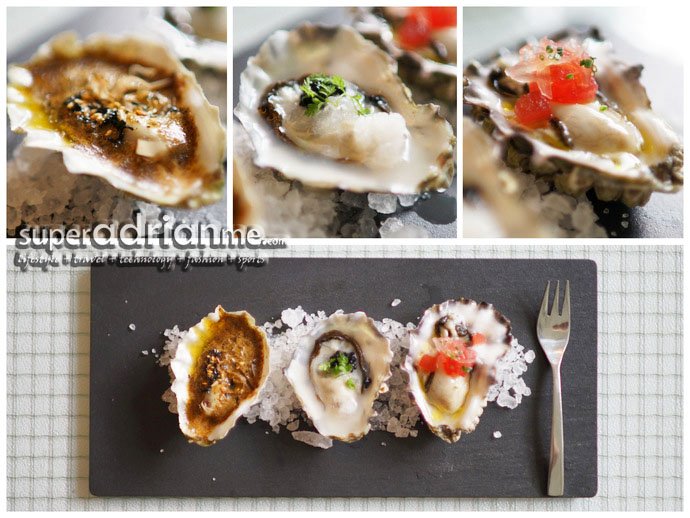 For appetisers do you like refreshing or savoury? The Crab & Tomato Momotaro (S$22) served with Yuzu Sorbet & Thai Inspired Basil Pesto is a refreshing & light appetiser that serves up the natural sweetness of its fresh ingredients. For savoury delights, the Sous Vide Egg & Spaghettini (S$18) is a MUST TRY. The spaghettini in truffle salsa topped with runny sous vide egg, iberico ham and truffle hollandaise, just be imaging these pairing its enough to make you drool.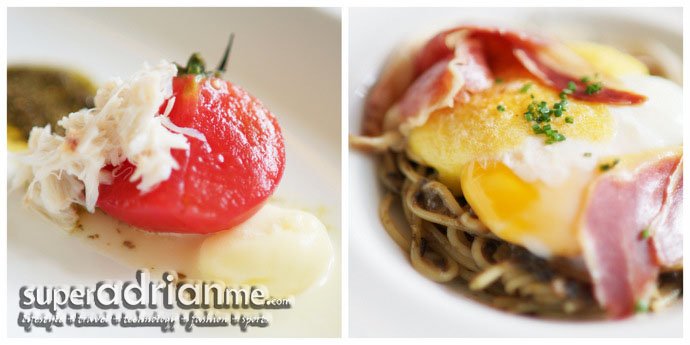 Meat lovers will enjoy the Sous Vide Pork (S$36) where you will be served with pork done in two styles, one tender & juicy and the other crispy & lean. The sweetness of pork shoulder sous vide and braised in root beer & spice complimenting the savoury of crackling skin pork is reflects the perfect balance between Ying & Yang.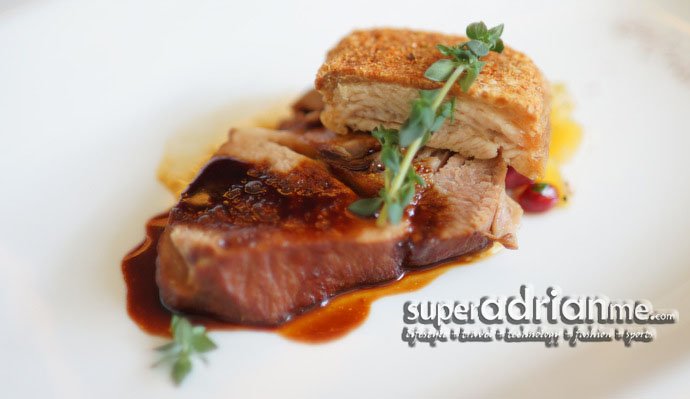 Vegans are not forgotten in this new menu. Sous vide and grilled seasonal vegetables are used as toppings for this truffle salsa based pizza, Vegetarian Pizza (S$34), ensures the naturalness sweetness & goodness of the vegetables are kept in this hearty main course. The vegetable toppings are rather chunky & heavy to eat the pizza slice with hands.
Two signature dishes, Lamb Rack and Duck Confit, from the old menu have been upgraded in the new menu too. The Lamb Rack (S$40) now compliment with delicious curry spiced roasted pumpkin and mint & mango chutney. The Asian Inspired Confit of Duck Leg (S$36) is sous vide and lightly seasoned with Asian five spice  to give that hint of Asian flavour yet not overpowering the yumminess of its original duck confit recipe. Its two thumbs up for the two new & improved recipes.
Two beautiful looking desserts that look somewhat heavy from its presentation but in actual fact are quite refreshing and light to end a full meal. The kahlua granita topped on the Tiramisu (S$12) and the frozen lime foam on the Mango & Cheese Semifreddo (S$12) are there to reopen your appetite with their palate stimulating twist.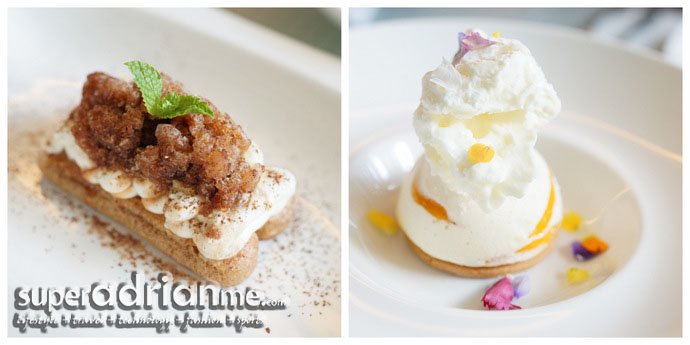 So if you are out looking for a diner for a chill-lax and delicious meal with a beautiful ambiance, head on down to Skyve Elementary Bistro & Bar.
Skyve Elementary Bistro & Bar
No.10 Winstedt Road, Block E, #01-17 
Open Daily: Monday to Sunday
(including Public Holidays)
10am to late
Reservations:+65 6225 6690
Related articles