Shangri-La Singapore presents a second edition of the Festival of Wines after a successful debut last year. 100 different wine and champagne labels from around the world will be showcased. Shangri-La Group's award-winning Head Sommelier Britt Ng has curated a series of wine dinners and lunches at some of the hotel's restaurants from 22 September to 1 October.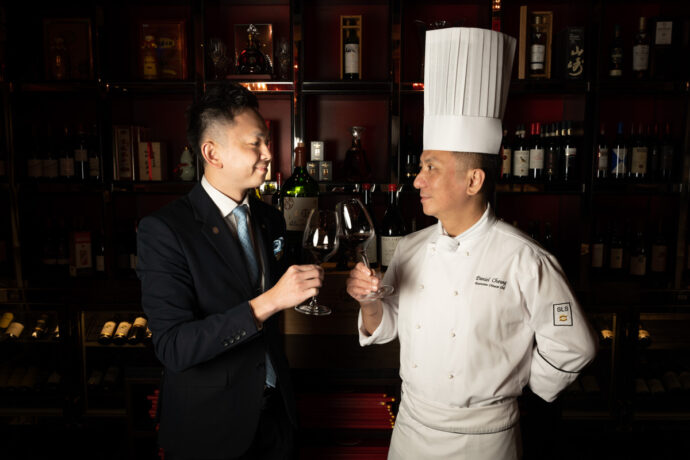 Ng is a passionate young individual. Ten years of restaurant experience has given him an extensive knowledge of food and wine. He has worked for chefs such as Daniel Boulud and Gordon Ramsay, developing his craft of curating award-winning wine lists. The certified sommelier by the Court of Master Sommeliers is also a certified specist of wine by the Society of Wine Educators USA and a holder of WSET Level 3 Advanced Certification. His career accolades include Malaysia's Best Sommelier in 2014 and 2019 and Asia's Best Sommelier in French Wines in 2016 and 2019.
Chef Daniel Cheung also joined Shang Palace in May as the new Executive Chinese Chef. The Hong Konger comes fresh from a five-year tenure at Shang Palace Kowloon, another Michelin-starred restaurant within the Shangri-La group. With 37 years in top-level Cantonese cooking, Cheung combines a traditional foundation with contemporary creativity, infusing time-honoured classics with modernity and a meticulous presentation. He will be launching Shang Palace Singapore's new menu from 4 October 2022.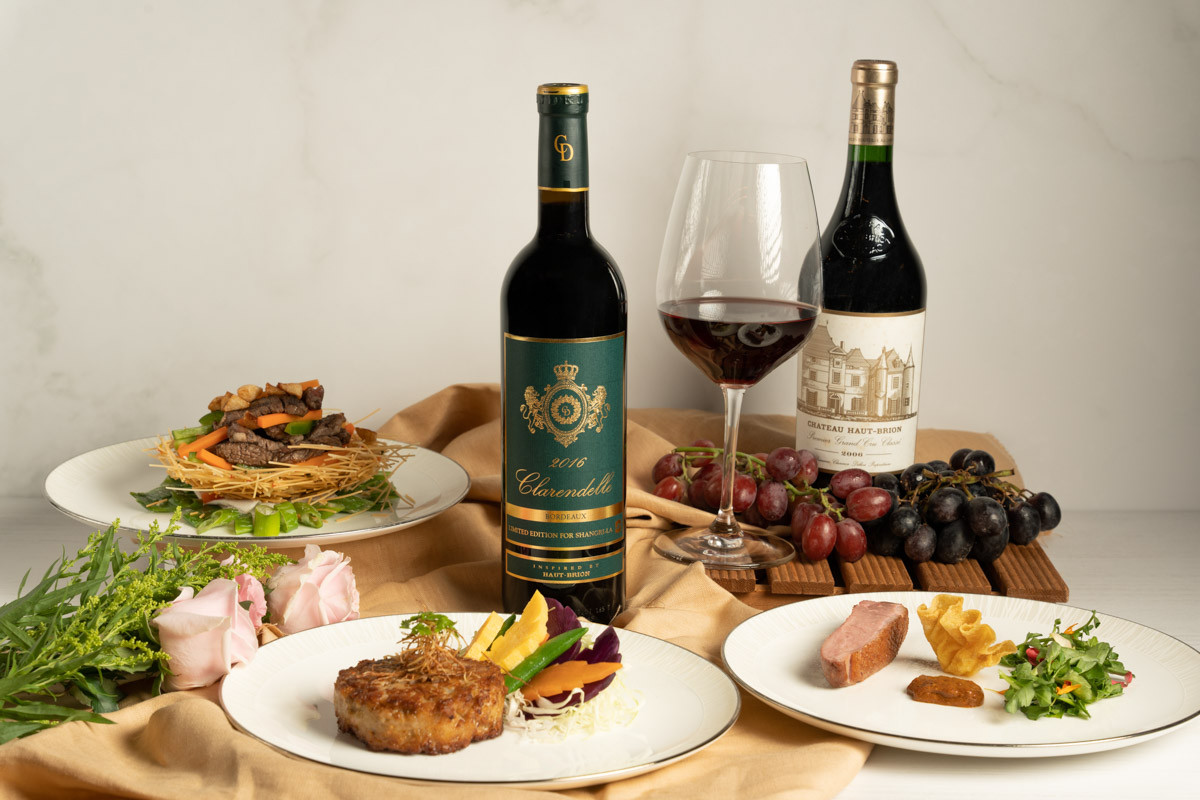 22 September
7 to 10 pm
S$298++ per person
Domaine Clarence Dillon Wine Dinner
State Room
Experience fine wines from Clarendelle and Château Haut-Brion, one of the most prestigious and celebrated wine estates in Bordeaux. Hosted by Mr. Nicolas Cheminea, an ambassador from Clarence Dillon Wines, experience the exceptional line-up of wines that includes a comparative tasting of two vintages of Château Haut-Brion and a 5-course Chinese menu by Chef Steven Ng.

Highlights include the 2017 Le Clarence de Haut-Brion, a medium-bodied red spotting flavours of blackberries that is paired beautifully with Charcoal Grilled Smoked Kurobuta Pork and Crispy Lotus Root. And the 2006 and 2017 Château Haut-Brion, with complex aromas of ripe black fruits, spices and licorice, paired with Wok-Fried Wagyu Beef Rib Eye with Garlic Green Capsicum.
23 September
7 to 11 pm
An Evening of Natural Wines with Wine RVLT
Origin Bar
Over 25 labels from Wine RVLT will take centre stage at Origin Bar for a one-night only event. Visiting guest sommelier Mr. Alvin Gho from Wine RVLT will present an intimate evening with natural wines that have little to no additives or preservatives. All guests enjoy a complimentary plant-based canape platter for two with every bottle of natural wine purchased.
24 September
12 to 2.30 pm
S$138++ per person
Dim Sum and Artisanal Champagne Lunch
Shang Palace
4 artisanal champagnes paired with a four-course dim sum lunch experience at One-Michelin starred Shang Palace put together by Chef Daniel Cheung.

Discover unique champagne styles made from the Pinot Blanc grape varietal – be captivated by the NV Pierre-Gerbais, Grains de Celles, Extra Brut paired with Steamed Grouper with Crispy Bean Crumbs, and the 2008 Besserat de Bellefon, Brut Millésimé paired with Wok-Fried King Prawn in Black Bean Sauce with Pan-Fried Vermicelli. The former is an aromatic champagne with floral notes accompanied by a blend of citrus and white fruits that is fresh, luscious and elegant on the palate, and the latter will delight with flavours of rich apple and green plum with a hint of acidity.
24 September
7 to 10 pm
S$168++ per person
Chefs and Sommelier Six Hands Wine Dinner
Origin Grill
Chef Dan Lee, winner of MasterChef: The Professionals 2021 joins forces with the Origin Grill team to present a five-course dinner menu paired with wines from the lesser-known regions of France. Chef Dan Lee has been on the restaurant's pre-opening team and is now returning to for a special Six-Hands collaboration with Chef de Cuisine Nathan Griffin.

Highlights include the Smoked Beef Tartare, with Onion Ash Cracker and Lime that goes perfectly with the 2019 Mas de Daumas Gassac, Rosé Frizant, Languedoc, a sparking rosé with hints of strawberry and blackcurrent flavours. Accompanying Chef Dan Lee's first course of Kinilaw made with Salmon, Lime Coconut Vinegar, Smoked Cucumber and Scallion Oil comes the 2019 Domaine Valentin Zusslin, Gewurztraminer, Bollenberg, Alsace, boasting flavours of spices and citrus fruits with a silky texture.

Lee's menu creations will be available ala carte at Origin Grill from 21 to 24 September.

The evening continues with Origin Grill Chef de Cuisine Nathan Griffin's courses, with highlights including the Williams River Crossbred Wagyu 400 Days Grain-Fed MS 4+ that goes perfectly well with the full-bodied 2016 Cosse et Maisonneuve 'La Fage', Cahors, Southwest.
28 September
7 to 10 pm
S$1,388++ per person
Iconic Bordeaux Wine Dinner
Shang Palace
Journey to Bordeaux, one of the world's most famous wine-producing regions. Curated exclusively for an intimate group of diners, experience an exceptional line-up of Bordeaux wines with a depth of back vintages, paired with an exquisite menu by Michelin-Starred Chef Daniel Cheung from Shang Palace. The star of the evening is the 1934 Château Margaux, a rare spectacular vintage that is rich and powerful on the palate, paired with Crispy-Fried Boneless Chicken Filled with Shrimp Paste Accompanied by Steamed Matsutake Mushroom Xiao Long Bao.
29 September
7 to 10 pm
S$158++ per person
Piedmont Wine Dinner
Waterfall Ristorante Italiano
Hailing from the famous Italian region of Piedmont, remarkable wine selections from Borgogno, Michele Chiarlo and Antinori's Prunotto Estate, will make their appearances at Waterfall Ristorante Italiano. Made for a memorable evening, the wines are paired with a hearty four-course dinner curated by Chef Simone Loisi, with highlights featuring the handmade Orecchiette Al Ragu Di Manzo Fresh Orecchiette Pasta with Beef Ragu and Filletto Alla Rossini Beef Tenderloin and Foie Gras Served with Toasted Bread and Beef Jus.
1 October
12 to 3pm
S$108++ per person
Tuscan Wine Lunch
Origin Grill

Be mesmerised by prized wines from Tuscany, a region in central Italy which is one of the most famous and prolific wine regions in Europe. The lunch starts with a NV Ruggeri, Argeo Prosecco that offers floral notes with aromas reminiscent of pear and golden apples that is fresh, delicate on the palate, following which the 2016 Tenuta San Guido, Le Difese, 2019 Le Serre Nuove dell'Ornellaia and 2018 Tignanello will take turns making entrances during the exquisite lunch which features the restaurant's famed Origin Octopus, a choice of the Pan-Seared Barramundi or Westholme Beef Tenderloin MS 4+, before ending on a sweet note with Café Baba, a dessert made with Marsala, Coffee Mascarpone and Cocoa Paper.
22 September to 1 October
12 to 10 pm
A Selection of Fortified Wines
The Lobby Lounge

Over the years, winemakers from all over the world have created a variety of fortified wines, including port, sherry and even flavoured vermouth. Enjoy a selection of fortified wines throughout the Festival of Wines at The Lobby Lounge, which will match beautifully with the strong and rich flavours of the local heritage cuisine offering served at the restaurant. Available from 22 September to 1 October 2022.

Purchase tickets at bit.ly/FestivalofWines2022.
Photos credit: Shangri-La Singapore