Bing Tang Tang Shui (冰糖糖水), which is only two weeks old, has recently emerged as a retro-themed dessert cafe situated within the tranquil residential enclave of Thomson Hills Drive. Offering a delightful twist on homemade traditional soupy desserts and staying open late to serve snack bites, The Rock Sugar Office presents a fresh and inviting choice for those seeking a new hangout spot.
The cafe operates on Mondays, Wednesdays and Thursdays from 4.30 pm to 1.30 am and on Fridays, Saturdays and Public Holidays from 12.30 pm to 1.30 am. On Sundays, they are open from 12.30 pm to 12 am. They rest on Tuesdays.
Photo Worth Interiors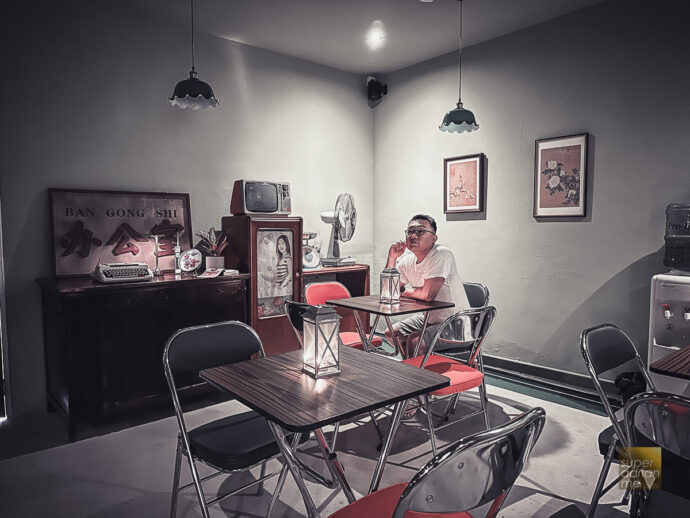 There are a few zones to dine in and plenty of photo opportunities. Alfresco seating is available for up to three people per table. Step into the cafe into an area that looks like a simple cafe. But as you explore further in, a meeting room can accommodate a larger group in a more exclusive private room.
Another door opens up into an "office and pantry" section, which are great for photos! Retro props such as vintage table fans, vintage style green table lamps, a cassette tape player, typewriters, antique televisions and even a brick mobile phone, bring you back to a blast from the past.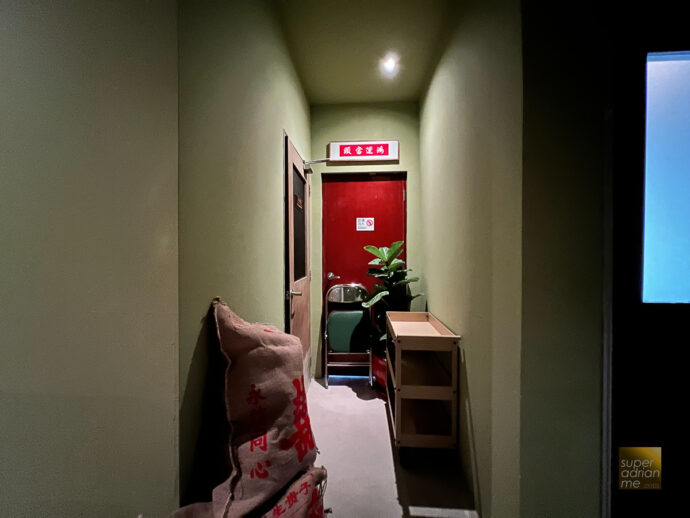 There is an exceptionally private Chairman's room, offering the highest level of privacy within the "office." An office desk in this room ensures that prying eyes from outside are kept at bay.
The Menu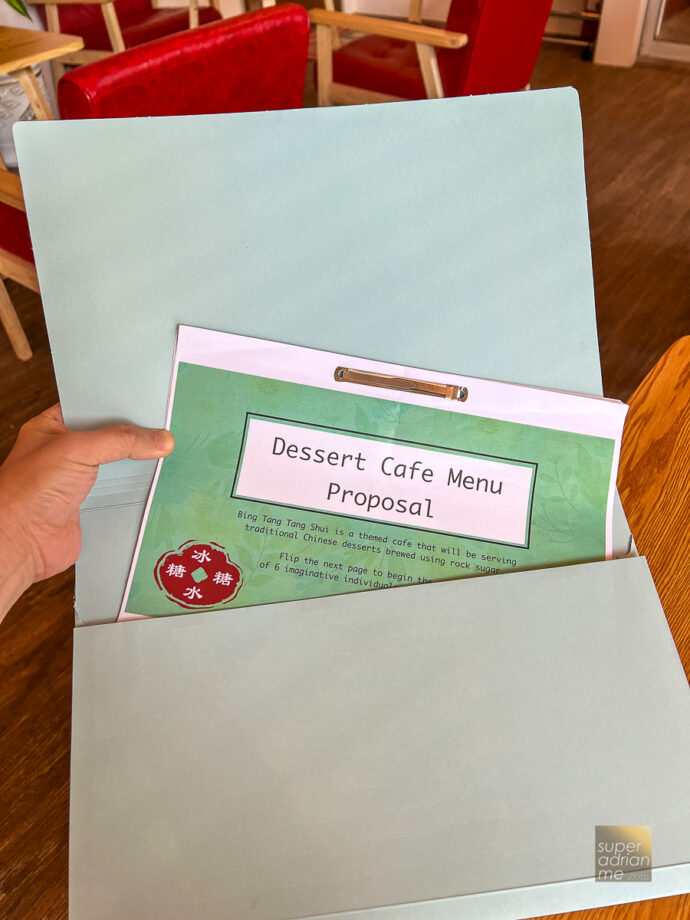 True to the office theme, the menu is presented in a folder with a two-hole bound business proposal that opens up to an introduction to the characters in the cafe's story, a pitch that tells the story of using rock sugar to make desserts and the food and drinks available.
We ordered the cafe's signature dish, the Osmanthus Infusion Sesame Tang Yuan priced at S$12.50. This dessert features tender and chewy rice balls filled with sesame, served atop crushed ice, generously drizzled with syrup, and a fragrant fermented rice milk sauce infused with Hakka yellow wine and lemon zest. To enhance its flavours, a subtle hint of osmanthus caramel is incorporated, lending a delicate floral fragrance to the dish. A classic version is available at S$7.
I decided to try the Honeydew and Watermelon Sago with ginger flower infusion, priced at S$8.80. This refreshing dessert consists of honeydew, watermelon, and sea coconut immersed in a milky broth. For an extra burst of flavour, you can pour in the ginger flower-infused syrup, complemented by rosella sago.
There are no artificial colourings or flavourings used in the desserts here, and the flavours are skillfully balanced, avoiding any overpowering sensations. Other desserts priced at S$8.80 include the Pink Rose Infusion Cheng Tng, Lavender Infusion Mango Sago Pomelo, Pearl Chrysanthemum Infusion Orh Nee and Collagen Birds Nest Soup (S$29.90). You can add collagen birds nest to any dessert as a topping at S$10.
For S$2.50, we added the Satay Ampai Ampai for an added touch of nostalgia. A childhood snack for us. The Lu Rou Fan priced at S$5.80 was wonderfully flavourful and served as an excellent savoury appetiser before indulging in desserts.
Other under S$10 savoury snacks on the menu include Kueh Pai Tee, Radish Cake, Chee Cheong Fun and Chwee Kueh.
You have a variety of beverages to choose from at Bing Tang Tang Shui (冰糖糖水. If you're having trouble making a decision, you can opt for the flight of three flower teas, symbolizing love, luck, and longevity, priced at S$9.80. Alternatively, you can enjoy pots of Marigold, Royal Chrysanthemum, or Globa Amaranth teas, each available at S$6.80. Additionally, there is a selection of coffees and soft drinks for your enjoyment.
Location – Bing Tang Tang Shui
Bing Tang Tang Shui (冰糖糖水)
15 Thomson Hills Drive
Singapore 574759