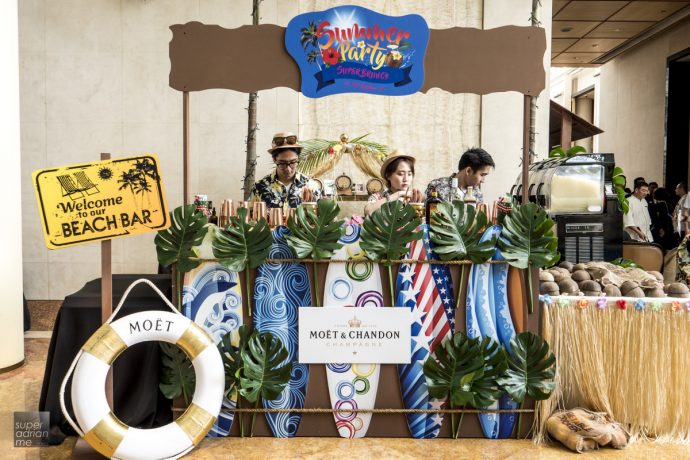 You can't say you've lived till stuffing yourself silly at The Ritz Carlton's Super Brunch. Caviar aside. My heart was no longer pumping blood, but the sweet, crisp effervescence of Moet & Chandon. The Dom Perignon Vintage 2006 eludes me this time round, but I can tell I'll be back, like the rest around me.
Extravagance is an understatement here. This time round, it took the beaches of Hawaii, Bali, Maldives and more and planted them in the seemingly endless walkway of Ritz Carlton's lobby for a crazy Summer Party!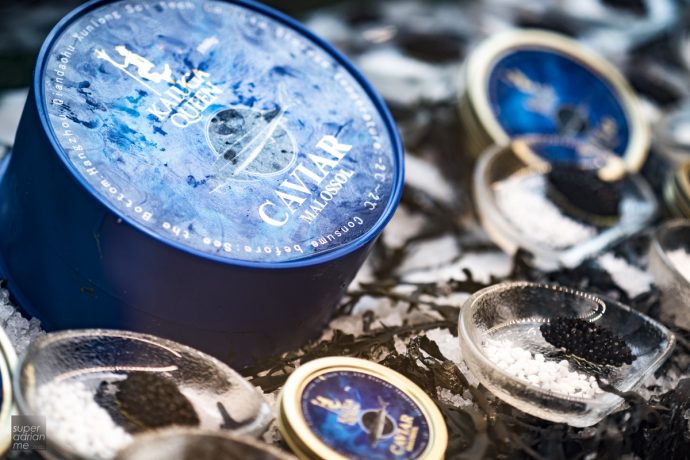 Every square space was filled with goodies, from freshly cracked opened sea urchins, pan-seared foie gras to an entire Eygyptian roasted lamb leg. There were more Mai Tais and Pina Colada slushies to go around than all of Sentosa combined, if the champagne hasn't already gotten you walking from side to side (not the Ariana Grande way, or not yet, at least).
They truely spared no expense. (Check out the video below)
Even the dessert section was more than just the usual selection of treats. Cupcakes were fashioned into little islands for chocolate fishes, choux cream puffs atop giant sea shells and a spoonful of nitrogen starfish meringue made a la minute. I could not help but stop at the little fishing pond, to "fish" myself a cake. Yes, I fished a cake.
Oh, Ritz Carlton. Just what have you done? Brunch will never be the same for me again.
See you at the next edition of The Ritz Carlton, Millenia Singapore Super Brunch.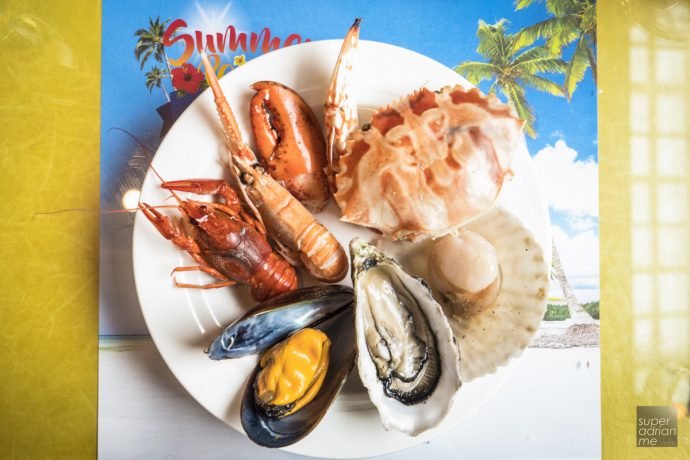 Super Brunch Price
S$468++ per adult – inclusive of unlimited pours of Dom Pérignon Vintage 2006, house pour red/white wines, selected cocktails/mocktails, soft drinks and fruit flavoured sparkling water
S$288++ per adult – inclusive of unlimited pours of Moët & Chandon Grand Vintage Blanc 2004 Magnums and Rosé 2002 Magnums, house pour red/white wines, selected cocktails/mocktails, soft drinks and fruit flavoured sparkling water
S$144++ per child (six to 12 years of age)*
S$72++ per child (three to five years of age)*
*Inclusive of unlimited soft drinks and fruit flavoured sparkling water