The Alkaff Mansion still looks as majestic and romantic as ever in the evenings. The first time I visited Alkaff Mansion was in the early 2000s when Rijstafel cuisine was still being served here under different management.
It was also when I also had my first Pisco Sour during a Peruvian Embassy event in the early 2000s. After a few glasses of Pisco Sours, I told the Peruvian ambassador Ecuador is a beautiful country. Most embarrassing.
It has been through many hands, and today, the F&B concepts here are managed by One-Group which also has The Summerhouse, Monti, 1-Altitude, Stellar & Botanico amongst many others under them.
So dining at Alkaff Mansion brings back fabulous memories. Sunsets here are still as beautiful as ever and the food is still fabulous.
Today Alkaff Mansion serves Northern Spanish cuisine. Basque pintxo dishes prepared by two Basque chefs Marta Elvira Segalés and Silvana Pascual Romero are available at TXA Pintxo Bar on the first level and UNA on level two of the two-storey heritage building which is helmed by Head Chef Tom Kung. Two private rooms are available in UNA and the UNA bar adjacent to the main hall allows for aperitivos to be sipped before or after dinner.
TXA offers small bar snacks Pintxos, pronounced as pin-chos to accompany drinks. Expect it to be loud, fun and authentic, just like the bar-hopping culture in the Basque country.
The small bar snacks taste as pretty as they look. Just take a look at the Aceituna Rellena De Vermouth (S$2.90 for one) [photo (a) above], an olive stuffed with vermouth jelly that is made in-house with martini rosso infused with orange zest, cinnamon and sugar then warmed up to dilute the alcohol. It is topped with a beautiful fennel flower before being served. This was my palate cleanser.
Then the Crudiente de Jamon (S$5) [photo 'b'] is an Iberico cracker sandwiched with smoked cod roe sauce. Thinly sliced frozen ham is sandwiched between buttered pastry sheets and heated in the oven for 20 minutes at 160 degrees. It is dehydrated when it is crispy. The smoked roe cod roe sauce is made with mascarpone, lemon zest and mentaiko.
The Black Rabas "A Fuego Negro" (S$22 for five pieces) [photo c] is a traditional dish of squid and squid ink blended with fish stock and other ingredients. They are coated with flour, egg, tempura batter then deep fried.
Pintxo Igledo





Bacalao al Carbon Sobre

Bonquerones Con Piperrada
Sliced fish on toast is a popular Pintxo dish. You have a choice of the Pintxo Igeldo (S$6.90 per piece), Bacalao al Carbon Sobre (S$6.90 per piece) or Bonquerones Con Piperrada (S$3.90 per piece).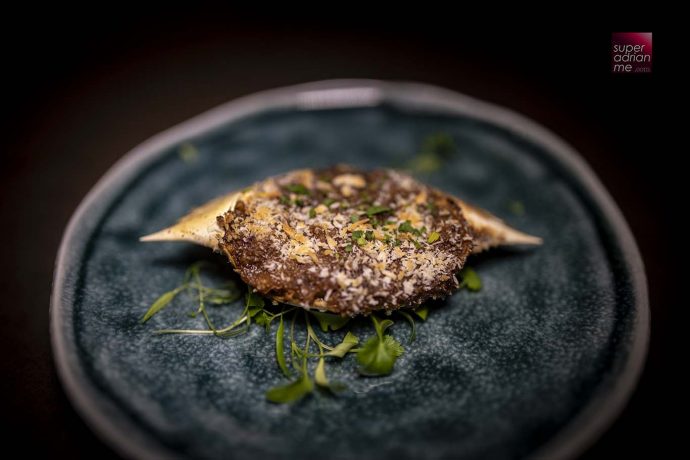 One of my favourites was the Txangurro a la Donostiarra (S$14), a boiled gratinated flower crab in a shell. The sofrito base is prepared with leek, onion, tomato cooked for 40 minutes till caramelised. Brandy and crab meat is added to the sofrito base while flour and seafood stock are stirred in. The mixture is added to the empty crab shell and topped with bread crumbs and butter and grilled under the salamander before serving to guests. Let the rich flavours of this dish overwhelm your olfactory senses.
Pulpo a la Parrila con Pure de Nabo

Carrillera estofada al vino tinto
con espuma de patata
My other love is Octopus. So it is not surprising that I enjoyed the Pulpo a la Parrila con Pure de Nabo (S$8). This grilled octopus dish was served with turnip cream, honey and picada oil. The turnip cream is made by browning butter and turnip, then combining with rosemary and whipped cream. This is boiled, reduced and then blended. The octopus is grilled on a hot plate, served with some honey, maldon, salt, paprika, garlic and a drizzle of housemade parsley oil with exactly three drops of picada oil which is made with over-roasted almonds and hazelnuts, saffron and a nora pepper base blended with fried bread, garlic and parsley.
The Carrillera estofada al vino tinto con espuma de patata (S$8) is another flavourful dish of beef cheek stewed with red wine, potato foam, caramelised apple cubes with parsley and garlic oil. The work put into creating the potato foam is really something. First potatoes are cut into chunks and poached for 20 minutes. After that whipped cream, black pepper and salt are added. The poached potatoes are strained, blended and placed in the siphon. Lean beef cheeks are soaked in red wine overnight then slow cooked at 80 degrees for a day. Cut vegetables in mirepoix, red wine from the beef cheek, and beef juc are cooked till reduced then strained for the red wine beef juc sauce. Deskinned Reineta apples are cut into cubes and caramelised with butter, sugar and brandy before adding to the dish.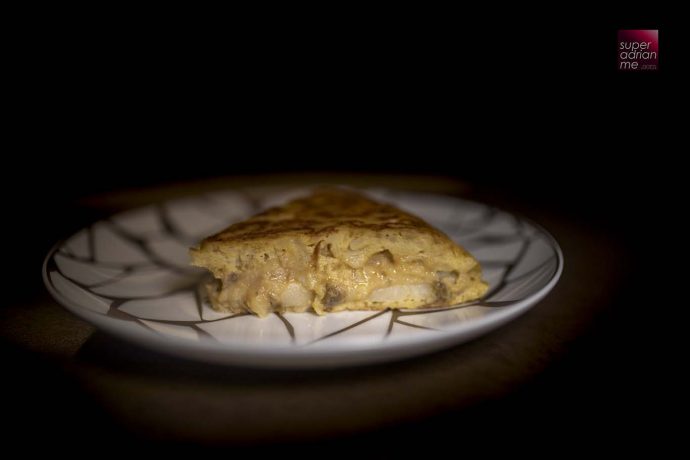 The Tortilla de Patatas (S$4.90) is a traditional Spanish omelette made with potato, egg and salt
Churros

Tarta de Queso "LA VIÑA"
And what's a meal when it doesn't end with desserts? The Tarta de Queso "LA VIÑA" (S$4.90) is a burnt cheesecake with a molten centre and crust with a caramelised flavour. There is also the Churros con Chocolate Picante (S$7.90) that is served with spicy pecan chocolate sauce.
I had way too much food at the media tasting and didn't have any more space for desserts, unfortunately.
Tinto de Pintxos
Spanish beers, wines and ciders, as well as a selection of signature wine-based cocktails, are available from the bar. Enjoy at Tinto de Pintos (S$18) which is concocted with red wine, pisco brandy, sweet vermouth and San Pellegrino Rossa sparkling water.
TXA Pintxo Bar is open Tuesdays to Sundays from 5pm to 11pm. Reservations can be made by calling +6567730070 or emailing [email protected]
Come with friends and have a great time. The more the merrier.