2014 will be a year of health and fitness for us here at SUPERADRIANME.com. It is the resolution for the year for the team.
What better way to treat your body to health than to take up the irresistible offer by Damai Spa at the Grand Hyatt Singapore.
To kick off a healthy year, Damai Spa has launched special rates for its fitness centre and spa. Not only do you get to work out your body and pamper it at the same time, Damai Spa is here to pamper you and offer you the environment and ways for your wellness.
Damai Spa has packaged for the busy executives as well as those who have a flexible schedule to work out at the well equipped Damai Spa's fitness centre every day between 9am to 5pm from Mondays to Thursdays. The trick is to avoid the crowds at gyms after office hours and during the weekends. It's also great because you have the privacy and don't have to wait in line to use the equipment at gyms.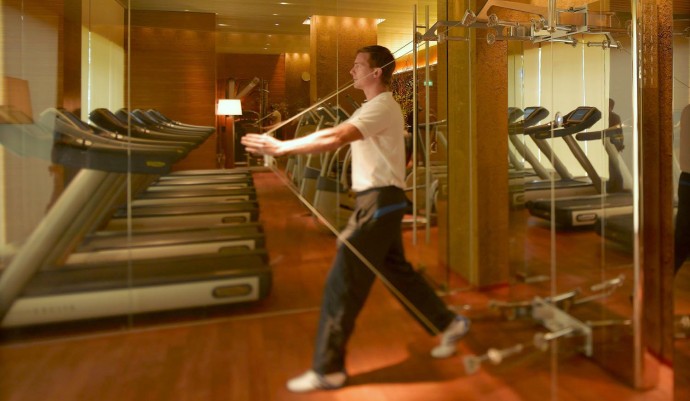 Your Damai Spa Weekday Fitness Membership also lets you take part in cardio and strength training sessions as well as unique fitness programmes designed for a truly personalised experience. There are two kinesis machines that allows for 360 degrees resistance-based motion. The fitness centre also offers the services of personal trainers who can offer one-on-one personal training at an additional cost.
Damai's weekday memberships are irresistibly affordable. There are two packages. One for Weekday Spa Membership and another for the Weekday Fitness Membership.
Damai Spa Weekday Spa Membership (S$750++ per year)
Four 60-minute Targeted Healing Treatment (Massage) sessions
Six sessions for you to choose from the Classic Sparitual Maniucure or Classical Sparitual Pedicure or Two additional sessions of 60-minute Targeted Healing Treatment massage
20% off all Damai Spa treatments
20% off at Oasis Restaurant
Complimentary Coffee and Tea at Oasis restaurant.
Damai Spa Weekday Fitness Membership (S$780++ per year)
Unlimited access and use of fitness centre and spa facilities
Complimentary fitness classes
One complimentary 60-minute Targeted Healing Treatment massage
20% off at Oasis restaurant
Complimentary coffee and tea at Oasis restaurant
We will definitely take up the offer for the fitness centre!
Call +6564167156 for more information or to make an appointment with a consultant.