11 March 2013, Singapore – Oz the Great and Powerful 3D is Disney's attempt of a story on the origin of how an ordinary 'carnival magician', as Oscar Diggs (played by James Franco of Spiderman fame) puts it himself, came to be the feared and revered wizard in the well loved musical movie classic Wizard of Oz.
Sam Raimi who directs, pays tribute to the original sequel with its opening sequence in sepia-tinted black and white, which I thought was a really nice touch as it immediately brings back the scenes in my memories of Dorothy and Toto on her farm in dusty Kansas before they were whizzed off by the tornado.
In this prequel, of course there is no sweet young Dorothy but we are introduced to the struggling and wannabe 'great' illusionist Oscar Diggs who seems more preoccupied with impressing sweet young things with honeyed words and empty promises sealed with a musical box as a gift which he has replicas of for every such occasion.
Oscar gets sucked into a tornado and ends up in the wonderful technicolor land of Oz while escaping from pursuers in a hot air balloon. He gets mistaken as the prophesised 'Great Wizard' who has come to save Oz from great evil and has his hands full with the three beautiful Witches of the West, (Theodora played by Mila Kunis), East (Evanora played by Rachel Weisz) and North (Glinda, played by Michelle Williams). If you cannot remember who is good and who is evil from the 1939 film adaptation, or have not watched "Wicked, the musical', the lines are pretty blurred until the story unfolds in a twist later on in the movie. One is inherently good, the other is a conniving wolf in sheep's skin and another struggles between the two great divide until she tilts to the dark side, turning literally green, hideous and very wicked, scorned by her misplaced love and the duplicity of Oscar Diggs.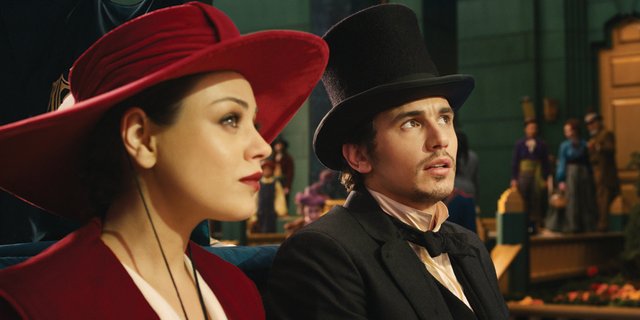 In addition to the usual inhabitants that we have come to be familiar with on Oz, like the munchkins and flying primates, we meet new characters like the "China Girl", which is based on the China Princess character from L. Frank Baum's original Wizard of Oz novel. The CGI of this character, which is top to toe made of porcelain, is awesome and so realistic, to me the creators deserve an award. Some of the 3D sequences feel like a Disney theme park joy ride and the CGI of the backdrop is also stunning, drawing similarities with Disney's other fantasy hit Alice in Wonderland.
Although the dubious circus magician began his journey with small minded thoughts of fame, power and wealth, pretending to be great and powerful, he ultimately fulfills the quest thrust upon him and achieves greatness by becoming a better man.
Oz the Great and Powerful may not live up to the original. As far as I am concerned, the classics are unbeatable. Another actor with naturally more charm could have been better cast as the lead. The pace of the movie tightened with less saccharine talk and faster action build up. Overall though, it will still wow the kiddie set and grownups will enjoy it as a walk down the memory lane of Oz.
Rating : 2.5 out of 5