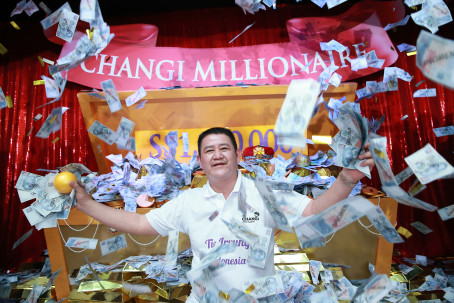 This year's Be a Changi Millionaire 2013 Grand Draw winner is 47-year old Indonesian business man, Mr. Irvung Tio. His qualifier for the grand draw was a S$667 purchase of cosmetics for his wife last September.
Changi Airport's annual retail promotion has been running for four years, was open for entries from May to October last year.  The grand finale was held this afternoon at Changi Airport.  Six lucky passengers were picked, one each month during the promotion period.  They all returned to Terminal 3 today for a face-off in a heart-stopping game show to determine who would leave with S$1 million. The six finalists included two from Singapore, two from China and one each from Russia and Indonesia.
Hundreds of spectators gathered in Terminal 3's departure hall this afternoon to watch the excitement of the game show.  Only Mr. Tio and Ms. Thum Pei Xing from Singapore were the last two standing before Mr. Tio emerged the winner.
Mr. Tio would be putting a big part of the winnings towards his retirement nest egg.  He had a celebratory dinner at Changi Airport before heading back to Jakarta tonight. He will bring his family on a holiday during the school break and will also donate part of the winnings to charity. Mr. Tio and his family has visited Singapore more than five times last year.
Changi Airport Group received an overwhelming response of 2.2 million lucky draw entries for Be A Changi Millionaire 2013, which is about 2.5 times its inaugural run in 2010 which registered only 830,000 entries. The top three participating nationality groups came from Singapore, China and Indonesia. More than 410,000 instant prizes including the new iPad mini, Samsung GALAXY camera, shopping vouchers, plus toys and travel accessories were given to lucky passengers over the six month period.
Previous winners of the Be A Changi Millionaire included former dejay Ivan Rantung (2010) and business development director Peh Hock Peng (2012) from Singapore and Australian engineer from Perth, Jessica Down (2011).
A fifth installment of Be A Changi Millionaire will be held later this year.